Hindu from Bangladesh: An uncertain Future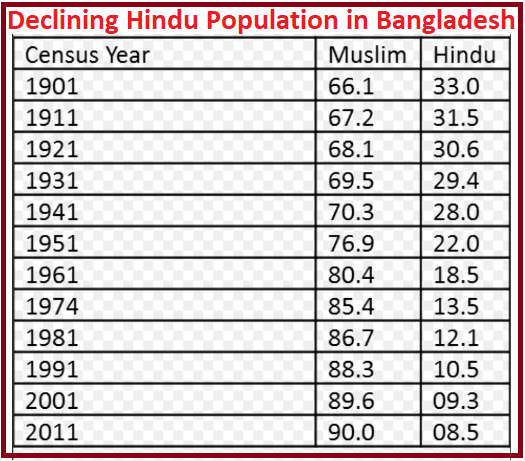 Left to their fate by the opportunist political leadership in 1947, they are the most unrecognized minority on the world map who is facing daily religious persecution.
Late Jogindernath mondal did the most untrustworthy and treacherous act. He called upon Hindu to stay back in Jinnah Pakistan for a Ministry in the Pakistan Cabinet. Jinaah insulted him. He was humiliated, manhandled and asked to sit on a Wooden stool out-side Cabinet meeting room. By the time he realized his blunder it was too late. Late Jogindernath Mondal return to India to stay safe and happy among the Hindu Majority but left over 1 Cr Hindu in Bangladesh to see the suffering of  rape, violence and death.
For one Historical error, generations are still paying the price. Mahatma Gandhi and Jawaharlal Nehru could not identify themselves with the cause of Hindu staying back in Bangladesh (Pakistan). The valiant fight for rescue, safety and Justice for them by Late Shyama Prasad Mukherjee was belittled by then and later on political leadership.
1947, Religious persecution began immediately after the partition. Hindu houses were identified, targeted and burnt. Women were raped and abducted. Men were either killed or asked to convert. Tragic and inhumane, yet no one voiced for them. Hindu Genocide in Noakhali/Chittagong/syllhet and Dhaka were reported but neither World leader nor Indian political leader had any heart left for them.
1971, Pakistani troops under Yahya Khan targeted Hindu all over Bangladesh.  Countless killing and rape of Hindu happened. Nearly One crore refugees entered into India. The So called custodian of human rights either remained silent or sides with Pakistan. It was the systematic killing of Bengali Hindus in Dhaka. History is erased again.
The Bangladesh of Sheikh Mujeebur Rahman could not repay the debt to Hindu society as well.  The freedom of Bangladesh was made possible because of the martyrdom and valor of Indian soldiers. But Bangladesh soon forgot. Daily religious persecution is common against Hindu. Destroying temple, burning Hindu shelters and worst is targeted rape of Hindu Girl are regular crime. The administration is rooted with anti Hindu anti minority feeling today in Bangladesh.
2022, what next.  Bangladesh is gradually slipping into disarray. The economic challenges and food insecurity would take over soon.  A poor country by all yardsticks would most likely see collapse of Political leadership and administration. The Islamist hardliner will have field day. They might take over partially or the entire country with external support. The external supports are global and are gradually building up.
Ethnic clinching of Hindu would be then state policy. Left over Hindu would be offered three choices.  Get killed/ convert or flee to Neighbors India. India would see a third wave of Hindu refugees after 1947 &1971. This would be catastrophic.  What Taslima Nasreen wrote in Lazza would be nothing before this lurking horror and brutality..
The fate of Hindu in Bangladesh hangs in danger. With no one to support and no one to voice for them, they are a lamb waiting to be slaughtered. Bengali Diaspora are spread all over the World. Intellectual, Scholar, Professionals, Musician, artist and Nobel Laureates.   Neighboring West Bengal in India has a huge Hindu Population.
Does one care????
DISCLAIMER: The author is solely responsible for the views expressed in this article. The author carries the responsibility for citing and/or licensing of images utilized within the text.