Hindu Lives Matter: Nero's Guest India's Media!!!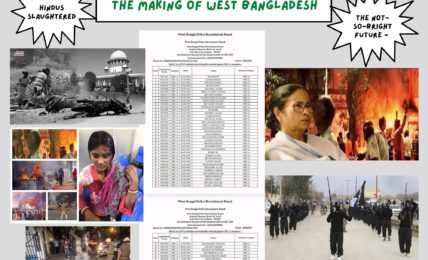 The month of July is called "Hindu Genocide Month". Hindu Genocide had been going on for the last 1000 years and no one whether its government or any Human Right Organization had ever raised any concern. In so-called Secular-Independent Country i.e., India which was partitioned only based on religion in 1947 is witnessing almost every day killing of Hindus.
The word "Genocide" recalls the well-known horrors of the Tibetan, 1971 Bangladesh Hindus, Holocaust, Rwanda, and the former Yugoslavia; yet numerous atrocities have gone unnoticed and unmentioned.  
Here, I would like to focus that how dehumanization (when one group denies the humanity of another group), extermination (action of mass killing), and denial (perpetrator's effort to disprove that the killing ever occurred) of the "Slow Hindus Genocide Process" is going on. I want to bring awareness by shedding light on and bearing witness to the ongoing atrocities Hindus faced in the so-called "Hindu Dominated Country: India".

Today's harsh reality is that the Hindus have been an overwhelming target of hate crimes in India. Hindus have been murdered brutally and lynched for speaking up, in riots that were specifically anti-Hindu and driven by Islamists and some, just for being Hindus.
Nero's guest role of India's mainstream media, show Muslims as overwhelmingly the victims and Hindus overwhelmingly as the perpetrators, creating a false perception among minorities that they are under attack from 'fascist' Hindus with active cooperation from the state machinery. But the reality is exactly the opposite.
Here are just 34 incidents out of hundreds where Hindus were brutally murdered on the pretext of one reason or other, BUT every time, Hindus Dead Bodies failed to inspire any outrage from the "Secular, Liberal Mainstream media and the Democratic State / Nation establishment."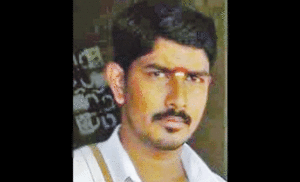 Victim 1: Prashant Poojary
Prashant Poojary Bajrang Dal activist Prashant Poojary was killed in Moodbidri in coastal Karnataka on October 9, 2015. Mr. Poojary was attacked by six men in broad daylight in a marketplace. He died the same day of his injuries[1].
Reason
The reason for brutal killing will surprise you many. Mr. Poojary was brutally killed as she was allegedly trying to stop illegal cow slaughter by the men who are members of the Popular Front of India or PFI – a Muslim Separatist Group.
Murderers
Muslim Men — Mustafa, Mohammad Imtiaz Gantalkatte, and 8 other Muslim men.
Victim 2: Dhruv Raj Tyagi
Dhruv Raj Tyagi, who owned several houses and shops in the Basai Darapur area of Delhi's Moti Nagar, was stabbed to death. Mr. Tyagi was not only murdered but his body was mutilated, fingernails were ripped out and teeth were broken.
Reason
Tyagi was hacked to death by the father-son duo as the victim went to Jehangir to complain about his son who had molested Tyagi's daughter. The weapon with which Tyagi was murdered, a butcher's knife, was provided by the murders' wife and daughter[2].
Murderers
Muslim Men— Jehangir Khan and his son Mohammad Alam
Victim 3: Dr. Pankaj Narang
Dr. Pankaj Narang's resident of Vikaspuri, New Delhi, was and pounded to death using sticks and rods[3].
Reason
Dr. Narang, concerned father had only dared to scold two motorcycle-borne youth for brushing past his son who was playing cricket on the road. A scuffle broke out shortly after which a mob returned baying for Dr. Narang's blood.
Murderers
Muslim Men—Naseer, Maesar, Amir, Ameer, and 4 others who are in juvenile now.
Victim 4: Ankit Saxena
Ankit Saxena, the resident of Raghubir Nagar in West Delhi's Khyala, was killed in broad daylight[4].
Reason
Ankit Saxena was in a relationship with a Muslim girl. Girl's father, aided by his wife and his brother-in-law slit the throat of Ankit Saxena in the middle of a road in Raghubir Nagar. Residents of the area also confided in Swati that the girl's mother was a religious bigot who had pressurized a Muslim woman to convert her Hindu husband to Islam in order to avoid the wrath of 'Dojakh ki Aag'(hellfire).
Murderers
Muslim Men — Akbar Ali, his brother-in-law, and his wife.
Victim 5:  Veerpal, Sunita, and son Aakash
Veerpal, Sunita, and their son Aakash resident of west Delhi were killed in their home.
Reason
Aakash had confronted a Muslim boy for passing obscene remarks about his mother Sunita while she was entering the colony. However, this didn't sit well with an enraged Muslim boy who brought along with him a meat chopper to stab the three members of the family to death[5].
Murderers
Muslim Men — Mohammad Azad.
Victim 6:  Yogesh Kumar
Yogesh Kumar was found dead under mysterious circumstances near New Delhi Railway Station in June 2017. Multiple injury marks were found all over his face and the body indicated that he was battered to death. His autopsy said the injuries on his body were clear signs of his being attacked with a sharp object.[6]
Reason
Seema, the victim's mother said it was a case of lynching by his Muslim friends, who had demanded Rs 10,000 from her while keeping Yogesh hostage. She even claimed that they made her hear Yogesh's voice for once who was trembling with fear.
Murderers
Muslim Men — Arif and his girlfriend Fatima.
Victim 7: Riya Gautam
Riya Gautam a resident of the Ramnagar area in Mansarovar Park, was attacked by Adil Banne Khan in a busy market. A CCTV grab of the incident shows the accused attacking the woman and her running away from him. After some time, the accused can be seen fleeing from the spot, a police official stated. Riya Gautam succumbed to her injuries on the next day in a Delhi hospital. "The victim and Khan had a fight near her house that day following which she was attacked. In an attempt to save herself, she rushed to a shop for help but nobody was present there," police said. [7]
Reason
Riya Gautam alias Charu was stabbed multiple times by Khan, who was allegedly stalking her. Khan followed her inside the shop and stabbed her multiple times.
Murderers
Muslim Men — Adil Banne Khan, Juned Salim Ansari and Fazil Raju Ansari.
Victim 8:  Chandan Gupta 
Chandan Gupta on January 26, 2018, died of gunshot wounds after he was shot at during the motorcycle rally taken out to celebrate Republic Day in Kashganj town of Uttar Pradesh. His killing led to communal violence in the western UP town. At least three shops, two buses, and a car were torched[8].
Reason
Chandan Gupta's parents had claimed that their son was shot at since he refused to say "Pakistan Zindabad".
Murderers
Muslim Men — Salim, and Asif Gymwala.
Victim 9:  Amit Kumar Gautam
Amit Kumar Gautam was a resident of the Gadhi Khandari of Hathras, UP on Monday night. His dead body was recovered near a Mosque in the last week of January 2018.
Reason
The murder was committed due to a dispute over a motorcycle. The report claims that Amit had given Alam his motorcycle as collateral, but was dithering from handing over the bike. It has also been alleged that the accused even tried to attack Amit earlier also while he was traveling on a bike but was saved after people came to his rescue[9].
Murderers
Muslim Men — Alam, Saddam (history-sheeter), Khalid, Sukel, and Ashu.
Victim 10:  Madhu Chindaki
Madhu Chindaki a 27-year-old tribal man, who was mentally unstable was severely beaten up on Thursday after the locals allegedly caught him with stolen food items. He died of internal bleeding caused by the attack by the mob. He had suffered injuries to his head chest and ribs[11]. 
Reason
Madhu, a mentally unstable man was severely beaten up after some Muslim allegedly caught him with stolen food items. the man clicks a selfie before he killed him.
Murderers
Muslim Men — Ubaid.
Victim 11:  Bhavesh Koli
Bhavesh Koli resident of Parel was manning a BMC parking on the ES Patanwala Marg.
Reason
24 old Hindu man faced his death for stopping 7 murders from speeding and performing bike stunts on the ES Patanwala Marg in Mumbai on July 5, 2018.
Armed with sticks, rods, belts, and knives, bikers allegedly assaulted Koli and then stabbed him. He was admitted to JJ Hospital where he was declared dead[13].
Murderers
Muslim Men — Shahzada Usman Shaikh and Anus Shaikh.
Victim 12: V Ramalingam
On February 6, 2019, a PMK (Pattali Makkal Katchi) leader in Tamil Nadu, V Ramalingam was brutally murdered by a group of people on his way back home by a group of Muslim men and his hands were chopped off. Ramalingam had died on the way to the hospital due to excessive bleeding[14].
Reason
V Ramalingam was opposing religious conversion.
Murderers
Muslim Men — Mohamed Hasan Quthoos
Victim 13:  Vishnu Kumar Goswami
Vishnu Kumar Goswami, resident of Mughal Jot village in Chistipur area of Gonda district, UP, was doused with petrol and set on fire after a minor dispute on May 15, 2019. Vishnu had gone to bring his father Ramdi Goswami back from Jamuna Bagh. On the way back, the father and son stopped to drink water on the side of the Gonda-Ayodhya highway[15].
Reason
Vishnu Kumar Goswami has a petty dispute.
Murderers
Muslim Men — Imran, Ramzan, Nazimuddin, and Tufail 
Victim 14: Bharat Yadav
25-year-old Hindu Bharat Yadav succumbed to injuries after being beaten up by 15 Muslim men. Bharat was allegedly assaulted by 15 Muslim men after an argument. overpayment. It was said that three people including a woman came to the shop. It was initially resolved, but the accused allegedly brought more people who hit him and took money from the shop[16].
Reason
There was an argument at the time of payment for lassi. Muslim men call him "Khafir" or "Infidel" which is very derogatory.
Murderers
Muslim Men — Hanif and Fahim
Victim 15: Gangaram Singh Chauhan
On June 27, 2019, 55-year-old Hindu man Gangaram Singh Chauhan of Aliyabad village in Uttar Pradesh's Moradabad district was murdered by a Muslim man at home. A total of six men and two women armed with lathis and butchers' knives barged into their home hurling abuses and hit her on her head. Thereafter they punched Chauhan, who was resting on a cot, hard on his chest, lifted him, and banged him on the floor several times. They left once he fell unconscious. "Leave our area, you Hindus", said murderers while hitting the 55-year-old Gangaram Singh Chauhan[17].
Reason
He had filed a written complaint at the local Dilari police station against his 13-year-old daughter's abduction by his neighbor.
Murderers
Muslim Men — Safayat Nabi, Mohsin, Chhotu and Danish, Akram and Irrfan
Victim 16: Vikas Yadav
Vikas Yadav was brutally assaulted on October 18, 2019, by a raft of angry Muslim men in Bindki town of Fatehpur district in Uttar Pradesh. A video of the incident that had gone viral showed how Vikas was tied up to a tree by a frenzied mob of irate Muslim men baying for his blood[18].
Reason
There was a brawl at a wheat flour mill.
Murderers
Muslim Men — Mohammad Ashraf, Mohammad Irfan, and Mohammad Javed
Victim 17: Kamlesh Tiwari
On the 18th of October 2019, Hindu activist and leader of the Hindu Samaj Party, Kamlesh Tiwari, was brutally murdered by Muslim Jihadis at his residence in Lucknow. He was shot and his throat was slit by the murderers. The postmortem report of Kamlesh Tiwari's murder revealed that the Hindu leader was stabbed 15 times and was also shot once. The Jihadis had stabbed him in the upper part of the body from jaws to the chest. The wounds were inflicted within 10 centimeters of each other. There were two deep cut marks on the neck which pointed at an attempt to slit his throat[19].
Reason
Tiwari's has commented in 2015 on Prophet Muhammad's sexuality which they considered was 'Blasphemous.
Murderers
Muslim Men — Rashid Pathan, Faizan Pathan, Maulvi named Mohsin Sheikh, Ashfaq, and Moinuddin
Victim 18: Ankit Sharma
The brutally inflicted on Intelligence Bureau staffer Ankit Sharma by rioting Islamists during the Delhi anti-Hindu riots was beyond belief. The dead body of an Intelligence Bureau constable was recovered from a drain in North East Delhi amidst anti-Hindu riots in the national capital. Ankit Sharma, who lived in Chand Bagh, was returning home one evening when he was attacked by a violent mob on the Chand Bagh bridge and beaten to death. The Muslim mob had thrown his body into a drain.
Delhi police revealed that Ankit Sharma was stripped before his killing. As per the report, his clothes were removed to check his religion before he was brutally murdered. He had injury marks on his head, chest, and face. After his killing, an acid-like liquid was poured on Ankit Sharma to conceal his identity. Ankit Sharma's post mortem report revealed that he was stabbed multiple times for four to six hours[20].
Reason
Ankit Sharma's religion becomes the reason for his death.
Murderers
Muslim Men — Tahir Hussain, AAP leader is considered to be the kingpin behind the murder of IB sleuth Ankit Sharma.
Victim 19: Ratan Lal 
Hindu Head constable Ratan Lal lost his life on February 24, 2020. Muslim Islamists were protesting against CAA and started pelting stones during anti-CAA riots in Delhi, during US President Donald Trump's India visit. According to the autopsy report, Ratan Lal had died of a bullet injury[21].
Reason
Religion has also become the reason for his death. Being Hindu, Islamic jihadis shot him in the chest.
Murderers
Muslim Men — Salim Malik, Mohammad Jalauddin, Mohammad Yunus, Mohammad Ayub, Arif, Danish and Mohammad Salim Khan.
Victim 20: Kalpavrishka Giri Maharaj and Sushil Giri Maharaj  
On 16th April 2020 in Palghar, Maharashtra, two Minks (Sadhus), 70-year-old Kalpavrishka Giri Maharaj and 35-year-old Sushil Giri Maharaj along with their driver 30-year-old Nilesh Telgade associated with the Juna Akhara, who were on their way from Mumbai to Gujarat to give Samadhi to another Sadhu, where they were brutally murdered by a mob of over 100 people[22].
Reason
Religion has also become the reason for the death of these sadhus (Monks).
Murderers
It is being said that Christian Missionaries are behind the murder.
Victim 21: Rahul 
Hindu boy was killed by Muslim neighbor family.
Reason
He loved Muslim girl. Religion becomes the reason for his death.
Murderers
Muslim family
Victim 22: Sonu 
Sonu and Dhanishta were neighbors in western Uttar Pradesh. Their family used to exchange sweets on Diwali and Eid[23]. Both Sonu and Dhanishta were hacked to death by the brothers of Dhanishta for loving each other.
Reason
All Ganga Jamuna Tehzeeb went to gutter just because a Muslim girl fell in love with a Hindu man and so a Hindu man was murdered.
Murderers
Muslim family
Victim 23: Mukesh Kumar
Mukesh Kumar and Noor Jahan Khatun, class 9 students of the school in West Champaran, Bihar. Mukesh Kumar and Noor Jahan Khatun fell in love with each other. The family of Noor Jahan killed both of them and threw bodies in a sugarcane field. The girl's brother and two uncles were arrested and her sister was absconding.
Reason
Inter-Religion love (Muslim love) becomes the cause of the Hindu boy's death.
Murderers
Muslim family — Allaudin Ansari, Gulsanovar, Ansari Miyan, Shabnam Khatun.
Victim 24: Shankar Yadav
Shankar Yadav and Sufiya Abrar were happily married in the suburb of Mumbai. Sufiya was 9-month-pregnant. Her cousin Shafiq, a Muslim man planned 'Qurbani' of both.
Reason
Muslim girl family was angry after she married a Hindu guy. So Muslim families killed both boy and girl along with the unborn baby.
Murderers
Muslim family — Shafiq.
Victim 25: Balakrishnan
Balakrishnan was killed for marrying a Muslim woman in Kochi, the town of south India. 3 months after the marriage Muslim wife's brother took Balakrishnan in a car and stabbed him to death.
Reason
A Hindu man was killed as he married a Muslim girl.
Murderers
Muslim family — Iqbal and Haneef.
Victim 26:  Jithu Mohan
Jithu Mohan, a footballer and a resident of Kodungallur, in Kerala fell in love with a Muslim girl. Hindu man, Jitu Mohan was set ablaze by his girlfriend's brother. He succumbed to injuries later
Reason
Hindu man was set ablaze as he loved Muslim girl.
Murderers
Muslim family — Wahad and his brothers
Victim 27: Rajneesh Sharma
Rajneesh Sharma got married to a Muslim woman in the city of Jammu. The family of Muslims was not happy with the marriage. Muslim girl's family "conspired to kill Rajneesh with help of police". Hindu man, Rajneesh was tortured in police custody, where he died.
Reason
Hindu man was killed as he loved Muslim girl.
Murderers
Muslim family
Victim 28: Shailendra Prasad
Hindu man Shailendra Prasad married Muslim girl Munera Bibi. They were blessed with a 10-month-old child. "Religion was never a problem until Munera went to her village". Munera's father who gets suspicious of Shailendra's religion report to a Muslim court called Salish Sabha. Salish Sabha found out the religion of Shailendra as Hindu and awarded death sentence for marrying a Muslim girl and executed on the same day in Murshidabad district of West Bengal.
Reason
Muslim court killed Hindu man as he married Muslim girl.
Murderers
Muslim family and Court — Ansaria Sheikh
Victim 29: Sanjay Kumar
Sanjay Kumar, the resident of Faridabad, Haryana, married a Muslim woman. The woman's family was not happy with the marriage. They forced him to divorce her. Two months after the divorce, the brother of the woman, called Sanjay and murdered him with help of his father and neighbor
Reason
A Hindu man was killed he married a Muslim girl.
Murderers
Muslim Man — Salem and family
Victim 30: Brijesh Kumar
Brijesh Kumar got married to a Muslim woman and was staying in the same village. 9 years after marriage, the brother of the girl, killed Brijesh, as his family was against marriage and facing humiliation because his sister married a Hindu man
Reason
A Hindu man was killed as he married a Muslim girl.
Murderers
Muslim Man — Azharuddin and family
Victim 31: Jaideep Gawra
Hindu man Jaideep Gawra, a resident of Rajkot, Gujarat was in love with a Muslim woman. Muslim girl's family was against this relationship. His brother kidnapped Jaideep and lynched him to death and threw his body near central jail.
Reason
Jaideep was killed because he loved a Muslim girl.
Murderers
Muslim family– Aslam
Victim 32: Khetram Bhim
Hindu man, Khetram Bhim resident of Rajasthan, was having affair with a Muslim girl. Muslim girl's family did not like the relation and warned him.
Reason
Khetram Bhim have affair with a Muslim girl so muslim men tied his hands and lynched him to death in fields.
Murderers
Muslim Men — Sadam and Haiyaat Khan
Victim 33: Manjunath Gaikwad
Manjunath Gaikwad, a resident of the Jewari village of Maharashtra married a Muslim girl. Muslim Girls' family was against this marriage. One year later, Hindu man Manjunath was thrashed by the family of the girl for marrying their daughter. They also abused his caste.
Reason
Khatam Bhim has affair with muslim girl so Muslim men tied his hands and lynched him to death in fields
Murderers
Muslim — Mohamood Chawoos, Nasima Begum, Saif Ali, and 4 muslim men.
Victim 34: Krishna Valmiki
Hindu man Krishna Valmiki resident of Jhalawar of Rajasthan was dragged out of his car in broad daylight and brutally attacked by Muslim goons with sticks and weapons. One of the criminals shot the video of the incident and it went viral on social media. This was done to create panic among the people.
Reason
Muslims want hooliganism in the region.
Murderers
Muslim — Qureshi, Rais, Imran, Sohail, Shahid, Akhtar, Burhan, and his goons
@BhimArmyChief, Prakash Ambedkar (Bharipa Bahujan Mahasangh chairperson), Can you explain why Muslims are targeting our Hindu brother's despite of your affirmance of "Dalit-Muslim Unity", so it is wrong to say that "Dalit-Muslim Unity" is nothing except "Farce" and mere a vote bank politics.
Lutyens Zone Spoof Media
Indian Nero's guest's media wackily narrative which politicians have often used to ensure that the Muslim vote bank remains intact. Any news report you pick up, always mentions Hindus as the default aggressors.  
How can one forget the Communal Violence Bill which UPA (United Progressive Alliance) was about to introduce which outlines the victim of any sectarian violence would always be the Muslim and the perpetrator always a Hindu?
All of us must remember that how all the Lutyens's Zone journalists like Ravish Kumar, Karan Thapar, Saba Naqvi, Barkha Dutt, Sagarika Ghose, Rajdeep Sardesai, Siddharth Vardrajan always gave a political context whether it's the cold-blooded murder of Ankit Saxena or murder of Prashant Poojari or murder of any Hindu brother or sister.
During the Delhi anti-Hindu riots, that started right from the first week of November when Muslim mobs went on a rampage opposing NRC and CAA, were turned on its head to peddle the narrative of it being an anti-Muslim riot. Journalist like Sudhir Chaudhary and Deepak Chourasia was denied doing reporting in Shahin Bagh, the epicenter of Anti-CAA Protests while Leftist Lutyens's Zone media was allowed to hold programs all day in and out.
Pugnacious Spiny Road Ahead
Although this hoaxed Indian Media will always remain silent on our Hindu brothers and sister's murder, but this malaise is highly deep-rooted in "Hinduphobia". However, every Santani should take an oath that it will ensure that the ordeal of the "Brutalized Hindu will never get lost in the minoritarian cacophony."
---
[1] 8 Arrested in Bajrang Dal Activist's Murder in Karnataka (ndtv.com)
[2] New Delhi residents live in perpetual fear of the immigrant Muslims in their neighbourhood (opindia.com)
[3] Vikaspuri murder: Dr Pankaj Narang was dragged out of home, beaten to death with bats | Cities News,The Indian Express
[4] Ankit Saxena Killing: Residents Shocked That Their Neighbour Hated A Man Enough To Kill Him (swarajyamag.com)
[5] Khayala Ground Report: Neighbours Recall Gory Triple Murders, Say They Have Been Wrongly Painted As Cowards (swarajyamag.com)
[6] Police nabs suspect in lynching of 14-year-old after mother names his Muslim friends – Mail Today News (indiatoday.in)
[7] Aspiring air hostess murder case: Three arrested in Mumbai after Riya Gautam stabbed to death | India News,The Indian Express
[8]Jamia attacker's Facebook post says he wanted to avenge Chandan Gupta's murder | India News – India TV (indiatvnews.com)
[9] Dalit man found murdered in Hathras, second killing within 15 days – Hindustan Times
[10] Body of Dalit youth beaten to death recovered near a mosque in UP's Hathras, accused arrested (opindia.com)
[11] Ten People Including Man Who Took Selfie Before Lynching Of Tribal Man Arrested In Kerala (indiatimes.com)
[12] Man killed for opposing bike stunts (indiatimes.com)
[13] Man killed for opposing bike stunts (indiatimes.com)
[14] PMK functionary Ramalingam murder case: NIA raids premises of Muslim outfits in Tamil Nadu – The Hindu
[15] 22-yr-old set ablaze in UP, 4 arrested | Latest News India – Hindustan Times
[16] Brawl over payment: Two days after lassi seller dies, police maintain vigil in Mathura | India News,The Indian Express
[17] Muslim men kidnap Hindu girl, lynch her father to death | NewsBytes (newsbytesapp.com)
[18] Man tied to tree, beaten by mob in UP town; three arrested – Hindustan Times
[19] Mindset Behind the Blasphemous Murder – Organiser
[20] IB staffer Ankit Sharma, killed in Delhi riots, was stabbed 51 times: Police chargesheet | Latest News India – Hindustan Times
[21] Delhi violence | Seven arrested for head constable Ratan Lal's murder – The Hindu
[22] Couldn't even see my husband's face, guilty must be hanged: Wife of Palghar lynching victim – India News (indiatoday.in)
[23] List of cases where Muslim families killed Hindu boys for having relationship with their daughters – Telangana Mata
DISCLAIMER: The author is solely responsible for the views expressed in this article. The author carries the responsibility for citing and/or licensing of images utilized within the text.