How Urban naxals hate India?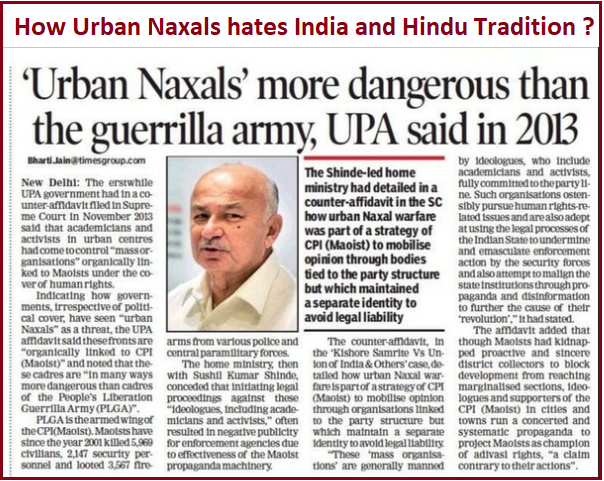 Urban Naxal should have been a synonym for a concealed act of Subversion. This remained unknown to the national mainstream until PM Modi was elected as Prime Minister of India. India now knows the pernicious act of this anti national group, who can collude with both China and Pakistan ideologically to destabilize their own nation.
Urban naxal does not reside outside India. They are within the Boundary. They are cunning enough to take defense of constitutional provision on freedom of speech and other fundamental rights. They would raise issues that create, promote social dissention and class war. Mobilizing weaker sections and poor people against the Government, stalling development projects and opposing Social integration are their overground activities.
Yet secretly their true agenda is to align with those external enemy forces who want to see India get balkanized.
Urban naxal are most vociferous for human right of terrorist and militants. While never ever a word would be spoken against mindless brutal killing of innocent citizen by these terrorists. This agenda against the Indian Military and Government had been most visible in J&K and North east.
Stalling development projects in tribal belts ranging from Jharkhand to Telangana is not unknown. Supporting the armed naxal with funds and resources through covert means had been widely reported. The hate for the Government had been so ugly that the supporters of urban naxal distributed sweets   on the occasion of ambush and killing of 76 CRPF personnel at JNU premises. Celebrating JK terrorist like Afzal guru and Burhan wani have been shameless displayed.
Urban naxal have a special hate for Hindu Sanatan tradition. Mocking at sanatan tradition, disrespecting Hindu belief, rituals and insulting Hindu God and Goddess are so common. But they would never utter a work against Muslim or Christian practices.  Ghooghat for Hindu female would be an act of suppression but veil for Muslim women is a Religious choice. Never ever urban naxal will raise voice against illiteracy, child marriage, polygamy, divorce, sexual exploitation or right to maintainance and equality in family matter for any religious group other than Hindu.
They are the strongest votary of illegal Proselytizing activity and Demographic Conversion by missionaries. It had been their silent yet most successful weapon. States where ever conversion has happened, Hindu have either left or are constraints to live a second grade citizen.
They were silently and dangerously working on their agenda until PM Modi allowed the state apparatus to expose them.  Lobby and sympathizer of Urban naxal are hidden like terrorist`s sleeper cell. Their activities are now under notice. But until now the Judicial system has offered them a long rope. The state must prevail upon and crush them with an iron hand. Else the Balkanization of Our country Bharat and destruction of Hindu religion is a foregone conclusion time ahead.
DISCLAIMER: The author is solely responsible for the views expressed in this article. The author carries the responsibility for citing and/or licensing of images utilized within the text.