'Mamata' on Durga Puja in Bengal, how has BJP changed the equation in the state?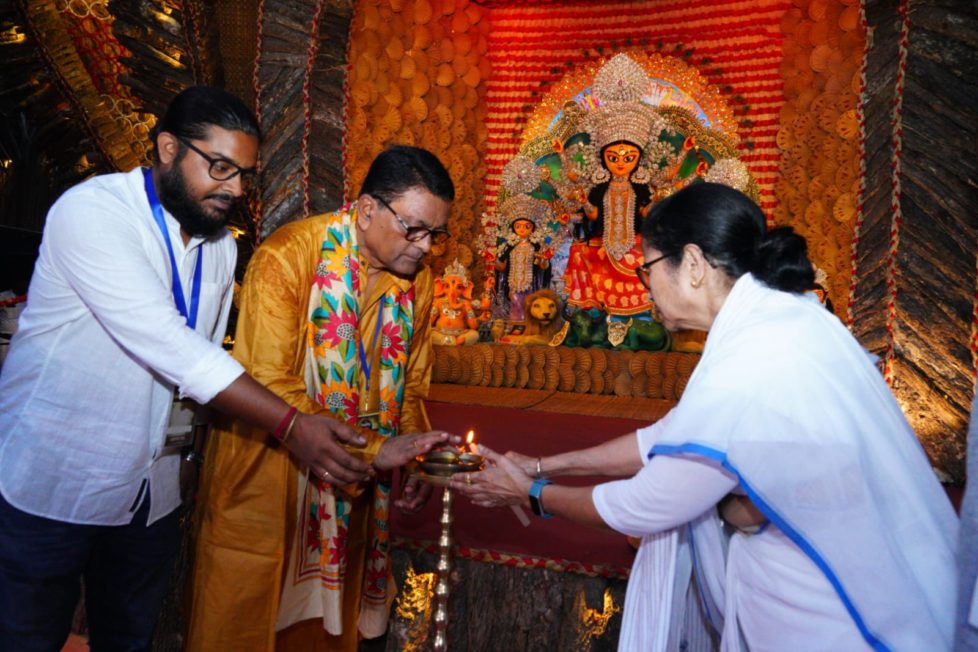 Highlights – 
This time in Durga Puja, a different form of Chief Minister Mamata Banerjee is being seen.
Mamta is inaugurating all Durga pandals physically or virtually this time too.
Along with this, she is sometimes seen playing Dandiya and sometimes playing Dhak.
This time in West Bengal's Durga Puja, a different form of Chief Minister Mamata Banerjee is being seen. Like every year, this time also she is inaugurating all Durga Pandals physically or virtually. Along with this, she is sometimes seen playing Dandiya and sometimes playing Dhak. For the last few months, due to CBI-ED raids, exposing scams and arrests of ministers, Mamata government was constantly on the target of opposition, but in the festive season, seeing its supremo 'cheerful', Trinamool Congress office-bearers and leaders also heaved a sigh of relief. are. At the same time, some political experts are giving credit to the BJP behind this changed style of Mamata Banerjee, who has often been accusing the TMC supremo of appeasement.
Last Wednesday, Mamata Banerjee was seen performing dandiya at Chakraberia pandal in Ballygunge. A video of this also surfaced in which Mamta is playing dandiya while some women are doing garba in a circle. Earlier, Mamta Banerjee had recited Chandi Shloka in a pandal located at Sribhumi in Lake Town, Kolkata. Similarly, in another pandal, she was seen carrying a cover over her shoulder.
Mamta also launched a music album,
she is present through songs in pandals where Mamta is not able to attend. Actually Mamta Banerjee launched a music album of hers on the occasion of Navratri. It is a compilation of 8 songs, written and composed by Mamta Banerjee.
Support for soft Hindutva before 2024?
On the occasion of the festival, Mamta Banerjee's new look is also being linked to politics. Analysts say that before the 2024 general elections, Mamata is resorting to soft Hindutva to take on the BJP. The BJP accuses her of being anti-Hindu, that is why she is also countering it. She is also taking the credit of getting Durga Puja cultural heritage status from UNESCO. This time he has planned to visit a record number of puja pandals.
So far more than 400 Durga Pujas have been inaugurated
starting from Mahalaya, Mamata Banerjee visited all the major pandals of Kolkata and inaugurated Durga Puja. He has inaugurated more than 400 Durja Pujas till date (physical and virtual).
The TMC government had laid the groundwork for the grand celebrations this year after Durga Puja got the heritage tag from UNESCO. On September 1, Mamata Banerjee took out a thanksgiving rally to UNESCO. Apart from this, the state government had announced an 11-day holiday for its employees. At the same time, a grant of Rs 60,000 has also been announced to 43,000 worship committees.
Immersion was not allowed in 2017,
BJP has often been accusing the Mamata government of appeasement politics. In 2017, the TMC government had banned idol immersion on Vijayadashami as it coincided with Muharram. However, later the Calcutta High Court stayed the government's decision. This had dealt a severe blow to the Mamta government. Since then BJP has taken it as a weapon against TMC.
Last week, Union Minister Meenakshi Lekhi had taunted Mamta over this. Meenakshi Lekhi had said that the government, which 'banned' idol immersion, was taking credit for the honor of UNESCO.
BJP started Durga Puja 2 years ago
On the other hand, Bengal BJP also started Durga Puja two years back. BJP had organized Durga Puja celebrations for the first time before the assembly elections in 2020. This was a result of the initiative of the then BJP leaders Mukul Roy and Sabyasachi Dutta, although now both these leaders have returned to the Trinamool Congress (TMC).
For the first time, the West Bengal BJP has chosen a non-Brahmin woman priest to conduct its annual five-day Durga Puja. 28-year-old Sulatha Mandal, who is studying Guidance and Counseling at Satyapriya Roy College of Education in Kolkata, will lead the BJP's Durga Puja this time.
DISCLAIMER: The author is solely responsible for the views expressed in this article. The author carries the responsibility for citing and/or licensing of images utilized within the text.