Tale of two judgments – Sometimes Justice seems to be a travesty for the majority community in India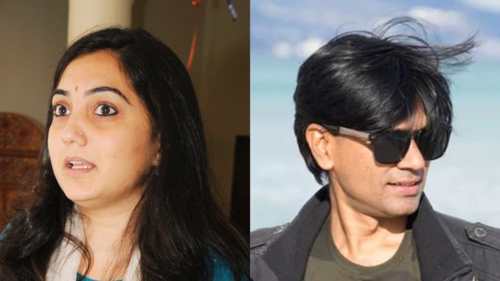 The Indian judicial system, as a whole, is nothing short of an atrocity. Individual judgments may bespeak sagacity, but caprice with regard to the interpretation of the law is its most distinctive feature.
The Supreme Court on Wednesday granted bail to Alt News co-founder and alleged fact-checker cum fact-twister Mohammed Zubair in all FIRs lodged against him in Uttar Pradesh. "No justification to keep him in continued custody and subject him to endless rounds of custody," the top court said. The journalist must be released by 6 pm today, ordered SC. The SC has been demonstrably kind in its words and action regarding Zubair.
With respect to the quashing of the FIRs against Zubair, Justice Chandrachud said that the Delhi police FIR has offences of cognate nature which is similar to the UP police FIRs and therefore, it would be needed to club together all FIRs and hand them over to one investigating authority.
The Times of India on Thursday reported the SC as saying in its judgment: "How can we restrain a journalist, or anyone for that matter, from tweeting? It is like asking a lawyer not to argue. If he (Zubair) posts tweets in violation of law, he would be answerable for it. Every citizen is answerable for what he says in public. We will not place any restraint of this nature. It is a settled principle of law that the existence of the power of arrest shall be distinguished from the exercise of the power of arrest. The exercise of the power of arrest must be pursued sparingly."
Prior to this, the apex court, in an ironic move, granted protection to Nupur Sharma from arrest in multiple FIRs over Prophet Mohammad's remarks. After July 1 order where it held the former BJP spokesperson responsible for the Udaipur killing and the situation taking place in India and called her arrogant.
Those in the media who celebrate the Wednesday judgment as a victory for press freedom must worry about what this judgment really means in terms of free speech. Strange as it might sound, civil society, which is to say the left/liberal Progressives given to rage and outrage for freedom, is equally quick to be offended in language, manners, and politics, and to hand out punishments. In short, political correctness is often a euphemism for a kind of fashionable intolerance.
India would have done better had it defended the fact that under the Constitution, criticising religion and gods is not a crime. Or the vice-versa holds true for everyone irrespective of the religious identity.
Nupur Sharma spoke ill about the Prophet. Nothing she said violated any law. Multiple FIRs were filed against her. They should not have been filed. She did not get arrested despite multiple FIRs. When she approached the Supreme Court for protection from arrest and clubbing of FIRs, the Supreme Court gave her an unnecessary and irrelevant lecture about the consequences of her speech.
Regardless of how vile or not Sharma's words were, the Supreme Court had to decide two things — should she get bail and should multiple FIRs be clubbed. The simple answer to it in law is — yes. It did not do this. It failed to discharge its constitutional duty. Whereas the top court ordered on Wednesday that Mr Zubair be released from jail immediately, saying there was no justification in keeping him in custody.
FIRs against Mohammed Zubair and Nupur Sharma
Zubair was arrested by Delhi Police last month over a complaint filed by a social media user over his old tweets where he had insulted Hindu Gods and Goddesses. He was arrested under Section 153 which deals with wantonly giving provocation with intent to cause riots and 295A of the Indian Penal Code which entails deliberate and malicious acts, intended to outrage reli­gious feelings of any class by insulting its religion or reli­gious beliefs. Since then, multiple FIRs were filed against him in connection with different cases in various parts of Uttar Pradesh.
On the other hand, after being ceaselessly hounded by Islamists who bayed for her blood and called for her beheading, multiple FIRs were filed against Nupur Sharma in different parts of the country for her comments on Prophet Muhammad derived from authentic and reliable Islamic Hadiths. While filing the petition to club the FIRs, the Supreme Court judges reprimanded her and held her single-handedly responsible for setting the country on fire.
Let us take a look at what SC said about both the cases-
On Nupur Sharma, the SC judges asked her to apologise on national TV over remarks on Mohammad Prophet while in the case of Mohammed Zubair, no statement was made even after he had hurt religious sentiments through hate speech, Hinduphobic tweets and trying to divide the country.
The Supreme Court, in its July 1, order slammed Nupur Sharma over her remarks on Prophet Mohammad. It said, "What is her business to make these remarks?… The way she has ignited emotions across the country… This lady is single-handedly responsible for what is happening in the country." On other hand, in the case of the Alt News co-founder said it cannot stop Mohammed Zubair from tweeting. "It is like telling a lawyer that you should not argue. How can we tell a journalist that he will not write or utter a word?", it said.
Against Nupur Sharma, the Supreme Court judges said, "Merely being the spokesperson of a national political party does not give any person a license to say such disturbing things. These are not religious people at all, they make statements to provoke." On Zubair, it said, "if Zubair posts any objectionable tweet, he will be answerable to law, but added that there cannot be an "anticipatory order interdicting someone from speaking".
One should remember that SC had rejected Nupur Sharma's petition to club multiple FIRs against her, which were similar however, the Supreme Court said, "The petition smacks of her arrogance, that the Magistrates of the country are too small for her. When an FIR is registered and you are not arrested, this shows your clout. She thinks she has backup power and makes irresponsible statements", the Court said during the hearing.
But, in Zubair's case, the Supreme Court said it is clubbing all the FIRs and transferring them to Delhi because they were "similar". "Contents of all FIRs seem to be similar. What seems to be happening is, as he gets bail in one case, he is remanded in another. This vicious cycle is continuing," the SC said. It is pertinent to mention that there are different FIRs registered against Mohammed Zubair. And these FIRs against Mohammed Zubair are for hate speech against saints, instigating riots, Hinduphobic tweets, and defaming a news channel among other things. This itself that all the FIRs are not at least similar.
The Supreme Court judges said that Nupur Sharma provoked whereas, for Zubair, it said, "We find no reason for his deprivation of personal liberty to persist."
We are not questioning the orders/verdicts of the Supreme Court, but layin down the statements made by the top court on both the cases which are quite similar in nature.
In the light of bail granted to Alt News co-founder, several media professionals highlighted the top court's reaction to Nupur Sharma vis-à-vis their stand on Mohammed Zubair's arrest. But none put it as incisively and precisely as India Today journalist Shiv Aroor.
https://twitter.com/ShivAroor/status/1549735271842856960?t=yOC4S3n_ReCtGu-ye3nJug&s=19
The court order on Nupur Sharma on July 1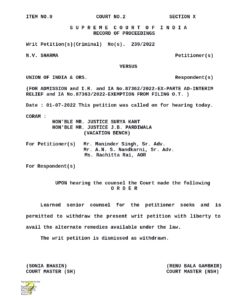 DISCLAIMER: The author is solely responsible for the views expressed in this article. The author carries the responsibility for citing and/or licensing of images utilized within the text.