Illegal Christian college dupes girls, forces to attend prayers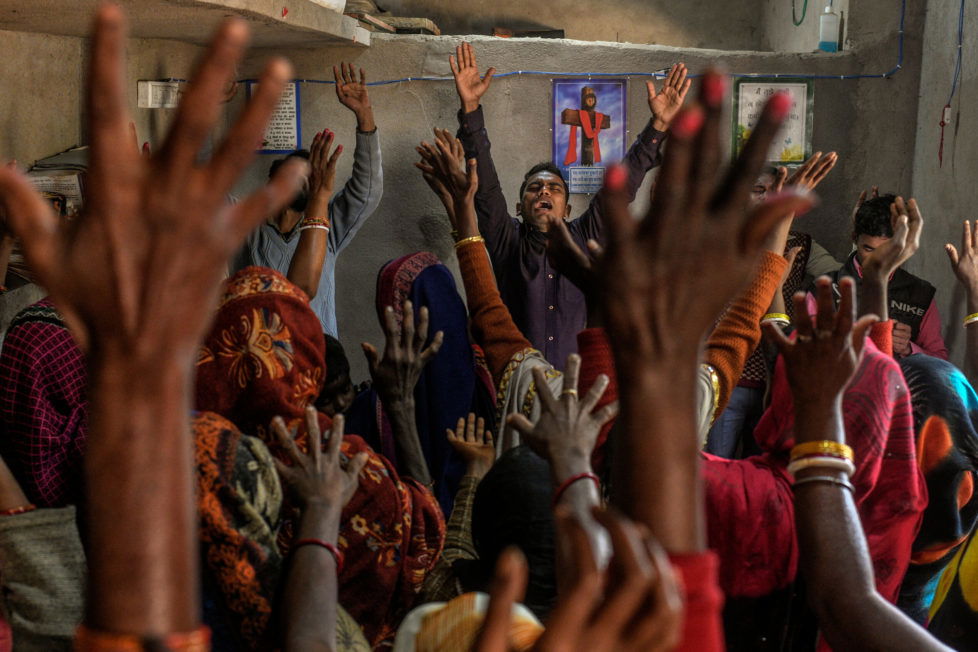 In Tamil Nadu, female students at a Christian nursing school claim that the administration forces them to attend prayer gatherings. Additionally, the institute has been accused of improperly conducting classes.
According to reports, Seven female students who enrolled in the diploma nursing training program at the Gideon "Nursing College" in Salem claim the school had them attend Christian prayer meetings. The girls, who are natives of the Tiruvannamalai district, petitioned the Salem District Collector to take action against the institute. They claimed to have enrolled in the Diploma Nursing program, however, the instruction is subpar.
We are compelled to attend the Sunday prayer services. If we choose not to participate in the prayer gatherings, they are making us pay a fine of Rs 200. We don't want to stay in this "college" any longer. Since we desire to continue our education in our hometown, the district government should assist us in getting our mark sheets and transfer certificates back.
When asked about the situation, "Assistant Professor" Jenifer reportedly responded, "We have Prayer meetings and theory classes on Sundays," according to the Tamil newspaper Dinamalar. Anyone who wants to can go. Nobody is forced by us. When Hindu Post looked for information on this purported "Nursing College," we discovered that it actually describes itself as a center for skill development. Even that, as it is not a registered Skill Development Center, struck us as being false.
According to the "college's" name board, which is viewable online, it is "Affiliated by Govt of India NCVRT/TN/2325/VTC" and is operated by the "Bright Victoriously Trust." It is described as a "constituent board of NCVRT Vocational Education Council constituted by articles 29 and 30(1) of the constitution" on the website of the National Council of Vocational and Research Training (NCVRT). It states that one International Quality Standards for Vocational Education Council has accredited it (IQSVEC). The directors of NCVRT and IQSVEC are the same, despite the fact that the latter may sound like some sort of global accreditation agency. Both are Section 8 corporations registered with the Ministry of Corporate Affairs.
According to the phrase "Established by articles 29 and 30(1)," NCVRT is a minority institution. According to its website, IQSVEC has certified the courses provided by associated Vocational Training Centers (VTC). It performs governmental duties by giving permits for the construction of new VTCs, managing zonal offices across the nation, and awarding diplomas for completed courses. A variety of diploma programs are available, including "NGO management."
Numerous foreign organizations, like the World Youth Skill Council, USA Youth Skill, Sri Lanka Plumbing Council, etc., have their logos displayed on the website. We looked into these organizations but came up empty-handed. It appears to be an effort to lead individuals to believe that NCVRT has a partnership with these organizations to offer employment.
When a social activist petitioned the Madras High Court to seal unauthorized nursing facilities in May 2017, NCVRT made headlines. Such institutions, according to the PIL, "were primarily operating in Thanjavur, Tiruvarur, and Nagapattinam districts and claimed to have obtained approval from BSS (Bharathiya Seva Samaj) and NCVRT (National Council for Vocational Research and Training), which were not authorized to grant such approval." An lawyer for the petitioner informed the court that "BSS and NCVRT were neither the governing body nor state machinery and were instead private organizations like a private trust."
Despite not being covered by the Indian Nursing Council Act, 1947, NCVRT has been providing licenses to purported nursing colleges, also known as VTCs.
The PIL had made note of the fact that VTCs, which operate under the guise of "permission" from NCVRT and other fictitious organizations, get funding from the state and federal governments for enrolling SC/ST students. While debating the PIL, the Madras High Court requested comments from the Tamil Nadu Nurses and Midwives Council and Indian Nursing Council. What happened thereafter is unclear because fraudulent institutes continue to run under the guise of NCVRT approval.
A student who had been duped by such fraudulent institutions filed a complaint with the Madurai bench of the Madras High Court in December 2017. Following a court order to check such "institutes," officers from the health department launched a crackdown.
According to a TOI report, paramedical and nursing "institutes" in 12 districts were raided, and one was discovered to have "approval" from NCVRT: the Raja College of Paramedical Science in Srivilliputhur, managed by one Christopher Xavier.
Since they were medical professionals, they were primarily interested in the paramedical courses that the 'institute' offered. The government closed down some "institutions" because they lacked the necessary infrastructure, licenses, and other requirements. An officer observed that although these "institutes" charged students a variety of fees, they instead dispatched them to remote hospitals for "training."
These "institutions" keep the meager salaries that the hospitals pay their employees and then demand thousands of dollars from students who want to leave in order to receive their original diplomas. A like pattern can also be observed in the case of Gideon Vocational Training Center.
Government representatives don't seem to be aware of the massive fraud taking place across the nation. It is obvious that these "institutions" also serve as conversion facilities given the thousands of young lives that are at risk. One of the many ways that Christianity and the church attack Hindu culture and Bharat is in this instance, which is a typical example of poking one's own eyes with one's own fingers.
DISCLAIMER: The author is solely responsible for the views expressed in this article. The author carries the responsibility for citing and/or licensing of images utilized within the text.