Iran's surgical strike in Pakistan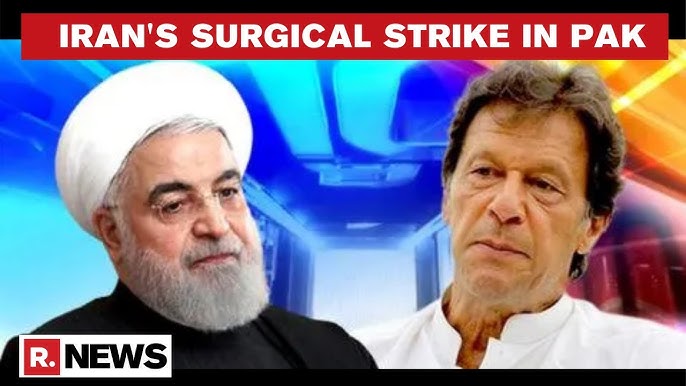 Pakistan and Iran have a huge International border of 959 kilometers. This border has a history of terrorist attacks, primarily from the groups based in Pakistan. The western part of Pakistan has a huge independence struggle going on, many Baloch groups wish to secede from Pakistan and make an independent country, but some groups also attack Iran. Baloch in itself is an ethnicity, historically the southern part of Afghanistan, the western part of Pakistan and the Eastern part of Iran are of Baloch peoples. In the last 50-60 years, the government of Iran and Pakistan had suppressed the Baloch people, they were always deprived of their rights. In Pakistan, the Balochistan province is their least developed province, same as Iran with fewer Schools and a high poverty rate.
In Pakistan, many groups attack Iran to give more rights to Baloch peoples or make an independent country of Baloch peoples. One of such groups is Jaish ul-Adl, which is a Salafi jihadist militant organization that operates in south-eastern Iran, where there is a substantial concentration of Sunni Baluchis and a porous border with Pakistan.
The official news outlet of Iran, FARS News claims that Jaish ul-Adl is a Pakistan based Wahabi group. Iran and the US both had declared Jaish ul-Adl as a terrorist outfit, and even Japan and New Zealand believe the same but Pakistan does not recognize it as a terrorist outfit.
In the last four years, Jaish ul-Adl had conducted many attacks on Iran. On April 26, 2017, the group claimed responsibility for an ambush that killed at least nine Iranian border guards and injured two others. The Iranian border guards were patrolling Pakistan –Iran border when they are attacked. In December 2018, the group took responsibility for a suicide bombing in the port city of Chabahar, killing two police officers and wounded forty-two others. In mid-October 2018, the group abducted 14 Iranian Basijis (volunteer forces) and border guards at the Mirjaveh border in South-eastern Sistan- Balochistan province. Five were released a month later on November 15. Another four were released in March 2019. The IRGC Ground forces then blamed foreign intelligence services for supporting and assisting the terrorist group.
Recently the Intelligence Agency of Iran has done a secret operation in the territory of Pakistan.
Iran's secret forces entered Pakistan and free their soldiers who were kidnapped in 2018. This was covered by Turkey's government-backed publishing house, Anadolu Agency. The Relation between Pakistan and Turkey is good so most of their publication are pro-Pakistan, they rarely criticize Pakistan. This story is confirmed by both Iran and Turkey's media, so on this basis, we can say that a surgical strike on Pakistan is conducted once again as claimed by Turkey, Iranian and Indian media.
The nature of surgical strike is unknown, whether there was bombing, terrorists were killed, bullets were used are not known. But since both Iran and Turkey are using the word 'Operation' then it's obvious that it's not only chit-chat, some confrontation and Operation has happened. Pakistan media is altogether ignoring the whole event.
In a broader sense, if Iran's intelligence agency has conducted an operation in the territory of Pakistan and freed its people, they are sending a message that Iran will not tolerate the notorious nature of the terrorist outfit groups of Pakistan. Now Iran does not have a Trump pressure so their foreign policy will be more flexible now.
Source: https://moderndiplomacy.eu/2021/02/07/irans-surgical-strike-on-pakistan/#disqus_thread
Image: Republic World
DISCLAIMER: The author is solely responsible for the views expressed in this article. The author carries the responsibility for citing and/or licensing of images utilized within the text.