ISKCON : "The Hare Krishna Movement"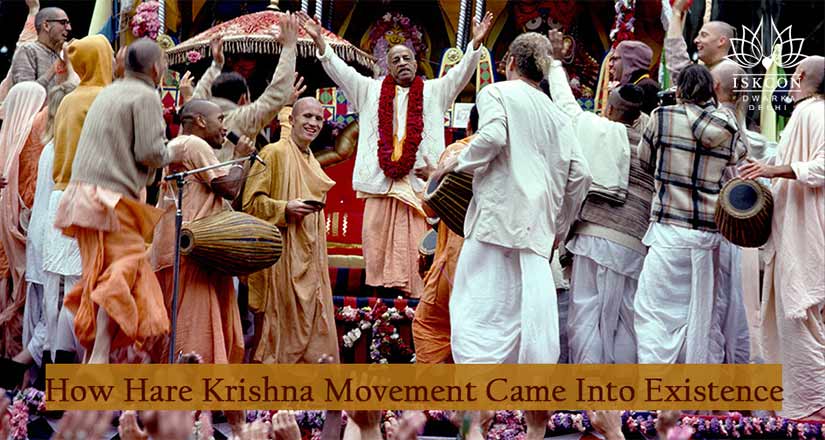 The Sankirtan movement in Eastern Part of India was started by Sri Sri Krishna Chaitanya Mahaprabhu in the 1500s. The faith of masses which was started, promoted and preached by Chaitanya Mahaprabhu became the guiding principle and way of life for the ocean of believers. Subsequently ISKON, The Hare Krishna movement, took this movement to its Himalayan height for the world today.
Srila Prabhupada whose child name was Abhay Charan De, (1-Sep 1896 – 14-Nov 1977) was a spiritual disciple of Chaitanya Mahaprabhu. He rediscovered and institutionalized the "Hare Krishna Movement" for the welfare, peace and prosperity of entire Mankind in his lifetime.
Srila Prabhupada, an humane soul who had a noble and humble beginning went on to acquire a degree of graduation in 1920 in English, philosophy and economics. At the age of 22, he married Radharani Devi to enter into Grihasthya Jeevan. He immediately started his small pharmaceutical business to meet his humble livelihood. In 1950 when he turned 54 year of age, he adopted the path of renunciation (Vanprastha).
He pursued his Vedic thoughts and Philosophy for next 9 years, only to take the Vows of absolute recluse (Sanyass) in the year 1959 at the age of 63 year.
And for the next 18 years until his mortal existence on planet earth (14-Nov 1977) he assiduously wrote a series of commentaries on Vaishnava scriptures.
His life was a mission. He was a Vedic Scholar who understood the path of Knowledge and redemption of pain and miseries of life. He invoked the sleeping masses to arise and attain the message of Krishna Chaitanya.
Srila Prabhupada founded the International Society for Krishna Consciousness (ISKCON) in New York City in the year 1966, when he was 70 years old.
The generation to come would not believe the ability, mental agility and perseverance of Srila Prabhupada who at the age of 70, went on to institutionalize the ISKCON movement with virtually no resources in an unknown land amidst indifferent society. By now he was quite late and grew up in a mortal age. But his spiritual power and vision were indomitable.
He had attained authority in the school of Vaishnavite Hinduism which was thoroughly taught to him by his guru, Sri Bhaktisiddhanta Sarasvati. He started preaching to the masses, delivering the message of Lord Krishna to his audience in New York and elsewhere. His central command was to follow the Bhagavata Purana as a central scripture.
No sooner did he start. He received a barrel of vocal criticism, disapproval and rejection from many celebratities like J. Stillson Judah, Harvey Cox, Larry Shinn and Thomas Hopkins. Yet he never had second thoughts about his ability and objective of life. He never blinked for a moment. Bhagavata Purana remained his central scripture for all his discourse.
Srila Prabhupada life was a mission. He perceived a growing cult of despair and disillusionment about life on account of lessening value of spiritualism and rising materialism. The absence of Philosophy and scientific logic in religious discourse has left the masses vulnerable to digression desperation and soporific vulnerability.
The key to his preaching was to initiate the concept of Life under Bhaktivedanta (bhakti-vedānta). Which meant, "One who has realized that devotional service to the Supreme Lord is the end of all knowledge.
Mission to the West: In 1936, just days before Bhaktisiddhanta Sarasvati's death, Srila Prabhupada was anointed to spread Krishna consciousness in the English language to the West. Thus, ISKON had the blessing of Sacred Guru.
In 1967, ISKCON established its first temple at New York followed by another soon at San Francisco. With virtually no resource at disposal, it was blessing alone that made the beginning possible. Srila Prabhupada teaching were very simple to an ordinary mass. His Four Regulative Principles During initiation (diksha) at ISKCON were:-
 To follow a lacto-vegetarian diet
 Not to consume any intoxicants (alcohol, cigarettes or drugs)
 Not to gamble
 Not to engage in 'illicit sex'.
The Mission of ISKCON had less or possibly no resources. They could not have staged ornamental demonstrations in those early days of struggle. And hence he employed three basic methods of public contact.
 Street chanting (sankirtana),
 Book distribution and
 Public speeches/ Preaching.
Festival: – Srila Prabhupada invoked his followers to celebrate Hindu festival for spreading social awareness and religious ethos. Festivity is the soul of Religion. Connect and integration with the lord was the essence of his preaching. He urged his followers to celebrate Janmashtami, Radhashtami, Diwali, Gaura Purnima, Ekadasi, Holi, Rama Navami and Gita Jayanti. The Ratha Yatra, the Festival of Chariots was declared as an annual grand celebration for displaying and connecting to the deities of Lord Jagannatha, Baladeva, and Subhadra.
In the twelve years between his arrivals to New York till the mortal stay on planet earth, he never took a pause. Srila Prabhupada determination and engagement to preaching and promotion of the Krishna consciousness for the welfare of mankind is a fascinating and indefatigable story.
He travelled across the globe delivering sermons. Lectured at assemblies, initiated devotees in ISKON fold, established temples, constructed Vedic Gurukul, taught meditation to his disciples and wrote articles and interpretation of Bhagwat Puran. The Epic Gita was the nerve to his consciousness.
He went on to establish Bhaktivedanta Book Trust, and it is claimed to be the world's largest publisher of ancient and classical Vaishnava religious texts today. There are now over 80 books authored by him on philosophy and interpretation of Indian religious Scripture and Bhagwat Puran, which has been published through this trust.
Perhaps after the burning of Nalanda University in 1203 AD where nearly 9 million books and periodicals were set on fire, it was the first great movement to write and educate the masses about the greatness and depth Hindu philosophy.
ISKON besides being a Spiritual movement, is also a social and cultural movement. ISKON also offered learning on ways of life. It went on to establish a social society like New Vrindaban in West Virginia, Nueva Vrajamandala in Spain, La Nouvelle Mayapur in France and Villa Vrindavan in Italy.
Such was the vision of Srila Prabhupada that on one occasion of discourse with renowned historian Arnold J. Toynbee in London, he stated: "I have started this Krishna Conscious Movement among the Indians and Americans and for the next ten thousand years it will increase."
Bhaktivedanta Srila Prabhupada mortal stay on planet earth remained till 14 November 1977. He submerged into immortality and departed for heavenly abode at Vrindavan, India in 1977.
Until 2016, The ISKCON as planted by Srila Prabhupad had made rapid strides in reaching to the masses. It had over 95,000 initiators and over 10 lakh life time members engaged in promoting Krishna Conscious Movement around the world. By the end of 2020 today, it has around a million congregational members worldwide.
The Congregational members are those believers who live in their own homes and follow the path shown by Srila Prabhupad. The other group of devotees are Clergy who live in ISKCON temples and work full time for the movement.
ISKON has a large and world-wide presence for its Krishna consciousness followers through an approximately 135 ISKCON Temple in Europe, another 60 in North and another 65 in South America and another 70 in Africa and another 80 in Asia besides running nearly 170 temples in India.
World-wide there are ISKCON temples education center Vedic Gurukul, Ayurveda treatment center, eateries, pilgrimage center and Vedic Village. The headquarters of ISKCON is located at Sri Mayapur Chandrodaya Mandir Temple of the Vedic Planetarium, in West Bengal India.
DISCLAIMER: The author is solely responsible for the views expressed in this article. The author carries the responsibility for citing and/or licensing of images utilized within the text.