Jihad against Hindus supported by the Fijian government and with Pakistan's aid?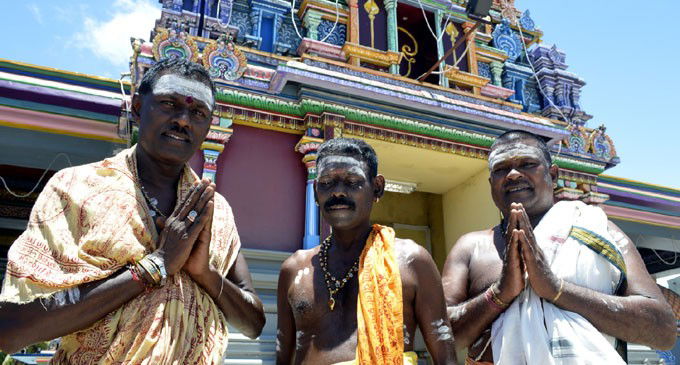 The current and eighth prime minister of Fiji, Frank Bainimarama, was installed in office in a coup in 2007. He was enthroned with the vision of bringing Fiji together. Meanwhile, Attacks against Hindu Fijians have continued and have grown to enormous dimensions in recent years. Hindu Fijians assert that Aiyaz Sayed-Khaiyum is in charge of the most recent spate of persecutions. He serves as the economy, civil service, and communications minister in Fiji.
According to reports of Hindu Post, Aiyaz served as Fiji's attorney general, minister for justice, anti-corruption, public enterprises, communications, and civil aviation, and minister in charge of elections under the Bainimarama administration prior to his appointment as a cabinet minister after FijiFirst won the general election in September 2014. The Economist claims that Sayed-Khaiyum is in charge of the Fijian government's day-to-day operations. He is referred to as one of the "most powerful men" in the South Pacific by The South China Morning Post.
The driving force behind Sayed-Khaiyum, however, is not Bainimarama's blessings, who temporarily transferred authority to him while he was recovering from a heart attack, but rather a distant country, Pakistan, Bharat's neighbor. Pakistan has been so involved that a Pakistani organization, NADRA, the National Database Registration Authority of Pakistan, managed the 2017 elections in Fiji. The same business is now being charged with election fraud and stuffing ballots.
A Pakistani corporation named NADRA was hired by Khaiyum to oversee the 2018 election process in Fiji. According to the Pakistan Inter-Services Intelligence, this is the same business whose senior officers assisted terrorists and other miscreants in obtaining bogus Pakistani national identity cards.
In exchange for bribes as modest as $100 USD, its officers allegedly issued ID cards to terrorists, some of whom were connected to al Qaeda. It is thought that vote rigging and dirty tricks were used in the 2018 elections due to the extreme secrecy. Despite strong allegations of manipulation and fraud, this enabled Bainimarama to maintain his position of authority.
Critics assert that Khaiyum focused his whole focus on the Hindu community in Fiji after Bainimarama allegedly handed him a free hand in exchange for the victory. Temple attacks increased in frequency, but Hindu intellectuals are also frequently detained by the police and charged with spurious offenses.
Professor Biman Prasad, a well-known academic and leader of the National Federation Party, is a recent example. He was just arrested by the authorities and given fabricated charges. The Hindu American Foundation has highlighted various instances where Hindus were routinely targeted by examining the persecution of Hindus since 2016 in detail. Sharvada Sharma's case is another well-known example.
For ten years, Sharvada Sharma faithfully served Aiyaz Sayed-Khaiyum as Solicitor-General. Khaiyum blamed Sharvada for his defeat in the initial court lawsuit he launched against former SODELPA MP Niko Nawaikula.
Critics assert that Khaiyum then devised the following strategy: He first employed PM Bainimarama to press for Sharvada's resignation. Sharvada withstood the pressure to resign and the bullying tactics. Then, using Mohammed Saneem, the elections supervisor, Khaiyum filed a complaint against Sharvada, leading to his dismissal. People in Fiji perceive this as an instance of the Islamist brotherhood banding together against a Hindu because of its ties to Pakistan.
On the day of Diwali in 2021, just before he was going to perform his big pooja in the evening, Sharvada received a letter of dismissal. When Khaiyum's employees handed Sharvada the letter of dismissal just before he was ready to do Diwali Pooja, he felt extremely humiliated. Despite the fact that Sharvada has filed a lawsuit, it is believed that the judiciary is unconstitutionally dragging out the proceedings.
In accordance with the 2013 Constitution, only the Chief Justice and President have the authority to remove the Solicitor-General, but in this case, Khaiyum and Saneem did so by ousting a prominent Hindu cleric named Sharvada. Critics assert that Khaiyum and his clique have damaged the judiciary and the entire justice system.
From 2009 until 2014, Dr. Neil Sharma tirelessly worked as one of the leading ministers of health in the Bainimarama administration. Dr. Sharma did not join Khaiyum's government after gaining his seat in the 2014 elections. According to sources, major FijiFirst funders pressured Khaiyum to refrain from giving Dr. Sharma the health portfolio once more because of his stringent standards for the quantity and quality of the food produced.
Khaiyum is believed to have a singular agenda: to prevent Hindu scholars from participating in politics, even when doing so would be detrimental to the interests of the country. The fact that Bainimarama frequently quotes him back reveals who is in charge in Fiji. What transpired in 2015 is a case in point.
In order to address the growing Non-Communicable Diseases (NCD) incidences in the nation, NFP Leader Dr. Biman Prasad submitted a resolution to the Parliament in 2015 calling for an increase in the health budget. As a former minister of health, Dr. Sharma understood the significance of this excellent motion and voted in favor of the NFP motion. All was resolved after Bainimarama and the then-House Leader, Pio Tikoduadua (now the NFP President), agreed that Dr. Sharma should vote in accordance with party lines the following time. But Khaiyum became irate and demanded Dr. Sharma leave.
While these allegations are refuted by Prime Minister Voreqe Bainimarama, other than condemnation they have no rebuttal for the above-mentioned claims.
Hindu activities have been restricted in recent years, and campaigners have drawn spurious accusations. Hindus in Fiji, where conversion is common, have low morale as a result of the public humiliation of prominent Hindus. The Pacific nation is very concerned about Pakistan's engagement and the resultant strengthening of its alliance with China. It imperils not just the interests of India, the US, and Fiji but also those of Hindus worldwide.
Hindus in Fiji have been the target of ongoing attacks since the majority of their ancestors migrated there from Bharat in the late 19th century. Only 27.9% of Fijians identified as Hindus in the 2007 census, down from the 45% who did so in the 1976 census. The majority of Hindus have strong links to Bharat, thus Bharat's opponents work with the Church to persuade them to convert and prevent them from remaining organized. The nation has evolved even further in that direction as a result of several coups in recent years.
DISCLAIMER: The author is solely responsible for the views expressed in this article. The author carries the responsibility for citing and/or licensing of images utilized within the text.