How Saka Johar prevented Necrophilia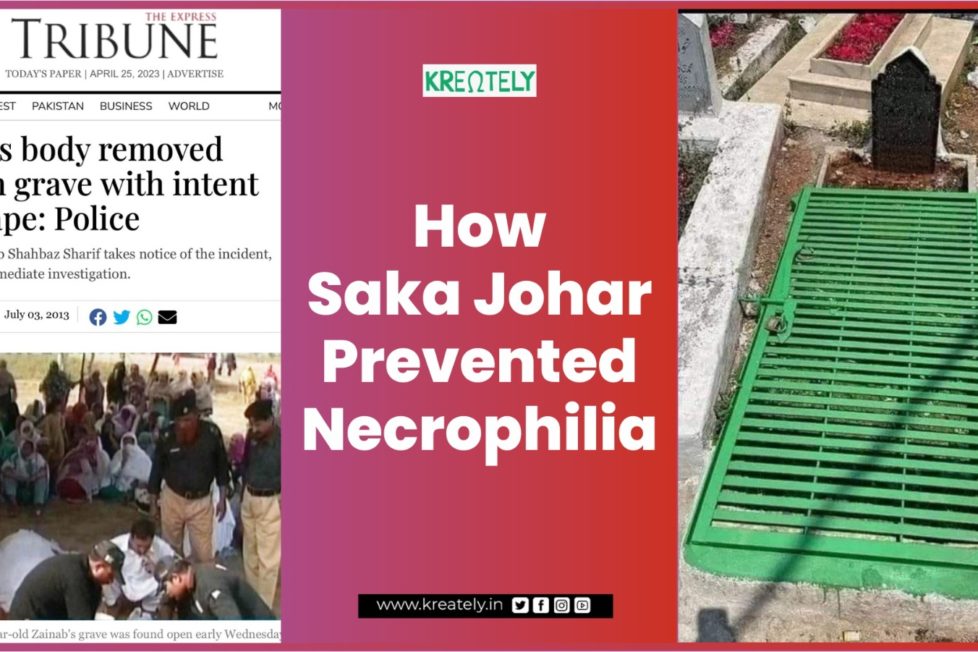 Recently, a picture of a grave from Pakistan is doing the rounds on social media.  The grave is said to be of a woman from Pakistan.  It has a grilled 'door' plus a lock and key protecting it from intruders.  One of the speculations about this act is that this is done to protect the grave from being dug out and the body desecrated.  Incidents of grave diggers taking our female corpses and violating them are far from rare in Pakistan.  In October 2011, one man named Muhammad Riaz was caught for an act of defiling female corpses in Karachi.  He reportedly admitted to committing this act on 48 different women over a period of 8 years.  He stated that he was working in the graveyard to water graves, and that the grave digger who had taught him ho to defile corpses died 2 years prior.  In 2021, the body of a 14-year-old girl was dragged out of her grave and raped. In the same year, 5 people were arrested and charged with necrophilia in another city.  There could be multiple such incidents and many would go unreported, due to the law and order situation as well as the stigma attached to the gory act.
Necrophilia is not just confined to Pakistan.  In 2022, a man of Pakistan origin was jailed for sexually assaulting a number of corpses in the UK. The report on the incident read:
"A warped "monster" who broke into a funeral parlour before having sex with a woman's corpse has been jailed for six years. Kasim Khuram, 23, forced his way into a Co-op undertakers before violating a dead body at around 1.40am on November 11 last year. A court heard how he lifted the lids of several coffins before selecting his victim. Khuram then removed the body from the coffin, took off her clothes and then "interfered with her" in the chapel of rest, leaving her face down on the floor.
Another female body was found face down in a coffin with her lower clothing pulled down while seven other corpses, including a baby, were disturbed. Police were alerted by the alarm at the funeral parlour on Walsall Road, in Great Barr, Birmingham, and turned up to find the depraved pervert still at the scene. Officers said he was "more concerned" about leaving his watch behind. Khuram, who had been drinking vodka and smoking mamba, told officers: "I bet you think I've been sh***ing them don't you?" and sickeningly added: "every hole is a goal."
Just like numerous other acts of depravity, the history of necrophilia is connected to religious fatwas, scripture and practices in the community.
The commentary available on the issue unfortunately leads to the Prophet of Islam, like so many other problematic facts related tooth's community.
A hadith  exists in six of Islam's classical reference texts which narrates an incident of the Holy Prophet taking off his shirt and then lying in a coffin with a deceased woman.  Some sources quote that the said woman was his Aunt who, while being very close to him in life, never came into the fold of Islam.  The Prophet explained that this act would purify her and free her from her sins of dying a Kafir.
I dressed her in my shirt so that she may be dressed in heavenly robes, and I lay with her in her grave so that the pressures of the grave may be alleviated from her.
Some very disturbing explanations of this incident include the literal meaning of the Arabic phrase used in the response of the Holy Prophet.  Allegedly the same word is used for intercourse in the Arabic language.
Apart from this, sunni Islam's four orthodox schools of jurisprudence namely, al-Hanafi, al-Hanbali, al-Maliki, and al-Shafi'i — implicitly permit necrophilia. In the section on adultery, the Maliki compilation mentions this:
If a husband enters his dead wife — any which way, from front or behind — there is no penalty for him. ( Sharh Mukhtasar al-Khalil fi al-fiqh al-Maliki)
According to Imam Shafai's instructions in the compilation
A dead body need not be washed after you have sexual intercourse with it. Rather, you just need to wash your penis. (Book of Purity – Chapter of Washing)
When we com a little ahead in history and look at the conduct of Mughal and Turk invaders into India, we find some extremely horrifying truths in the annuls of history.  The Saka Johor tradition practised by brave Hindu Rajput during the time of Akbar is slowly becoming known to Hindus. After Rana Udai Singh of Chittor's refusal to hand over his state, Akbar raided the city with his army of men and elephants on 25th February 1568.  At that time, the women committed ' Jauhar ' where huge wooden pyres would be lit and women and children less than 10 years of age would give themselves to the fire. The reason for this painful choice of dissolving their bodies was the Islamic practice of Necrophilia, where the Mughal army would sexually abuse the dead bodies of Hindu women. After Jauhar, all that the barbarians would get were ashes.
The horrendous tradition of necrophilia has probably been around for centuries, but is only supported through act and text followed by a single community.  Hindus should know the true history behind Saka Johar, and own this ultimate display of bravery with pride.
DISCLAIMER: The author is solely responsible for the views expressed in this article. The author carries the responsibility for citing and/or licensing of images utilized within the text.