First arrest under Karnataka's freedom of religion act: Syed Moin arrested for illegally converting Hindu girl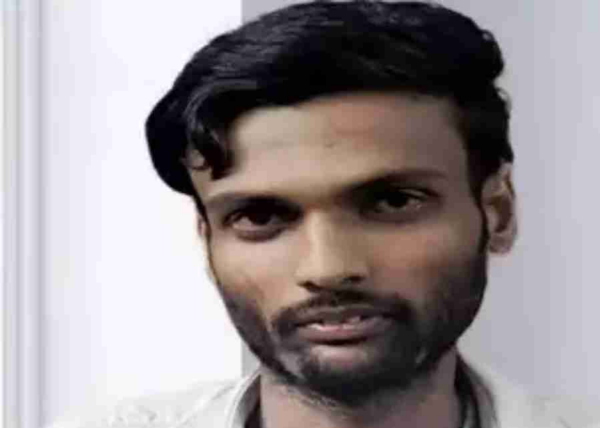 Syed Moin, a 24-year-old Muslim, was detained for coercing an 18-year-old Hindu woman to flee Bengaluru and then convert to Islam in a dargah in Andhra Pradesh in preparation for "marriage." According to the recently passed Karnataka Protection of Right to Freedom of Religion Act, this is the first arrest made under it.
According to reports, Moin has been accused of two crimes: one in violation of the new statute and the other for kidnapping. On September 30, the new Act, often known as the "anti-conversion law," went into effect in Karnataka.
Khushboo Yadav, a Hindu girl from an OBC caste, vanished from her house in Yeshwanthpur, north Bengaluru, on October 5. Moin, who works at a chicken restaurant, lived next door to the girl in Yeshwanthpur's B K Nagar neighborhood. The following day, her distressed mother Gyantidevi reported her missing at the Yeshwanthpur Police Station, claiming she believed Syed Moin had kidnapped her after brainwashing her. Later on October 8, Moin and Khushboo went to the police and stated that they were married in accordance with Islamic law, according to the police.
After that, on October 13, Gyantidevi made a second police report under the anti-conversion law, alleging that Moin had tricked Khushboo into converting to Islam in order to wed him. On October 5, Khushboo was taken to an Andhra Pradesh dargah near Penukonda and coerced into becoming an Islam. Moin afterward brought Khushboo back to Bengaluru.
"Any conversion from one religion to another that enables interreligious marriages shall be reported to the District Commissioner. My daughter got converted despite not adhering to these guidelines, nevertheless." In her complaint, the mother claimed that her daughter had been converted from Hinduism to Islam under the promise of marriage, which was against the law. She also named Moin and other people who had helped facilitate the elopement and illegal conversion.
Following the filing of a case under Section 5 of the Karnataka Protection of Right to Freedom of Religion Act, Syed Moin, the accused, was taken to jail and remanded to court.
According to the anti-conversion law, "No person shall convert or attempt to convert, directly or indirectly, any other person from one faith to another by means of deception, fraud, force, undue influence, coercion, allurement, or by marriage." Family members of the converted person or anybody else connected to them, including a coworker, may complain about such false conversions.
According to the legislation, a conversion-related marriage will only be recognized legally if the conversion is disclosed to a district magistrate and approved by him both 30 days prior to and 30 days after the conversion.
Gyantidevi claimed that because her daughter was less intelligent than other females, she was a simple target for the Islamists. In fact, it is frequently observed in these situations that the Islamist ecosystem traps even bright girls – both young adults and minors – using a variety of tactics, including blackmail via intimate photos and videos, threats by the man to harm himself or the girl's family, and Islamist indoctrination at institutions like Sathya Sarini. This scheme is facilitated by networks of lawyers, safe homes, maulanas, and organizations like the now-banned PFI, the Islamic Dawah Center, and the Jamia Imam Waliullah Trust.
Abrahamic supremacists have fiercely resisted this much-needed law, which follows ones recently enacted in UP, MP, Gujarat, Haryana, and HP since they regard it as a barrier to their objective of converting "pagan/kafir".
The new rule, according to the Christian Catholic Archdiocese of Bengaluru, has left the Christian community feeling "betrayed for all its altruistic efforts to society in the sectors of education, health, and social care."
Missionaries were an integral part of the brutal European colonial powers' "civilizing mission," and since the mid-1990s, when the "AD2000 and Beyond Movement/Joshua Project" was launched, the Pope called for the planting of crosses in Asia in the third millennium, and the Vatican announced the Rights-based Approach to Global Evangelization in 2004, they have become even more aggressive in their mission. Extremist evangelicals, both Protestant and Catholic, gained even more fervor to launch their discriminatory attack on Hindus and other Dharmiks from Bharat's various janjatis as a result of the anti-Hindu and pro-missionary Sonia Gandhi-led UPA coming to power in Bharat in 2004.
The main organization of Deobandi maulanas, Jamaat-e-Ulema-Hind, has also been fighting this new legislation in court in several states. In Gujarat, they were able to persuade left-liberal judges of the Gujarat High Court to invalidate important parts of the Gujarat Freedom of Religion Act 2021; the Gujarat government has challenged the HC judgment in the Supreme Court.
DISCLAIMER: The author is solely responsible for the views expressed in this article. The author carries the responsibility for citing and/or licensing of images utilized within the text.