Kerala: Md. Shafi and a communist couple perform horrifying human sacrifices.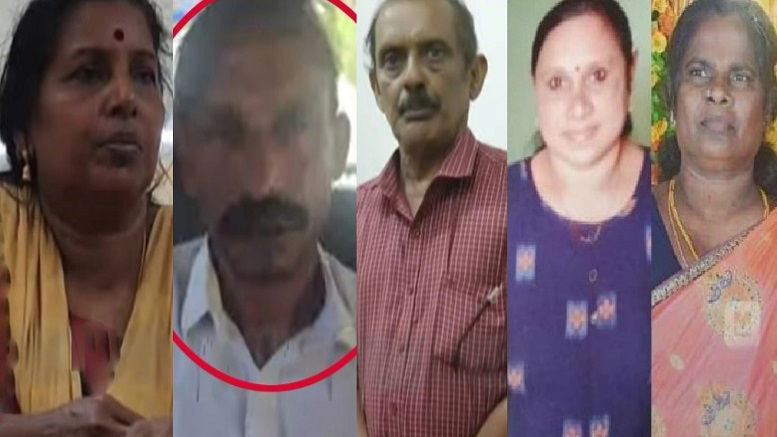 In a horrible incident, Muhammad Shafi alias Rasheed, a witchcraft and human sacrifice practitioner, seduced Bhagaval Singh and his wife Laila through Facebook. Despite adhering to the so-called "materialist and rational" Communist philosophy, Singh fell for Islamic witchcraft and sorcery while everyone else seemed to be in it for the money. All three have been detained by Kerala police on suspicion of violently dismembering and killing at least two women.
In the Pathanamthitta district, at Elanthoor, Singh and his wife run a massage business. He regularly attends community cultural events and was an active CPM employee. A regular contributor to Deshabhimani, the CPM party daily newspaper, Singh is also a Haiku poet. His Facebook posts tend to be about or with CPM officials.
His greatest idols are Pinarayi Vijayan and health minister Veena George. According to locals, Comrade Singh led the anti-Hindu movement during the Sabarimala protests.
Shafi, an Ernakulam resident, attracted the couple from Elanthoor near Tiruvalla using a Facebook account he created under the name Sridevi. After developing a positive relationship with Singh online, "Sridevi" informed them of "Rasheed," a Siddhan (witchcraft practitioner) in Perumbavoor. Shafi pushed the couple to see him and made the family his promise of wealth and success.
On Facebook, Shafi disclosed his phone number and informed Singh that it belonged to Siddhan. Shafi aka Rasheed visited Singh's home, got to know his family, and developed a strong connection after Singh got in touch with him.
Shafi convinced the couple that Laila having sex with him would bring them prosperity. The communist agreed that Singh should watch them engage in sexual activity. This took place over a year ago.
After having constant physical interaction, nothing happened. Shafi then suggested doing human sacrifice as the next stage.
Shafi persuaded them that substantial wealth would result from human sacrifice. Singh was informed by the Muslim sorcerer that "Sridevi" was a person who benefited from providing human sacrifice. Singh messaged Sridevi's account to inquire about the veracity of this and was persuaded when Sridevi responded positively. Singh was unaware that Shafi was in charge of the Facebook account created in Sridevi's honor.
Shafi persuaded the couple that he could procure women for human sacrifice in exchange for payment. After agreeing, the couple took a small amount of money out of their bank account and delivered it.
Shafi promised Roslin (50), a destitute lottery vendor from Kalady, Rs. 10 lakhs in exchange for her participation in the film. He then drove Roslin to Singh's residence in the village of Elanthoor. While the couple watched, Shafi sexually assaulted the victim while her limbs were tied to a bed.
Laila was instructed by Shafi to slit Roslin's throat, remove her breasts, and stab her in the genitalia. He had already used a hammer to strike her head. For "purification," they gathered the blood in a basin and scattered it all around the home.
After taking a "reward" of Rs. 2.5 lakhs for performing this gruesome ceremony, Shafi left for home. Singh complained to Shafi about not getting benefits after a month. Shafi retorted that the family was cursed. They were deceived into believing that another human sacrifice would bring wealth and success. Padma (52), a second lottery vendor from Ernakulam, was brought to Singh's home by Shafi next.
Roslin was sacrificed in June, and the Padma, a Tamil Nadu native, was sacrificed in September. Their bodies were dismembered after the cold-blooded murder and dispersed among different graves. In Kerala, neither of the women had families.
A position in an acting production and Rs. 10 lakhs were also offered to the Padma, who was brutally murdered. This brutality was disclosed in Shafi's police interview statement. Police have not entirely accepted this, but it is thought to be a possibility. According to South Region Police IG P Prakash, they are looking into whether there are any further victims.
Padma's son Selvaraj claimed that prior to September 26, when her calls unexpectedly stopped, his mother used to call him every day. The following day, he arrived in Kerala and looked everywhere for her without success. Selvaraj then reported the incident to the police. In order to find the cruel Islamic black magic practitioner Shafi, authorities analyzed call records and CCTV footage.
The communist couple's compound is where Padma's body was discovered. Official confirmation, according to the police, won't happen until after DNA testing. The corpse was divided into 20 pieces, salted, and then buried. Roslin's body was likewise interred in the same field but in a different location. After burying the body, the murderers planted turmeric plants on top of it.
Singh's home is located in a remote area and is encircled by forests in the hill village of Elanthoor. Prior to his marriage to Laila, he divorced his wife 15 years prior. From his first marriage, Singh has a son and a daughter, both of whom reside abroad.
The news of human sacrifice that surfaced in the state when the bodies of two women were found mutilated was met with shock and bewilderment by the Kerala High Court on Tuesday. "The fact that we hear about human sacrifice in Kerala is beyond shocking. I wonder where Kerala is going," Justice Devan Ramachandran said. In Kerala, similar terrible killings to the Jisha and Soumya incidents have taken place, but the system was unable to provide the victims with justice.
Pinarayi Vijayan referred to such acts as a threat to civilized society without specifically criticizing Islamist magic traditions or the involvement of one of his own ideological adherents. Vijayan has previously come under fire for taking his wife, daughter, and grandson on a foreign tour in an effort to seek "investment." As anticipated, Vijayan has extended his trip abroad and is currently traveling to his preferred location, the UAE. His communist supporters will have to wait; he was supposed to return on Tuesday.
DISCLAIMER: The author is solely responsible for the views expressed in this article. The author carries the responsibility for citing and/or licensing of images utilized within the text.