Legal Challenge In Supreme Court Against Suspension Of TrueIndology By Twitter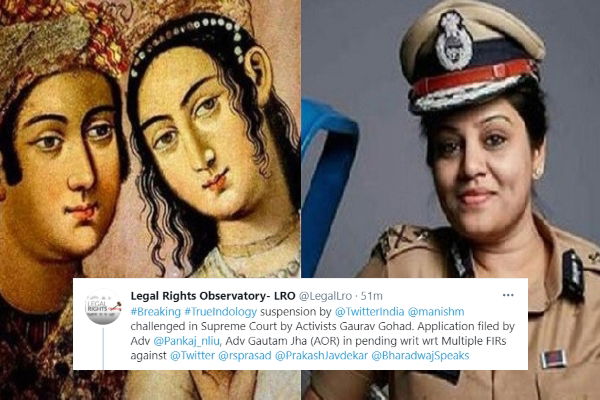 In a first legal battle against the Fascist, illiberal, arbitrary suspension and banning of twitter accounts by Twitter India specially targeting twitter handles which give facts with documentary evidence of barbaric tyrranical rule of Islamic invaders in India, True Indology's arbitrary suspension of twitter account has been challenged in the Supreme Court.
Activist Gaurav Gohad has filed an application in the Supreme Court through advocate Pankaj Singh with advocate Gautam Jha as the Advocate on Record for the case. This application has been filed in pending writ with respect to multiple FIRs filed against Twitter India President, 1MD Manish Maheshwari and other officials for suspending True Indology's Twitter account.
Twitter has been a serial offender of killing and supressing voices which do not agree with the leftist ideology. In today's digital world arbitrary suspension and banning of social media accounts amounts to wiping out one's digital identity and right to free speech in public forums, which is a gross violation of fundamental rights under article 14, 19 and 21 of the Constitution of India.
True Indology had for the past nearly more than five years has revolutionised the academic discussion in the field of Islamic, colonial and Vedic history of India. True Indology has single-handedly demolished many canards and lies spread by leftist historians with respect to Hindu scriptures, Hindu genocide, loot, plunder, forced conversions and destruction of temples by both Islamic invaders and European Christian colonialists.
Gaurav Gohad had earlier lodged a detailed police complaint against Twitter India and its officials in Bhind district of Madhya Pradesh for arbitrarily and maliciously suspending True Indology's twitter account.
An FIR was also filed by Shrikant Sharma at Vidisha for suppression of Freedom of Expression and imposing radical leftist ideology on social media platform users by arbitrarily suspending True Indology's twitter account.
Notably, True Indology had an twitter exchange with IPS officer, D Roopa over the ritual of bursting crackers during Deepavali after which True Indology's account was suspended by twitter. Twitter never gave a clear explanation for the reason and basis for suspension of True Indology's twitter account.
Twitter India habitually suspends pro-Hindu, pro-India voices on the social media platform and encourages anti-India and Hinduphobic voices and content in the micro-blogging site.
For more than a week now, twitter has allowed hacking of renowned French journalist, pro-Hindu and India supporter, Francois Gautier's twitter account, @fgautier26 as he is prominent voice who writes prolifically on the atrocities committed by Islamic invaders and the Mughals in India.
Earlier this week, Twitter India suspended twitter handles of Legal Rights Observatory, @LegalLRO and the Dalit Hindu Rights Group- the Dalit Positive movement, @DalitPositive in a bid to suppress the stellar work done by LRO and Dalit Positive in exposing FCRA violations, illegal conversions by the Christian evangelist mafia and atrocities committed on Dalits by Muslims, Christians and Naxalites which are never reported by the mainstream media.
As the Legal Rights Observatory states, private companies do not have right to suppress and censor free speech of Indian citizens. Private entities cannot arrogate to themselves the role of the state to ban or suspend any publication of ideas in public domain. Moreover the action of Twitter smacks of selective censorship of pro-Hindu voices while promoting blatantly vile Hinduphobic and anti-Hindu content.
This legal challenge of Twitter's arbitrary and discriminatory action of stifling free speech of pro-Hindu and pro-India voices will go a long way in enforcing the fundamental rights of freedom of expression of voices differing with the global left cabal. The next step would be to seek monetary compensation from the Digital Corporate Giants like Twitter, Facebook etc. for violating the fundamental rights and right to reputation of voices silenced by them.
Twitter repeatedly attempted to suppress Hindu voices on its platform. Its selective action is against Pro Indian/ Pro Hindu ideology won't be tolerated.
Private Co can't censor free voices of Indians. Only state is sovereign being a private entity can't assume role of the state
News Input and Image source: News Bharati
DISCLAIMER: The author is solely responsible for the views expressed in this article. The author carries the responsibility for citing and/or licensing of images utilized within the text.