Modi at 70!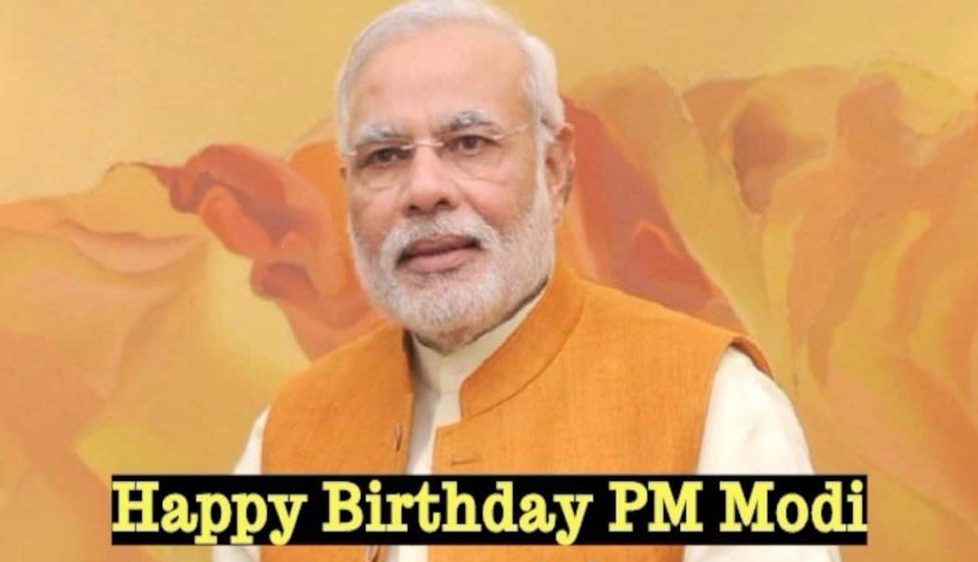 Prime Minister Narendra Modi turned 70 today. No doubt, he is one of the most charismatic and visionary leader India has ever got. The entire BJP is celebrating PM Narendra Modi's birthday as "Seva Saptah". Since the beginning of his innings as the prime minister, Modi has made it clear to his party as well as the government — not to celebrate his birthday with much fanfare, but devote time in the service of the people. As a result, 'Sewa week' has become an annual feature now. On the occasion of Modi's birthday, theSurat city's civic body and several associations and business groups has planted around 70,000 saplings across the city. This all has been done as we know that Modi is very down to earth and believe in "Sabka Saath Sabka Vishwas", which also includes our environment. This activity or seva will be beneficial to the people as it will increase the oxygen and will be beneficial for the future generation.
Desperate times call for desperate measures. And it is amid these desperate times, the best and the worst qualities of a man are tested. As the world continues to fight the pandemic caused due to Coronavirus, the leadership of various countries is put to a difficult test unparallel in history. Their individual successes and failures will define the collective future of their countries. And India is fortunate enough to have Prime Minister Narendra Modi to lead the nation from the front in its struggle against coronavirus. Managing a country like India with a vast geographical area, limited resources and the second-largest population of the world with a federal polity was never going to be easy. However, this daunting task has been made possible by the pro-active (rather than reactive), timely and inclusive approach and vision of the PM. No wonder, the response of the Government of India has been earning laurels all throughout the world, at a time when even developed nations are facing heat over their careless response to the unpredicted crisis and their leaders losing the support of the people.
Modi has time and again emphasised on "Aatmnirbhar Bharat". It has now become a mantra for the 130 crore Indians. PM has also said that he is confident that India will realise this dream and confident of the abilities, confidence and potential of fellow Indians. Once we decide to do something, we do not rest until we achieve that goal, the PM has said. Coming from the common people of Gujarat, fiercely opposed by Delhi's privileged elite and their dynastic heirs, Narendra Modi has risen as the most influential leader of India on the world stage. His vision of a new India is like a new independence movement. Modi's 'New India' is built on the motto of 'maximum governance, minimum government, and 'Sabka Saath, Sabka Vikas, Sabka Vishwas'. To achieve its objective of good governance several schemes, like Pradhan Mantri Awas Yojana (1,52,16,099 houses constructed for poor), Pradhan Mantri Fasal Beema Yojana (over 5 crore farmers insured), Ayushman Bharat (1,23,71,217 beneficiaries), Atal Pension Yojana (more than 22,34,57,000 beneficiaries), Mission Indradhanush (3,61,00,000 children vaccinated), Soil Health Cards (22,41,01170 distributed), Beti Bachao- Beti Padhao, Digital India, Make in India, among others have been successful in boosting the socio-economic level of the country by directly impacting on the lives of people and generating progressive opportunities for the people of the country. Modi is known for his taking big and bold decisions. Last year, the years old discriminatory practice of Triple Talaq was made unconstitutional and punishable offence. One week later, on August 6, article 370 was abrogated and Jammu & Kashmir was reorganized with 2/3 majority in parliament. When Modi became PM in 2014, Indian economy was in top 5 fragile economies, later India became the fastest growing & 5th largest economy. Amid global slowdown affecting India also in 2019, Modi in 2nd term has taken revolutionary steps like decreasing corporate tax to 22-25% on par with investment friendly countries like Singapore, merging banks, removing angel tax on startups, no surcharge on foreign portfolio investments (FPIs), less interest rates, disinvestment, etc. Under Modi's governance and dedication towards society and nation, India is reaching new heights and has made him the global leader.
However, under Modi's second tenure there are certainly some issues on which the government must contemplate.
1. Job Creation Strategies: Air India and Jet Airways both are needed for Job Creation. Similarly, massive Infrastructure building cannot be left to Private Sector alone. A National Construction Company will be needed to create the Millions of Jobs needed.
2. Roadmap to change the pseudo secular curriculum and the leftists narrative in NCERT textbooks.
3. Acting on Right to Education
4. Action on Corrupt Babus
5. Strict action on tukde-tukde gang.
6. Delinking of Hindu temples from State run governments. 
7. Funding Dharmic narratives – encouraging dharmic news, commentaries, institutes, research etc. so that we can begin to fight the garbage emanating against us from around the world.
8. The tyranny of the minorities needs to end in India. The principle of 'Secularism' applies to everyone other than Hindus. Private citizens, non – Resident Indians – the diaspora etc. everyone has their own roles but the government must lead the way in planting seeds of Dharma and spirituality amongst the citizens as India is a land of spirituality and peace.
9) High time to make new Laws and implement them with zero tolerance. We want Uniform Civil Code, Population Control Bill, NRC, Anti Conversion Bill and strong border to give our enemies a befitting reply.
10) Robust infrastructure to power New India
DISCLAIMER: The author is solely responsible for the views expressed in this article. The author carries the responsibility for citing and/or licensing of images utilized within the text.