#Netflix Is Now Down 38% Since Its Ped0philia Movie. #GetWokeGoBroke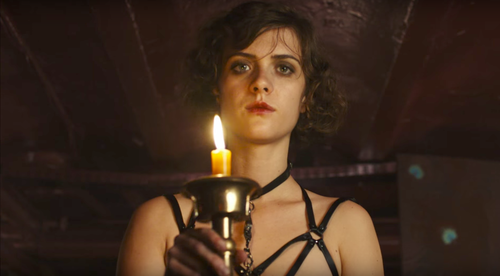 Netflix Now Down Only 38% From Cuties
In a post back in July ("Netflix Is Down 61% Since Its Pedophilia Movie"), I pointed how how far Netflix, Inc.'s (NFLX) stock had dropped since it debuted Cuties in 2020:
In Michel Houellebecq's 2015 novel Submission, France becomes an Islamic state under Mohammed Ben-Abbes's president. At the time, the novel seemed dystopian; after the Netflix, Inc. (NFLX) release of Cuties by the French-Senegalese director Maïmouna Doucouré a couple of years ago, it started to seem aspirational.
"Cuties" not only includes many close up shots of little girl's crotches and butts, the film also shows little girls discussing sexual acts, watching pornography, depicts a child photographing her genitalia, and more.
Airing Cuties and similar fare appear to have been inauspicious for Netflix; since the streaming debut of Cuties in 2020, Netflix shares are down 61%. 
Perhaps so, but Netflix shares have quietly climbed back to the point where they're only down 38%. And they've climbed back into Portfolio Armor's top ten names. More on that below, but first, thoughts on a couple of potential tailwinds for Netflix from here.
It's Not Just Degenerate Filth
Netflix programming isn't limited to movies like Cuties; in fact, it also includes at least one show that acts as a critique of degenerate trends. Babylon Berlin is set in a time with high income inequality, rampant financial speculation, drug use, and sexual experimentation (Magnus Hirschfeld, who performed the world's first sex change operation, didn't appear in Babylon Berlin's first three seasons, but I wouldn't be surprised if he appears in a future season.).
Watch the trailer: https://youtu.be/HAn3RXeCrLg
The subtext of the show is, essentially: you know what came next; this is what led to it.
Wokeness May Have Peaked
That's the message of this recent New York Times article:
"For three years, we hired nothing but women and people of color," said a senior film executive, who like many leaders in the industry is a white male. He added that he did not think some of them were able to do the jobs they got.

In hushed conversations over lunch at Toscana Brentwood and cocktails at the San Vicente Bungalows, some powerful producers and agents have started to question the commercial viability of inclusion-minded films and shows.

They point to terrible ticket sales for films like "Bros," the first gay rom-com from a major studio, and "Easter Sunday," a comedy positioned as a watershed moment for Filipino representation. "Ms. Marvel," a critically adored Disney+ series about a teenage Muslim superhero, was lightly viewed, according to Nielsen's measurements. […]

At the same time, some movies and shows that overtly showcase diversity and inclusion have either struggled in the marketplace or failed to get off the runway. The takeaway, at least to some agents and studio executives: We tried — these "woke" projects don't work.

After #MeToo Reckoning, a Fear Hollywood Is Regressing: New York Times, October 24, 2022.
What About Our Short Positions?
In a post last week ("Underwater In A Bear Market?"), I mentioned our system had bearish names in our top ten, particularly ones that would benefit from higher rates, such as the Direxion Daily Real Estate Bear 3x Shares ETF (DRV). What does the inclusion of Netflix in our top ten mean in this context? Well, first of all, DRV was still in our top ten on Wednesday, in addition to Netflix. And although our system is based on a bottoms-up approach, gauging underlying and options market sentiment on individual securities, the names it picks do often paint a macro picture. In this case, though, the macro picture seems a bit unclear: the inclusion of Netflix suggests the possibility of a year-end rally in stocks, while the inclusion of DRV supports our thesis of the bear market staying intact until the Fed pivots.
How to make that actionable: you can buy Netflix and hedge against the current rally fizzling soon. Let's look at a way of doing that.
In Case Netflix Reverses From Here
Below is the optimal put option, as of Wednesday's close, to hedge 100 shares of Netflix against a >20% drop by mid-December:
There, the cost as a percentage of position value was 1.77%, but this was calculated conservatively, using the ask price of the put. You likely could have bought it for less (at some price between the bid and ask).
Source and images: https://www.zerohedge.com
DISCLAIMER: The author is solely responsible for the views expressed in this article. The author carries the responsibility for citing and/or licensing of images utilized within the text.