Now Muslim girls are seen doing pole dance in Saudi Arabia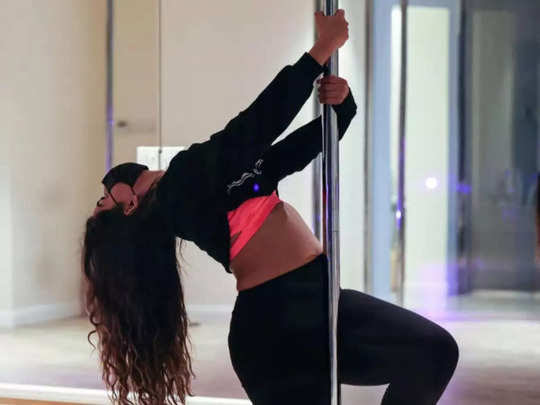 Highlights – 
Pole dancing is considered an art form America
In this, a dance is performed around a pole.
Some people call it too sexual
Saudi Arabia, the country in the world which is famous for its strict rules made for women. But now the situation is changing here. The reform programs run by Crown Prince Mohammed bin Salman (MBS) have started giving freedom to women in some respects. But if you come to know that Saudi Arabian women are also becoming pole dancers, then you will not believe it either. Yoga instructor Nada is a new example of this who has embraced pole dancing. Even though Saudi society is changing, it is still conservative in some respects and Nada had to face it too.
Art form
America Pole dancing is considered to be art form in America. In this, a dance is performed around a pole. This dance is preferred in strip clubs in many US provinces. Some people call it quite sexual. Riyadh's Nada was advised not to do this exercise by her family and friends. They said that this dance is not right for her and she should stay away from it. A few years back, Nada took admission in a local gym for this dance.
28-year-old Nada feels that she has made a lot of progress in this. Nada's friends now praise her a lot. Earlier, they had called Nada's pole dance wrong. But now they also want to try their hand at it. However, Nada feels that she and the rest of the pole dancers in Saudi Arabia have a lot to learn. She says that she has no shame in doing this dance.
🇸🇦 Like in many countries across the world, women in Saudi Arabia are rejecting the stigma surrounding pole dancing and are taking up the performance art as a way to strengthen their bodies.

Check it out. 👇 pic.twitter.com/mMl1fjydVm

— euronews (@euronews) October 10, 2022
Courses in three gyms
At least three such gyms are open in Saudi Arabia where pole dancing courses are being conducted. Mae Al-Yousuf, owner of a similar gym, feels pole dancing is getting a lot of attention because it's new and girls like it. It is being said on behalf of those who like pole dance that there is a ban on alcohol in the country and in such a situation there is no strip club. In such a situation, such activities are very attractive.
According to a pole dancing student from Riyadh, she has no problem trying out this new dance form. According to this dancer, it is her personality. They are not ashamed to embrace their sensuality. According to her, as long as she is not hurting anyone, she has no shame in any way.
Strength is very important,
She also believes that not everyone will feel comfortable in it. She herself refrained from making her name public. She stopped pole dancing a long time ago. She said that as good as it looks on screen, it is equally challenging to do it in real life. In the end, she gave up and gave up on it. According to gym manager Yusuf, physical ability is very important in pole dancing. It takes a lot of strength to do this.
DISCLAIMER: The author is solely responsible for the views expressed in this article. The author carries the responsibility for citing and/or licensing of images utilized within the text.