Priti Patel – A Rising Star of British Politics?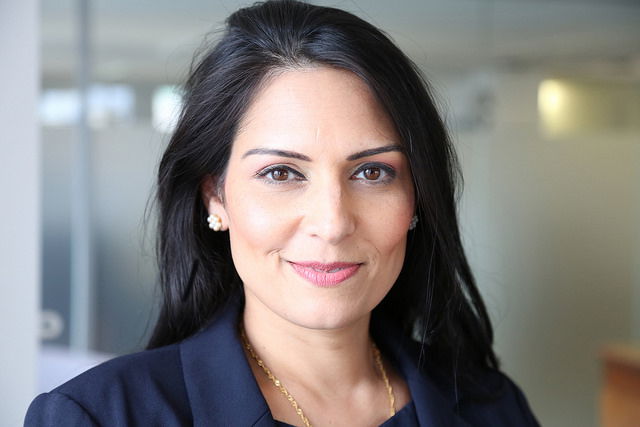 I have known Priti Patel for a while and felt that might appreciate the advancement of Indians in British politics a bit more if they understood the journey thus far.
Priti led the Indian avant-garde in British politics and broke glass ceiling after glass ceiling. Following her at great speed we saw Rishi Sunak, another PIO arriving on the British political scene. Without any fanfare he nuked everyone with his sterling performances in the House of Commons as the first Chancellor of the Exchequer of Indian origin. Enough about Rishi, I will do a full write up on him in due course. So let's visit Priti, her background, her inspiration, her aspirations and her achievements to date.
Priti is the daughter of Sushil and Anjana Patel, a Gujarati couple who fled the then increasingly dysfunctional Uganda of the tyrant Idi Amin to take refuge in the UK. She was a bright spark who observed, listened and learnt from her surroundings. The family settled in Hertfordshire and whilst it has now become a cliché, her parents engaged in setting up a series of Newsagents (or as some might say, the typical British corner shop) which has now become so synonymous with Asians in the UK. Whilst her parents worked hard, Priti settled into her new environment and focussed on education. It was not long before family and friends noticed her natural instincts in learning new things and applying what she had learnt. Her mathematical ability allowed her to grapple easily with numbers, but then she was the daughter of a shopkeeper after all. Her parents and grandparents were people of faith. Every time they visited the Mandir little Priti would be alongside them, as usual, learning of the values imbibed in her by her heritage faith. Most people do not know this, but as a child Priti was in fact present when the foundation stone for the now world-famous Neasden BAPS Mandir was laid.
The rising star knew of no boundaries to halt her aspirations. She attended Watford Grammar School for Girls and then went on to studying Economics at Keele University. However, her interest in politics meant she also went onto to do a postgraduate in British Government and Politics at the University of Essex. Her education marked the road ahead and though she spent many years working in the private sector, her ambition to become a politician was overpowering. It was only a matter of time before she would make the transition to becoming a fulltime politician. Her big break came during the tenure of PM Cameron. He saw the huge talent that resided in Priti and encouraged her to take that final step. At the 2010 general election, Priti stood for the Conservative seat of Witham, a new constituency in central Essex, and won with a majority of 15,196. She has gone on to win the seat again in 2016 with an increased the majority to 18,646. If this was not enough, in December 2019 she increased this majority again to 24,082. In the time she has been an MP, she has worked in various positions including, Exchequer Secretary to the Treasury, Minister of State for Employment and more recently, Secretary of State for International Development and now she has become the first Indian to take on the responsibilities as Secretary of State for the Home Department. She is therefore now known with the ministerial title of the Rt Hon Priti Patel MP.
You might be forgiven in thinking that this was all plain sailing for Priti. So let's put her achievements into some sort of perspective. She was the first Gujarati to sit on the front benches. First Indian woman to have achieved this distinction in the UK. The first British Hindu woman to secure such a high position in any British Government. Priti had to break not one, but several glass ceilings in getting to where she is now. She speaks her mind, sometimes a little more forcefully than a politician should, but knowing that she speaks with integrity and an honest perspective is reassuring in the world of politics that is mired by sleaze and deals. She rises above all of this and does what is good for her country, Great Britain. However, she has not forgotten her roots either. She has become a champion for Indians not only in the UK but also in India itself. I remember the 2014 Indian elections that had turned toxic. The media on the subcontinent had become political and it was clear to the bystander that it had become anti-Modi. The western media took this lead and without even checking facts started to undermine and discredit the then CM Modi. It was Priti Patel who stood alone as a British Hindu MP and denounced the biased media. She even wrote to the world-famous BBC, the so-called custodians of 'news integrity', that their coverage of the Indian election was biased and very anti-Modi. Where politicians fear to tread, Priti seems to step forward and get on with it. It is not just that she is fearless, she is self-reassured in knowing that her dharmic values imbibed since childhood, will hold her in good standing.
What is really going on in British politics today? The Conservative Party are of course in power, and now with a huge majority. The new Prime Minister, the Rt Hon Boris Johnson MP no longer is bound by the madness of parliament that had tied the hands of his predecessor. The politicking that occurred since the Brexit referendum was washed away in a flash during the last General Election. The first thing the Conservative government did, led by the PM and ably supported by Priti was to make Brexit happen. And with Brexit out of the way, it paves way for a very close and fruitful relationship with India. India needs to take advantage of this unique period in history. We have now freed the UK from the clutches of the EU and have in government the highest number of leading ministers who are of Indian origin. This is now a government that can understand and appreciate the giant that India is today.
So what do we make of the British-Indian relationship now? After all it was Priti Patel (with support from PM Cameron) who galvanised a mediocre relationship between the two countries into something that is now seen as very powerful. Britain still has a lot to do before India will fully commit. Quite obvious when you think about it. After all India represents the biggest global phenomenon under PM Modi leading the largest democracy to superpower status over the coming decades. Any country with an ounce of intelligence will realise that being on good terms with India is the pre-requisite to their own economy doing well. Annoy India, and you can kiss the future growth of your country away. Whilst one Indian leads the largest democracy in the world, we have another person of Indian origin who can and will become the very powerhouse of this bi-lateral relationship in the UK. Only then can we assure of a good future for Britain post Brexit.
For us in the UK, if the Conservative Party continues to govern then I see great progress between our two nations. However, if by some misfortune we end up with a Labour Government in due course, then I fear their rhetoric may well turn into disastrous policies. And with that we can kiss the positive relationship of our nations away. I say this even though the Labour Party have just elected their new leader, Sir Keir Starmer MP. Keir has made some positive noises, especially in relation to Kashmir and in doing business with India. A word of caution my friends. Keir's' rhetoric hides an unholy truth. He has promoted several Labour MPs who have consistently shown to be pro-Pakistan, anti-India and have supported Pakistan Occupied Kashmir. I say to Indians in India, the Labour Party in the UK is akin to the Indian National Congress in India. You now know which side the bread is buttered, choose your friends wisely, or forever regret your choices.
Priti Patel – A Rising Star of British Politics? And the answer is, Yes. As they say, watch this space and if you really want unadulterated non-PC commentary and observations, follow me on twitter at: @kk_OEG. At your peril of course!
DISCLAIMER: The author is solely responsible for the views expressed in this article. The author carries the responsibility for citing and/or licensing of images utilized within the text.