Project Veritas exposes Communist Teaching in USA Schools, and how it is a warning to India.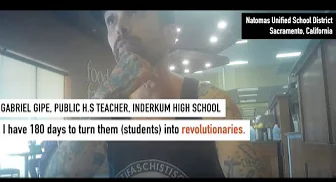 In what could be called one of the most obvious yet the biggest news stories of this year, conservative group Project Veritas – the same group who exposed CNN and Newyorktimes propaganda- are back yet again with another bombshell sting operation video.
In a video released by project veritas, a member of the group went undercover and managed to get information from school teacher named Gabriel Gipe told him how the school was indoctrinating children wity communist ideology and telling them how to be a revolutionary.
Gabriel also told the PV journalist that the school clqssrooms had put LGBTQ and ANTIFA posters and any students objecting to this would result in scaremongering them even more.
Here's the footage :-
So why is it an alert warning to us in india? Well, as we all know the already distorted history has affected change the mindset of youngsters towards thinking marxism/communism is some sort of legitimate way to unseat the nationalistic sentiments but the grave consequences it holds for everyone involved, it's too big to ignore.
Exposing the west's leftwing fraudsters is the only way to counter the lunacy.
Here's what i request you all to do :
Share this post on your twitter and tag @Wionews and palki sharma upadhyay as the only way to make these news heard in all over India is by bringing it to notice to News outlets like WION. Tagging them will surely help gain this story traction and expose the sinister leftwing indoctrination propaganda.
We ran a similar campaign targeting CNN and Nytimes and Wion did cover it soon after it got trending, we can do this again with your help!
DISCLAIMER: The author is solely responsible for the views expressed in this article. The author carries the responsibility for citing and/or licensing of images utilized within the text.