Raja Suhaldev – The Gallant Hindu of Bahraich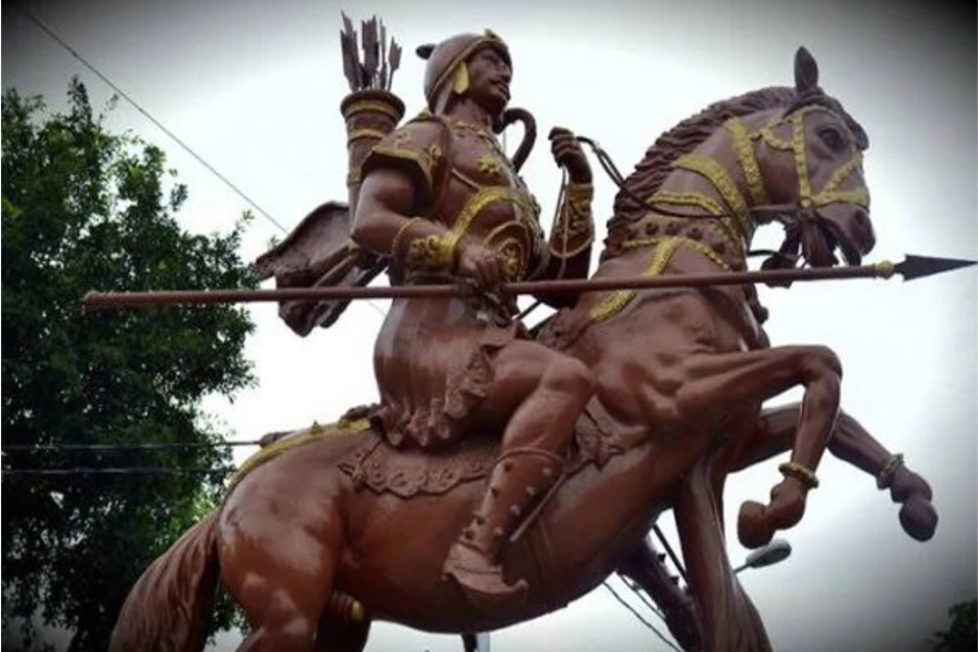 History could not erase the valor and victory of Raja Suheldev the King of Shravasti over the Turk invader. Revered for his values as cow protector, Savior of Hindu and as an ardent Sanatan Followers, Raja Suheldev could never make into the text book of history post freedom in Independent India.
British historian Alexander Cunningham and Persian historian Abd-ur-Rahman Chishti in his book Mirat-i-Masudi narrated about the bloodiest battle that happened between Raja Suheldev and Ghaznavid invader Ghazi Saiyyad Salar Masud at Bahraich in 1034 AD. The battle ended with the defeat of Gazni forces and killing of Invader Salar Masud.
Raja Suheldev belonged to illustrious genealogy of King, who served the society for its welfare and progress. The entire surrounding of Shravasti remained peaceful and protected till this dynasty ruled. The famous Hindu saint Balark Rishi who stayed at this place had his Ashram at Bahraich.
The kingship was Raja Suheldev has been preserved in folklore, local songs and work of British Historian Alexander Cunningham. The indicative timeline when this Kingship ruled this places bordering up to Nepal were as follows.
| | | |
| --- | --- | --- |
| 1 | Mayura-dhwaja or Mora-dhaj | 900 AD |
| 2 | Hansa-dhwaja or Hans-dhaj | 925 AD |
| 3 | Makara-dhwaja or Makar-dhaj | 950 AD |
| 4 | Sudhanya-dhwaja or Sudhanwa-dhaj, | 975 AD |
| 5 | Suhaldev or Suhridal-dhaj, | 1000 AD |
According to the legend, Raja Suhaldev was a brave warrior. He administered his kingdom and maintained good relations with the adjoining King of his region.
He was a popular King and was recalled by various colloquial titles by his subject out of reverence and popularity. Some of the different titles included like Sakardev, Suhirdadhwaj, Suhridil, Suhridal-dhaj, Rai Suhrid Dev, Susaj, Suhardal, Sohildar, Shahardev, Sahardev, Suhar Deo, Suhaaldev, Suhildev, Suheldev and Suheldeo.
With the gradual decline of Hindu Shahi Dynasty of Afghanistan, the chink in the north western frontier defense was getting porous. The Turks of Gazni were making inroads into India into the Ganga Yamuna plane for plunder and religious persecution. It specially happened after the death of last Hindu Shahi King Bheem Pal Deva (1022- 1026) AD and subsequent decline of Hindu Shahi kingship in Kabul. History has conveniently erased the fact that Afghan were Hindu and Buddhist till the date Hindu Shahi Dynasty (850 AD to 1026 AD) ruled Kabul. They fought some of the bloodiest battles for 200 years against Turk and Arab to protect their Hindu Buddhist identity.
Gazi Salar Masud, nephew of Mahmud of Ghazni, invaded India into the plane land, while Mahmud Gazni himself ventured to Gujarat towards western part of India. Numerous battles that happened around the plane of Hisser, Kannuj, Ujjain and Paten have been left un-narrated. The recorded history has been conveniently patchy and selective in singing songs of praise for Turk by their court historians. The fact both Gazi Salar Masud and Mahmud of Gazni could not survive Indian expedition. Scores of their General died fighting against Solanki and Rajputs rulers. Mahmud Gazni died in 1030 AD. Strenuous and tiring expedition took a fatal blow. The Ghaznavid Empire gradually declined to oblivion. Finally it was taken over by another Ghurid dynasty in central Asia.
Historians have absolutely failed to correlate the death of Mahmud Gazni 1030 AD Gazi Salar Masud in 1033 AD and subsequent decline of his Ghaznavid dynasty following the setback he received during Indian expedition.
Gazi Salar Masud, after crossing river Indus, branched towards plane land crossing Yamuna and invaded the area adjoining Meerut. After having tested victory at Meerut, he plundered the wealth and proceeded eastward to Satrikh.
Sayyad Saif-ud-din and Mian Rajjab the branch of invaders were dispatched to Bahraich. The Shravasti was a rich decorated kingdom with a center of great learning those days.
Upon having noticed the invaders movement, the Raja Suheldev of Bahraich made a confederacy of army by enlisting support from other neighboring Hindu kings. The battle was vicious. The Turk were treacherous. Having understood the sacerdotal reputation of Cow for Hindu, they employed Cow as the first line of defense in the battle zone. The pitched battle for months between the two warring sides had weakened the Turk to the extent of retreat. Gazi Salar Masud, 1033 AD who had not tested defeat as yet in his incursion into India was not prepared to accept the defeat. He moved in with his reserve Turkish soldier to mount a massive war.
Raja Suheldev had not declared the closure of war as yet. He anticipated the impending treachery and hence activated his espionage. The initial pitched battle was as vicious as the previous one. The Turkish army was losing hope and soldiers gradually. Raja Suheldev had encircled the Turk in a manner that now no escape or retreat from battle ground was possible for Turk. Gazi Salar Masud finally planned to attack King Suheldev's army in the night to claim strategic advantage. Having been briefed about the treacherous plan of Turk, Suheldev planned early and led a vicious attack on penultimate night itself.
On the fateful night of 15th June 1033 AD, Suheldev led the army to attack the Gazi Salar Masud in the mid night. The Turk were unprepared for this surprise. Turk had no time to regroup and recover. King Suheldev and his army were in no mood to spare a Single Meleccha Turk. And in no time King`s army pounced upon Turk and decimated the Turkish army eventually killing Salar Masud as well.
Every Single enemy was picked and killed. Masud and his army`s dead corpse remained in battle ground to be feasted upon by Vultures and Jackals. No record is available about his burial place in Bahraich.
Later on nearly after 300 years, a Turk Afgani King Feroze Tuglaq when he invaded the Shravasti around 1350 AD razed the famous Ashram of Saint Balark Rishi and built a Mazar of invader Gazi Salar Masud at this place. Historians whitewashed this place as Salar Masud burial ground. Fake stories were circulated through fake historians and columnists and thus a Turk invader`s burial ground was constructed.
Raja Suheldev was among few Indian kings who should have been remembered and told to the new generation for having adopted and improvised the war fare to match the deceit of Turk. The attack on the sleeping Turkish soldier and subsequent killing of Salar Masud along with his army was lamented by Persian historians in their book.
Turkish were uneducated and uncouth people and their military expeditions were largely recorded by either Persian or Arabs historians. Post-independence, left historians seconded the Persian lamentation by erasing the name of Raja Suheldev from the History book itself. Such was the hatred that the enemy had it for Raja Suheldev.
In 1940, Guru Sahay Dikshit Dwijdeen, a local schoolteacher of Bahraich, composed a long poem Sri Suhal Bavani. He narrated Raja Suheldev as a true warrior and a savior of the Hindu culture. The heroic King was prayed in the public memory and this poem became very popular. For decades, on the social occasion, religious functions and community get together, Raja was remembered through regular recitation of this poem and other folk lore. This poem was subsequently printed by Arya Samaj, Ram Rajya Parishad and Hindu Mahasabha Sangathan in 1950.
Post-Independence, after having taken the notice of local folklore who remembered Raja Suheldev for his bravery and Governance, A Suhaldev Smarak Samiti ("Suhaldev Monument Committee") was formed. He was no ordinary King and hence a Temple was proposed to be constructed by the committee. A princely state ruler of Prayagpur donated 500 Acre land (including the Chittora Lake) to the Samiti for this cause. A temple dedicated to loving memory of King Suhaldev along with several paintings, sculptures, mementos and artifacts relevant to his era was constructed.
Since the Dargah of Salar Masud a foreign Turkish invader was built upon the Ashram of a Local Saint Balark Rishi, The claim of Hindu for this pious place had always been in popular demand.
In April 1950, a local organization, supported by the Suheldev Monument committee declared to organize a fair at the place. After massive protest and struggle, a rally was held and a fair was organized at Chittora in the same place.
On 29 December 2018, Prime Minister Narendra Modi released a commemorative stamp on Maharaja Suhaldev. The sincere tribute to this legendary warrior now rests in memorizing, narrating and conveying to the generation ahead about the valor and sacrifice of Raja Suheldev.
DISCLAIMER: The author is solely responsible for the views expressed in this article. The author carries the responsibility for citing and/or licensing of images utilized within the text.