Ranveer's body posturing & attracting the Penile Gaze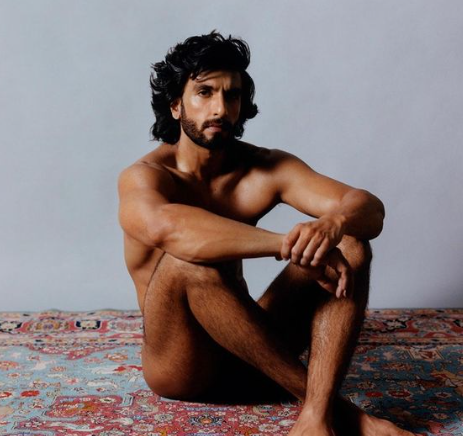 Ranveer's almost-nude photos have created a low buzz of sorts.  He portrayed himself as a super lovey-dovey husband on the Bear Grylls' show, and at the same time, dropped plenty of hints in English and Hindi as well as physical innuendos of attempting to create a bromance with Bear out in the woods.  Plenty of jokes were cracked when Ranveer ate roasted pig testicles along with Bear and his fatty best friend whose name is probably not important enough to recall.
This actor, or rather character is well-known to be outlandish.  Ranveer flaunts clothes, hair, and shoes like no other in the fast deteriorating #Bollywood industry.  However, this time, he's posed almost nude for his audience on Instagram and some of us feel like washing our eyes out with acid.  This is to be expected from Ranveer who operates outside the box in most non-serious circumstances.
Who exactly is Ranveer posing for?  According to him, he's married to the world's most beautiful woman and one can assume that he gets naked in front of her all the time.  So then, whom exactly is Ranveer posing for?  Is the actor desperately trying to hold on to waning fame after the Yash Raj Films woke flop Jayeshbhai Jordar?  Is he trying to embrace his androgyny furthermore?  In short, has Ranveer gone totally woke?  Like beyond white powder woke?
Folks talk about the male gaze often – it's a phenomenon where men look at women which sexualizes and diminishes them.  The male gaze is often used as a tool by feminazis who have nothing better to do the other 354 days of the year.  However, since Ranveer is not a female, we cannot apply the rabid feminist formula to the overt or covert purpose of the photoshoot.  Instead, let us introduce the concept of the penile gaze.  The Penile, as associated with a penis can be seen as an actual or perceived organ.  Ranveer posing for both male and female readership, therefore, attracts the penile gaze which theoretically both men and women could possess.  Just because a woman does not have a penis doesn't necessarily mean that she doesn't have a penile gaze with which she sees Ranveer's hair posterior.  This is a world after all and anything is possible.
Another thought that comes to mind is that Ranveer is giving a very open invitation to newer types of roles and characters he might be open to.  He's talked a lot of smack about casting couches so perhaps this hairy, nude photoshoot is his way of getting back at those who desired his penis.  Yet another explanation could be that Ranveer wants to make an inroad with the Afghan film industry where the #Taliban would probably not have too much of an issue with his 'bum chaddi se juda' look.  Imagine Ranveer being cast with a full tent-covered, penguin-like woman while he bares it all, even on her behalf; especially on her behalf.  Perhaps Ranveer is trying to start an equality campaign for tent-covered women worldwide?  Or could this be a precursor to transitioning from selling condoms to selling viagra?  Perhaps all Ranveer wanted to do is give creative people material for memes.
The penile gaze phenomenon seems to have attracted equally idiotic reactions, including an FIR filed for offending women.  If anyone should be offended, it really should be the poor and the marginalized who could use some extra clothing during cold winters.  Carry on Ranveer bhai, may the penile gaze always be on you.
Image: Internet
DISCLAIMER: The author is solely responsible for the views expressed in this article. The author carries the responsibility for citing and/or licensing of images utilized within the text.