Real Face Of Peaceful CAA-NRC Protests …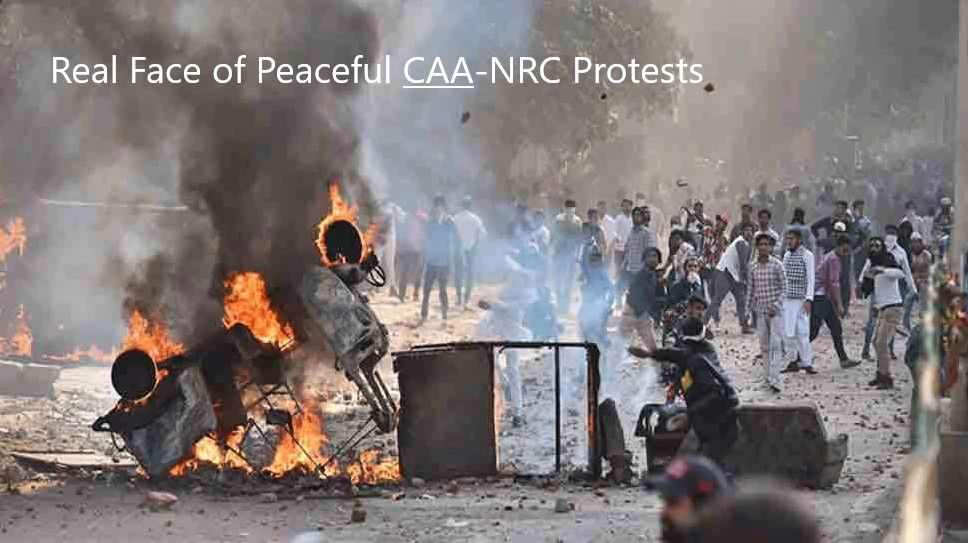 Real Face of so-called Peaceful Anti #CAA #NRC protests:
La i' lah'a ill'all'a 'h.
H'indu'on Se Azadi.
K'afiro'n Se Azadi.
H'indut'va Ki K'abar Khudegi, AMU Ki Chaati Par.
Bas Naam Rahega A'll 'ah Ka
Pakistan Jindabad.
I am Babari.
F'uck OM H'indut'va (ॐ was drawn like Nazi symbol).
M'osque instead of Ashok Chakra in Tricolor.
Slogan, "There is no God but A'lla h" instead of Ashok Chakra
Boycott Brahmin patriarchy.
Free 'Kashmir'.
Pak & ISI Moles.
Radical PFI & SIMI Terrorists.
Urban M'aoists.
Congress, Left, TMC, SP, AAP, AIMIM, DMK goons.
AMU, Jamia, JNU & Jadhavpur miscreants.
NSUI, DYFI, SFI goons.
AIMPLB & Radical I'sl 'amist's.
Selective Coverage & Debates.
Unrelated Placards.
Fake News & Story.
Promoted Social Media Feeds.
Vandalized Trains & Stations.
Burned Buses, Cars & Motorcycles.
Pelted Stones & Destroyed Public Property.
Blocked Highways, Streets.
Fired B'ullet's & Thrown Petrol B'ombs.
Killed Public & Police officials.
Liberals: Protesters are secular and followers of Mahatma Gandhi.
#DelhiRiots #AntiIndiaRiots
DISCLAIMER: The author is solely responsible for the views expressed in this article. The author carries the responsibility for citing and/or licensing of images utilized within the text.