Rocketry – the Nambi Effect : Film Review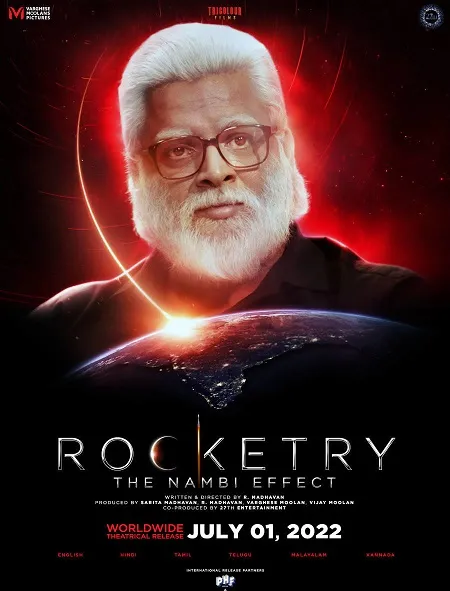 A burlesque vesti-clad middle-aged man is thrown out with his ailing wife from an auto and runs from pillar to post looking for a replacement one, in the midst of heavy downpour, all, under the silent gaze of the mute flag post – one of the most defining and rudely poignant images from the movie.
Rocketry is a movie that catches attention from the word go with the hauntingly soothing Suprabhatam song. It follows with India's rocket scientist Nambi Narayanan's incarceration and the horrific ordeal he undergoes with his family. And it fast forwards to his interview to a journalist (Suriya in case of Tamil version) quickly goes into a flashback in his ISRO days with the dynamic Dr Vikram Sarabhai as charge and the demure Ex-President Dr Kalam as Nambi Narayanan's colleague. It flashbacks to Dr Nambi's Princeton days which are skilfully portrayed and the humour and one-liners here take the cake, especially the relationship between Dr Nambi and his Doctoral guide Dr Crocco and/ his ailing wife and also his batchmates at Princeton!
The film shows Dr Nambi as a hard task master ready to put personal tragedies of his team members in the back burner to achieve milestones for his country. The conviction with which the character stands up for this and says would not hesitate to repeat the stance taken if faced with a similar situation once again calls for a lot of plaudits.
That Dr Nambi is a genius is a foregone conclusion: he is shown to shift from solid to liquid fuels research for rocket engines with ease aided by his Ph.D. Guide Dr Crocco. Former visits Scotland and gets £400 million in equipment for free. He strikes a deal with France for manpower exchange in return for liquid fuel technology which he gathers by a deft use of brains. Towards erstwhile USSR's breakup, he gets the Russians to sell four number KVD1 engines to ISRO /India.
The incarceration is on account of some false case hatched where he is accused of being honey trapped by a Maldovian lady (under duress) and that he allegedly sold rocketry secrets to Pakistan for $0.9 million. No evidence is found against him and finally after innumerable court appearances, petitions, lawyer changes, etc he is finally absolved of all charges and deemed innocent by the Highest Court. The film breaks no bones that the incarceration happened at the behest of the US which lead to India's cryogenic research being put in the cold storage for a decade.
R Madhavan stands out with his deft adaptation of the story, screenplay, dialogues and direction. The entire cast synced effortlessly especially the character of Dr Nambi's wife, his colleague Unni, Dr Sarabhai's character and of course all other supporting cast. Towards the end, when Mr Suriya seeks forgiveness from Dr Nambi (actual) on behalf of the people, Dr Nambi politely declines to accept since it would wrongly signal a closure to the case when the guilty are still at large and he vows to continue to fight to bring them to justice and ends with Jai Hind. Startlingly, Mr Suriya doesn't reciprocate. Nobody knows why !
The Princeton portion is India's answer to "A Beautiful Mind" – the sheer brilliance of Dr Nambi has been portrayed with ease and elan. Even during/ post his incarceration, the ostracising and shame, the pain and vulnerability of the family have been essayed with a lot of finesse. Never for a moment it appeared the film is the Director's debut film.
From moistening one's eyes and bringing a lump in the throat to holding one on to the edge of the seat, the film is a rare concoction of thriller, deceit, redressal, pain, poignance, patriotism packaged in an inexorably breathtaking little over two hours !
Should you watch ? Of course you MUST ! And repeat to mull over. As besides tugging at the heart strings, the film is also cerebral. Shall spur you to think. So ? GO !!!
Rating : 4.5* (half star deducted on account of Suriya's non-reciprocation)
#RocketryTheNambiEffect #rocketry #RocketryTheFilm #RocketryOnPrime #rocketrymovie #RocketryTheNambiEffectReview
DISCLAIMER: The author is solely responsible for the views expressed in this article. The author carries the responsibility for citing and/or licensing of images utilized within the text.