Rotherham Grooming Gang Crimes – Timeline 1980s to 2014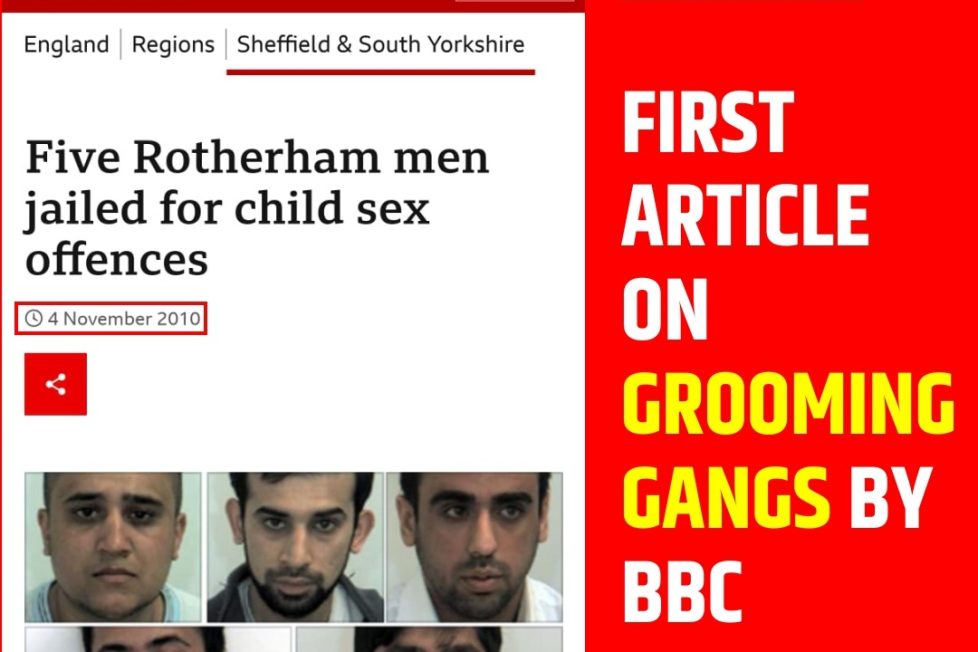 Late 1980s
It was later discovered that the crimes had started to take place around this time.
Early to mid 1990s
Community workers come across examples of child sexual exploitation and learned that children under the care of the Rotherham local authority were at risk of being targeted.
"Risky Business", a team of youth workers, is set up in Rotherham amid concerns about young people being abused through prostitution.
Early 2000s
Shaun Wright first elected as a Labour councillor representing Rawmarsh and Parkgate on Rotherham Council.
A small group from "key agencies" meet children involved in child sexual exploitation but their work is not properly supported, according to the 2014 report by Professor Alexis Jay. Senior police and social workers believe youth workers are exaggerating the problem.
A Home Office report into grooming in Rotherham criticises agencies and reports a "high prevalence of young women being coerced and abused through prostitution". Police and council officers object to the report, which is never completed.
A report by drugs analyst Dr Angie Heal, commissioned by South Yorkshire Police, finds there are a "significant number of girls and some boys who are being sexually exploited" in Rotherham. She later describes "an organised and established sexual exploitation scene".
Andrew Norfolk of The Times first wrote about localised grooming, after moving from London to Leeds. He started off with a brief story about the Keighley child sex abuse ring. Ann Cryer, MP for Keighley, had complained that "Asian men" were targeting teenage girls outside schools, while parents alleged that police and social services were declining to act. From then until 2010, Norfolk heard of court cases in northern England and the Midlands reporting a similar pattern. (Wikipedia)
Rotherham Council members attend a seminar on child sex exploitation. A new department of children and young people's services is created with Councillor Shaun Wright appointed cabinet member for the department.
A man is convicted of offences against 10 children. Still no coverage by BBC.
"Operation Central" is set up to investigate men believed to be involved in child sexual exploitation. BBC not present.
Ofsted rates Rotherham's children's services as "inadequate" as the safety of children can not be assured. Shaun Wright resigns from his council cabinet post in the wake of the report. BBC missing in action.
Five men given lengthy jail terms after they are found guilty of grooming teenage girls for sex. An article on this appears in BBC for the first time ever, seven years after local publications started to talk and write about the horrendous crime.
Shaun Wright is chosen as Labour candidate for the South Yorkshire Police and Crime Commissioner and subsequently wins the election in November. He states that tackling child sexual exploitation is one of his priorities.
The Times publishes an investigation revealing that a confidential 2010 police report had warned thousands of child sexual exploitation crimes were being committed in South Yorkshire each year by networks of Asian men. It reports that police and child protection agencies in Rotherham had extensive knowledge of such crimes for decades, yet offences went unprosecuted. The Commons Home Affairs Select Committee tells the chief constable and one of his top officers to "get a grip" on the issue.
The chief executive of the council appears before the Home Affairs Select Committee to answer questions about the lack of prosecutions, with chairman Keith Vaz saying the council had not done enough since the 2010 prosecutions. Council chief executive Martin Kimber blames "systematic failures" as he apologises to victims and their families.
Four women sue the council for failing to protect them when they were children.
Professor Alexis Jay publishes her devastating report on child sexual exploitation in Rotherham between 1997 and 2013. Mr Wright issues a statement reiterating previous apologies for council failings and trumpeting his record on the issue as PCC.
August 27

The Labour Party threatens to throw out Mr Wright if he does not resign. Mr Wright quits the party and refuses to go. Home Secretary Theresa May backs calls for him to step down.
Mr Wright's deputy PCC Tracey Cheetham announced she was resigning saying she was "unable to continue" in her role. She calls on Mr Wright to follow suit. Prime minister David Cameron joins the chorus of calls for him to step down.
August 29

South Yorkshire chief constable David Crompton said he has been in contact with the PCC but would not reveal where Mr Wright is.
Sheffield City Council passes a vote of no confidence in Mr Wright.
September 3

Rotherham Council's ruling cabinet passes vote of no confidence in Mr Wright.
Mr Wright cancels a scheduled public surgery saying no-one had booked an appointment.
Mr Wright is grilled by MPs on the Home Affairs Committee. Chairman Keith Vaz called for him to resign and said he would be asking the Home Secretary to bring in emergency legislation to enable PCCs to be sacked.
Mr Wright attends an angry meeting of the South Yorkshire Police and Crime Panel where he answers public questions and is screamed at from the public gallery before the panel passes a no confidence vote. The Independent Police Complaints Commission confirms it has received two complaints about the PCC.
September 15

Mr Wright announced a new series of public surgeries, beginning in October.
Mr Wright resigns
Source: The Yorkshire Post
DISCLAIMER: The author is solely responsible for the views expressed in this article. The author carries the responsibility for citing and/or licensing of images utilized within the text.