Rutgers's University Bigotry Queen "Audrey Truschke"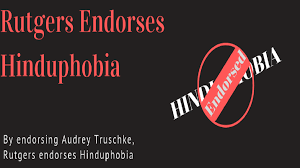 Audrey Truschke "Background"
Audrey is married into the Rehn family to the son of 'Pastor' Nate, whose original name is Nathan Rehn. Her husband Thane Rehn & father-in-law Nate Rehn belong to the fundamentalist Christian organization 'Bless India' Aim: "Win India for Christ".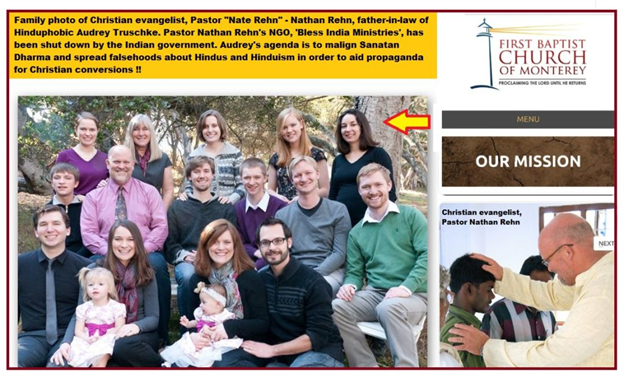 Pastor Nathan Rehn is the founder of Bless India Ministries Incorporated (BIMI) 9729 Garis Shop Road Hagerstown MD21740 USA. Recently, It has come to the observation that BIMI has sent funds to a "Christ the King of Kings Ministries Welfare Association (CKKMWA)", 11-160, Ashok Nagar, Gajuwaka, Visakhapatnam, AP-530026.
Audrey

Truschke "Visa Fraud Family "
Audrey's husband, Thane Rehn, has been caught preaching in India in violation of visa conditions:
As Per Indian Immigration Probe it was mentioned that "Whatever visa these people hold in India, they are in violation of the terms and conditions of the visa. If they hold a missionary visa, visa holders cannot use it for proselytizing and can only join a missionary organization APPROVED by the government of India. In order to be approved by the government of India to operate within the country, an organization must receive a certificate indicating it is compliant with the Foreign Contributions Regulatory Act. If they hold a tourist visa, they can only use it for non-business purposes, such as tourism or visiting family and friends"[1].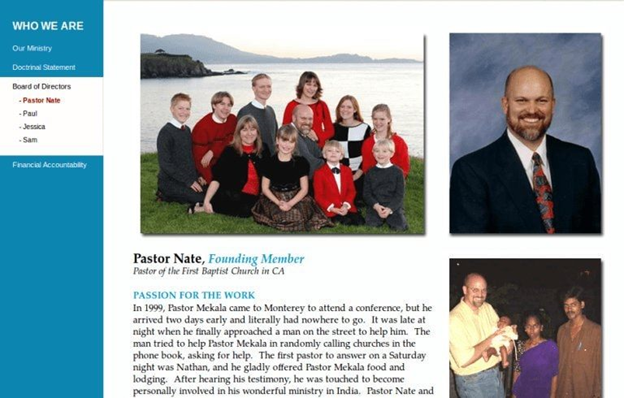 In 2012, Mr. Nathan Rehn stopped supporting the Mekala family's orphanages due to "sin" issues. Perhaps it is safe to assume the worst took place in their orphanages. It is time-proven that "Sexual abuse of orphans is rampant in Christian institutions".
Audrey Truschke "Family's Hidden Notorious Agenda"
In the tax returns filled to IRS (US Tax Organization), BIMI mentions their motto clearly on the very first page "To train people in Christian Principles".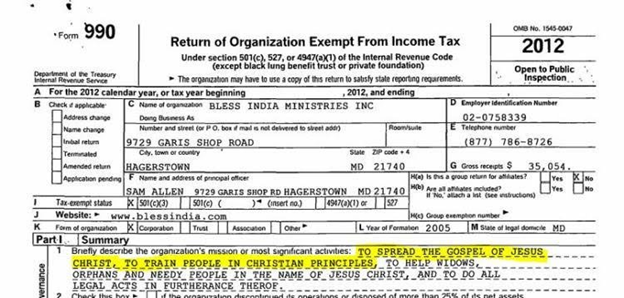 However, it is a known fact that there are Acts which state that "No person shall convert or attempt to convert, either directly or otherwise, any person from one religious faith to another by the use of force or by inducement or by any fraudulent means, nor shall any person abet any such conversion". Though this blatant attempt is illegal but it has been going on for a definite period of time[2].
Their conversion work and funds were heavy during 2007 and 2012
1. CKMWWA has received a total of ~Rs. 1.64 Crore from BIMI during 2007-2010.
2. In 2010, a Spirit of Church Community Church, Pennsylvania became a co-donor. (bank details, last pic clearly mentions their motive).
Now here is the reason for her bigotry character against Hindus & the Indian Government. Her work definitely needs to understood and questioned disparaged. At last, it also can be seen that her Husband Thane Rehn was involved in serving Pakistan.
Audrey Truschke "Taking forward Concocted Noxious Propaganda"

It is well-known fact that Audrey Truschke is better known for her bigotry tweets and racism-filled books rather than for her scholarship. She has always tried to attain publicity by misinterpreting the facts. Moreover, she has the incredible distinction of being fathered and mothered (academically) by two of the most Hinduphobic American academicians: Sheldon Pollock and Wendy Doniger. Both of these scholars have been thoroughly exposed in Rajiv Malhotra's 'Battle of Sanskrit', 'Invading the Sacred' and 'Academic Hinduphobia' books. Many others have also written about them, which finally lead to one of Wendy's books being pulped in India, a few years ago. Their contempt for Hinduism, their evil machinations to see it abused and ultimately destroyed and their continued attack on it through lies have all been well documented[3]. Hence Audrey, having been taught by both of them, is living up to her mentors. She has not disappointed them yet. They should be so proud of her. She has very well narrated in her books the values she imbibes from her Gurus.
Audrey Truschke "Hinduphobic Books Calligrapher"
In one of her books on Aurangzeb, she lauded Mughal rulers, even one as tyrannical as Aurangzeb, while deliberately showing Hinduism (the one and only religion since mankind appeared on this earth) in a very bad light. She tried to create a sandstorm as she was trying to show the other side of Aurangzeb.
The problem here is, there has never been any other side. You can't go to Jews and ask them to see the other side of Hitler, CAN YOU???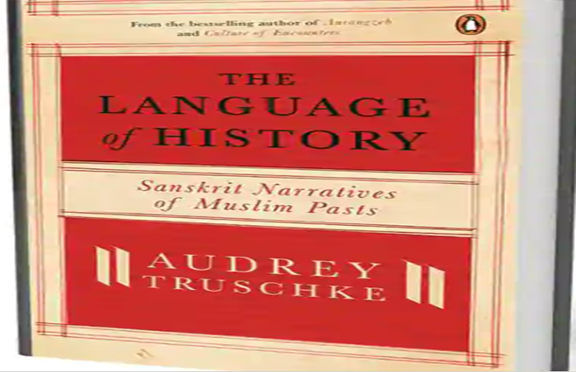 In the second book The Language of History, she very viciously extended her lies by insisting that "We cannot read either the attitudes or the identity politics of the present into the past, that many hundreds of years ago, people acted and reacted differently, that their feelings towards each other were not polarized in the way that they are now"[4]
The problem here is, how can you narrate if you have NO knowledge. You can't visit Hiroshima and Nagasaki and ask the burials what they suffered by Atomic Bomb of US President, Harry S Turman, CAN YOU???
Audrey Truschke "Deep Hate for Pagans"
As she was mentored by such Hinduphobes like Sheldon Pollock, and Wendy Doniger, a so-called Freudian who ascribes what she thinks are Freudian attributes to Hindu devatas. Her family background advocates a deep-rooted hate for pagans. In an attempt to sell her books in India, she picked up on the most heated topic in India i.e., Ram Janmabhoomi.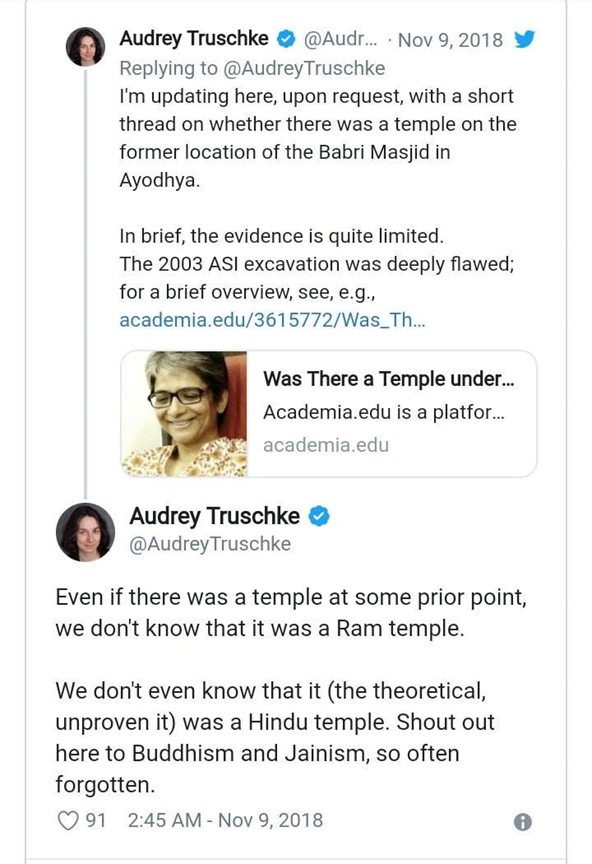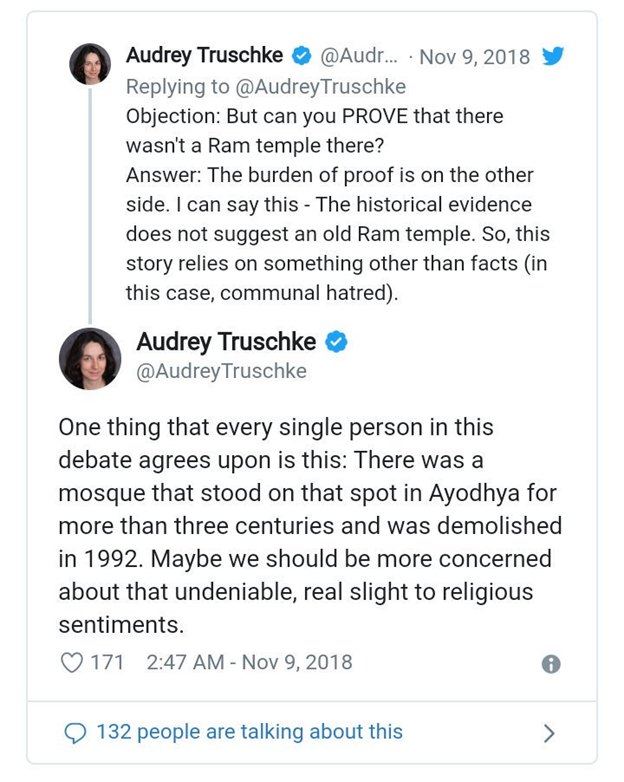 Perhaps everyone might have seen this notorious tweet in which she claims "Mata Sita accused Shree Lakshmana of lusting after her and calling Sri Ram a misogynist."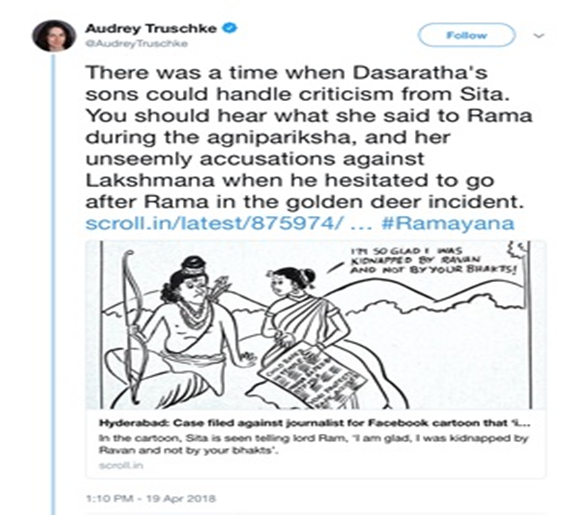 Her research thus seems to be motivated by the intentions of denigrating the "last pagan stronghold" in the world by blue pilling and maligning Indian culture and history by her own created myths & false agenda.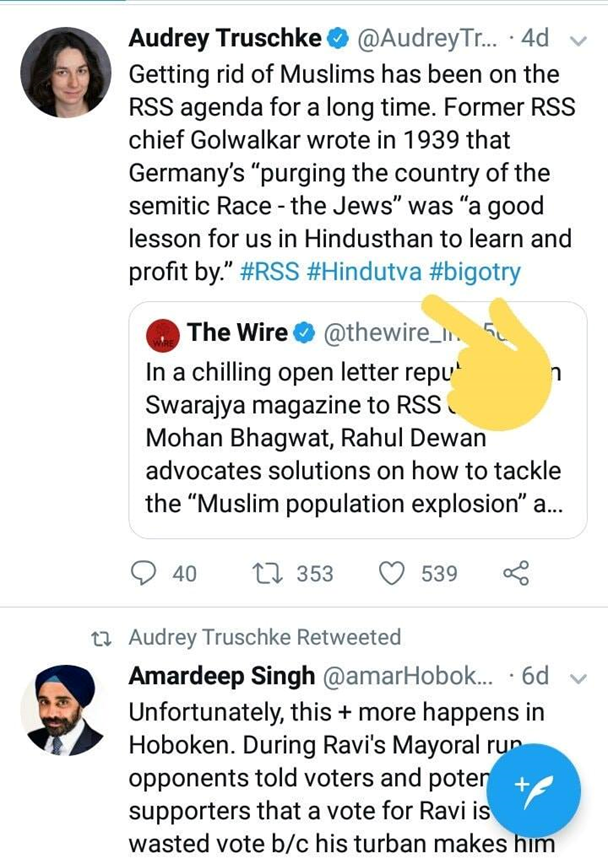 Will it be not wrong to mention here that "A white lie spoken by bigot Audrey can travel halfway around the world while the truth speakers like me are still putting on its shoes."?
Audrey Truschke Hinduphobic Statements "Who are the victims?"
Now the questions which arises are: —
1)Who are the real victims of this racism spread by her?
2) Who faces humiliation after Bigotry statements of this Intellectually Bankrupt Lady?
Answer is
 

"None other than hundreds of Hindus Students who study on Rutgers Campus."
Audrey Truschke Hinduphobic Statements "Action taken by Hindu Students on Rutgers Campus"
In the second week of March 2021, an open letter addressed to University administrators began circulating online, citing allegations of Hinduphobia against Audrey Truschke, an associate professor of South Asian history at Rutgers—Newark. The letter states it is written by Hindu students and allies from Rutgers—Newark, and Rutgers—New Brunswick but did not include specific names.
The open letter accused Truschke of bigoted statements on social media and in her writing as well as offensive, skewed portrayals of Hindu society in her course materials. It stated that she has presented an "exotic-erotic-chauvinist-oppressive India," and in doing so, has created an unsafe and unwelcoming environment for Hindu students at Rutgers.
In the letter written to the university authorities, the students said that they are "aghast at the bigotry being peddled against Hindus via continued derision of our religion, our deities, and our sacred texts" in the university, which may be a potential threat to their security, as it may lead to "potential attacks, bullying, and backlash, either on campus or via social media, due to our faith".
Petition · Hinduphobia at Rutgers - Hindu Students, Alumni and Community urge University to address their concerns · Change.org
Similar petitions accusing Truschke of being anti-Hindu were filed in October 2019 due to remarks she made regarding Hindutva, a form of Hindu nationalism in India, The Daily Targum previously reported. One petition garnered more than 16,400 signatures, and the other received more than 21,200 signatures[5].
Audrey Truschke Hinduphobic Statements "Action taken by Rutgers University"
However, Rutgers University, instead of addressing the concerns of Hindu students, had backed Audrey Truschke and whitewashed her vile and bigoted anti-Hindu remarks as 'academic freedom'.
In the initial supporting statement released by the university, it said, "Rutgers emphatically supports Professor Truschke, academic freedom in pursuing her scholarship, abhors the vile messages end threats that are being directed at her, and calls for an immediate end to them." To further justify its support for the controversial historian, Rutgers cited the significance of 'academic freedom' in scholarship[6].
After sincere concerns again raised by Hindu Students and follow-up meetings by Rutgers University, a new statement was released by Rutgers-Newark University. It said, "They support the Hindu community members and expressed 'Sincerest Apologies' for their failure to communicate clearly in their previous message"[7].
University further stated "At our meeting today with members of the Rutgers Hindu community, this misunderstanding was made clear and again we apologize. We are sorry for the hurt that members of the Hindu community have been experiencing in relation to recent events. Our commitment to inclusion includes religion, not just the right but the freedom to celebrate as an individual or community without fear," said Rutgers University.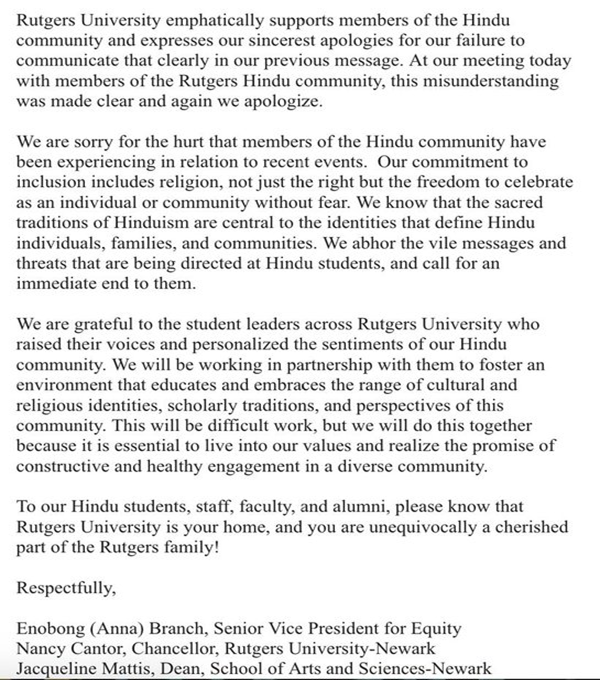 "We abhor the vile messages and threats that are being directed at Hindu students and call for an immediate end to them," said Rutgers university after meeting Hindu students who met the administration to apprise them of the hateful propaganda peddled by Audrey Truschke in the name of the 'history'.
The statement said, "We are grateful to the student leaders across Rutgers University who raised their voices and personalized the sentiments of our Hindu community. We will be working in partnership with them to foster an environment that educates and embraces the range of cultural and religious identities, scholarly traditions, and perspectives of this community. This will be difficult work, but we will do this together because it is essential to live into our values and realize the promise of constructive and healthy engagement in a diverse community."
Audrey Truschke Hinduphobic "What's the Puzzle?"
What is the motto behind this unsolved Puzzle for spreading so much Hinduphobia in Black and white?
Win India for Christ Mission?
OR
Acknowledge the Skills of her Bigotry Trade?
OR
Propagate False Narrative in Which her Mentors Failed?
OR
Free Publicity?
OR
Camouflage US Racism Cancer?
OR
Propagate Unauthentic Propaganda which is Multi-Million Dollar Deal?
OR
Anything Else???
Having written, It is imperative "As the clear stream of reason has been brutishly diverted into the sands of virulent hatred, it may seem that the war that Truschke and so many others have chosen to fight is unwinnable. But the battle in this war must still be fought, for, all over the world, the stakes for what we stand to WIN will get higher every day".
---
[1] Audrey Truschke's pastor father-in-law caught violating Indian visa laws – Mission Kaali
[2] Audrey Truschke's "Win India for Christ" – Exposing Audrey Truschke (wordpress.com)
[3] Does Rutgers University promote White Supremacy and Hinduphobia? | IndiaFactsIndiaFacts
[4] What ancient Hindu texts tell us about Muslims (livemint.com)
[5] Rutgers professor faces open letter accusing her of Hinduphobia | The Daily Targum
[6] Rutgers University apologises to Hindus again, remains silent on Audrey Truschke (opindia.com)
[7] Rutgers University apologises to Hindus again, remains silent on Audrey Truschke (opindia.com)
DISCLAIMER: The author is solely responsible for the views expressed in this article. The author carries the responsibility for citing and/or licensing of images utilized within the text.