Sans Hindu Human Rights: Kashmir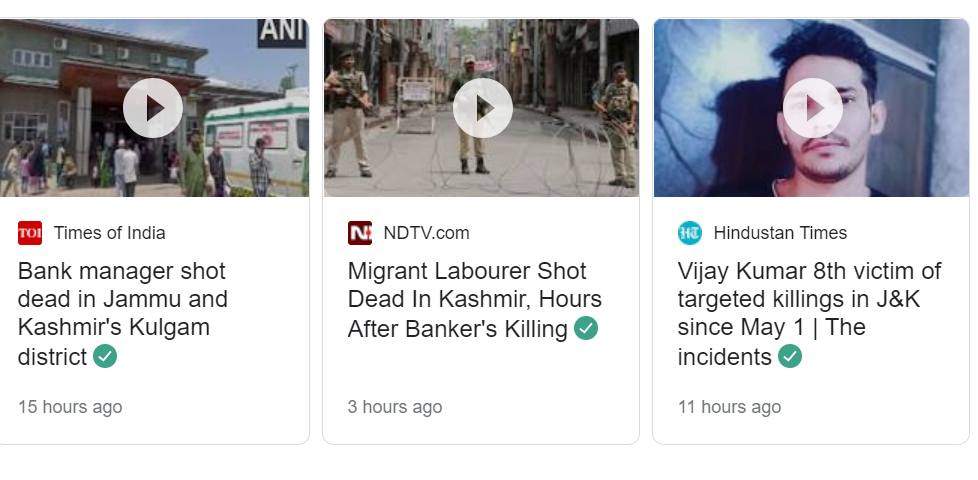 To be a Hindu in Kashmir today, know you will feature in the hit list sooner or later.

I find it extremely shocking that none has demanded of the Government of India why an official recognition of 'Genocide of Kashmiri Hindus' and the enactment of Genocide Crime Punishment Law in India is still a far cry?
I helplessly watch the news on Kashmir reporting deaths of Hindus in the Kashmir valley by the hour.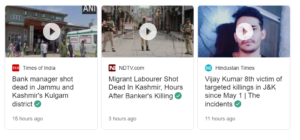 The gruesome real life incidents depicted in The Kashmir Files come alive as we watch helpless Kashmiri Pandits desperately wanting to get out but forced to stay put as sitting ducks, waiting them to be hunted down brutally by Islamist terrorists. Why? Because the individuals killed are Hindus.
Acknowledged as targeted killings by terrorists and left in its anonymity is highly disturbing. Whether it is Budgam, Kulgam or anywhere else, it is amply clear that the Union Territory of Jammu and Kashmir is unsafe for Hindus.
It so happens that The Kashmir Files film makers are on a post movie release tour across UK. Whilst a large number of Hindus and persecuted minorities find the depicted reality in the film highly relatable and almost a leaf out of their own lives, the propagandist pro-Pak lobby and Hindu Hate lobby in the UK leaves no stone unturned to discredit the film makers and their film.
As the Kashmiri Pandit community sought catharsis in having a way to show the world via the big screen a portion of the tragedy that they have survived, their voice continues to be gagged. An attempt by the persecuted victims of Genocide to invite the film maker to speak at prominent universities and institutions across the country is met with a lot of hostility. The Indian diaspora soldiers on, having woken up to the rude reality of Kashmir.
IMPORTANT:
Yet another Hindu voice is curbed at HINDUPHOBIC @OxfordUnion.

They have cancelled me. In reality, they cancelled Hindu Genocide & Hindu students who are a minority at Oxford Univ. The president elect is a Paksitani.
Pl share & support me in this most difficult fight. pic.twitter.com/4mGqwjNmoB

— Vivek Ranjan Agnihotri (@vivekagnihotri) May 31, 2022
The outrage has consumed every angry individual following these incidents closely. People are either glued to the television, agitated on social media and enraged on whats app groups.
Angry demands for resignations of Home Minister to comment from Prime Minister of India are being made as the world slowly begins to pick up the news of targeted killings.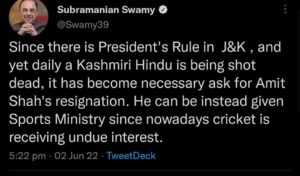 As a Kashmiri Hindu, as I watch the world swing between Geocide and Denial of Genocide of Hindus in Kashmir, I find it extremely shocking that none has demanded of the Government of India why an official recognition of 'Genocide of Kashmiri Hindus' and the enactment of Genocide Crime Punishment Law in India still a far cry?
Kashmiri Hindu activists in India as well as abroad have all repeatedly made their unanimous demand for a Separate Homeland according to the Panun Kashmir Margdarshan Resolution and enactment of the Panun Kashmir Genocide and Atrocities Prevention Bill 2020
There is a collusion at the local level. How else do Hindu employees get identified? Only solution to this is to create a geopolitical foot hold, carve out a homeland for nationalists where legislative and executive control is in the hands of nationalistic forces. https://t.co/XPIAy0xy3A

— Sunanda Vashisht (@sunandavashisht) June 2, 2022
Even the British Parliamentarians have tried to remind India of its legal responsibility to enact Genocidal laws in India to protect the Kashmiri Hindus and persecuted minorities.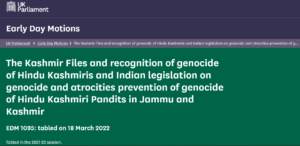 https://edm.parliament.uk/early-day-motion/59594/the-kashmir-files-and-recognition-of-genocide-of-hindu-kashmiris-and-indian-legislation-on-genocide-and-atrocities-prevention-of-genocide-of-hindu-kashmiri-pandits-in-jammu-and-kashmir
DISCLAIMER: The author is solely responsible for the views expressed in this article. The author carries the responsibility for citing and/or licensing of images utilized within the text.