Sardar Baghel Singh -General – Who Trounced Mughal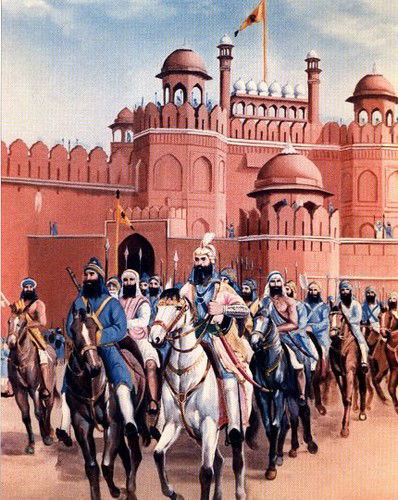 Sardar Baghel Singh (1730-1802), A prominent Sikh General who was instrumental in establishing Sikh Empire along the Yamuna and humiliating Mughal King Shah Alam in their own home at Delhi.
In his decades of warship Baghel Singh established Supreme control of Sikh Empire in east ward direction decimating Mughal King Shah Alam and crossing Yamuna as well. Historians have successfully concealed this fact about the Mughal helplessness and abject surrender before this astute Sikh General Baghel Singh, but the exploits and chivalry of the General at Delhi speaks volume about it.
Baghel Singh was born in 1730 in a Jat farmer family of Dhaliwal Clan in the Jhabal village in the holy city of Amritsar. It is important to note that farmers have produced some of the greatest warriors in the land of Punjab. He was associated with one Singh Korara Misl and soon rose to be the commander of his military confederation by 1765.
1764:- Afghan Pashtuns had started raiding Delhi under the leadership of Durrani around this time. The incursion turn out to be too bloody and when Sikhs took up the war under the leadership of Baghel Singh in the area around Delhi Yamuna and Haryana. Afghani Pashtuns had been virtually routed. The raiding Sikh battalion decimated Mughals in a series of small battles in the region of Karnal- Panipat and in no time the entire area from Yamuna to Jalandahar doab (Cis Sutlej) via Malerkotla came in absolute control of Sikhs. The loss of Afghani Pashtun army and their subsequent retreat from main land India was so demoralizing that a few years later the Sikhs chased them up to Peshawar and established decades of control of Peshwar and up to the border as deep as Iran under Hari Singh Nalwa another Great Sikh general of his contemporary time.
Baghel Singh had in his credit some of decisive victory against Mughal in respective places along the Yamuna. Some of the iconic battles are listed below.
| | |
| --- | --- |
| Defeat of Mughal – Sirhind -1764 | Battle of Gannur – Patiala – 1778 |
| Defeat of Pashtuns – Malerkotla | Battle in trans Yamuna – 1775 |
| Defeat of Mughals – Delhi 1764 | Defeat of Mughals – 1783 at Delhi |
The Battle of Sirhind (1764)
Nawab Kapur Singh and Jassa Singh Ahluwalia had secured the western flank from the Mughals. They went after the infamous Persian invader Nadir Shah and Ahmad Shah Abdali of Afghanistan to secure it from the Northern and Western flank.
Now it was time to look inwards and attack Mughals at their heart in Delhi. The Sikh were advancing decisively to Delhi and Trans-Yamuna and then begun an important battle at Sirhind with Mughals which was fought in 1764. Mughal lost heavily only to retreat to Delhi. The Battle of Sirhind had virtually reduced the Mughal as the king of only Chandani Chowk is the old folk- proverb.
Attack on Delhi – 1764.
After having consolidated the Northern side of Delhi up to Jalandhar Doab, Baghel Singh descended upon Delhi in February 1764 with a strong army of nearly 30,000 Sikh soldiers. The army reached Delhi and camped in a place where our Tis Hazari Court is established today. History was rewritten when Sikh warrior under the leadership of Baghel Singh stationed his 30,000 Sikh force in today's Tis Hazari court. They defeated Mughal Shah Alam and subjugated Delhi. The present day Tis Hazari court derives its name from the event that happened then in 1764.
In April 1775, Singh crossed the Yamuna river into the present day's of western UP. He overran the western UP then ruled by Zabita Khan, completely subjugated him. His life was spared after tax treaty was signed and huge war booty was collected. Zabita Khan later converted to Sikhism out of his free will and came to adopt the name of Dharam Singh.
Warrior Leader Baghel Singh was an able administrator. In no time he put in place a network of tax collection and collected tax through the octroi tax. The revenue mechanism augmented the efficiency of the warring Sikh force and hence Sikh warrior Baghel Singh went ahead and fought straight battles with Shah Alam II – a Mughal king near Saharanpur in 1776 and comprehensively defeated.
Battle of Ghanaur
1778:- Mughals under the Shah Alam II could galvanize an untrained unprofessional collection of nearly 1, 00,000 soldiers to avenge the humiliating loss they had suffered in 1764 with Najaf khan as head. A comparatively small battalion of the now aged Baghel Singh met the Mughals at Ghanaur near Patiala and comprehensively decimated them. Mughals were once again humiliated and agreed to pay the Octori – a Trade tax to Sikhs thereafter.
Sikh temples in Delhi
Baghel Singh was a great Builder and had a fascinating taste of culture. He went on to construct several Gurudwaras in Delhi.
| | | |
| --- | --- | --- |
| Gurdwara Mata Sundri | Gurdwara Rakab Ganj | Gurdwara Majnu Ka Tilla |
| Gurdwara Bangla Sahib | Gurdwara Sis Ganj | |
Baghel Singh, one of the most important Khalsa Warriors and able administrators finally set for heavenly abode in 1802 at Haryana.
DISCLAIMER: The author is solely responsible for the views expressed in this article. The author carries the responsibility for citing and/or licensing of images utilized within the text.