Why we need to join "HINDU ECOSYSTEM" Team??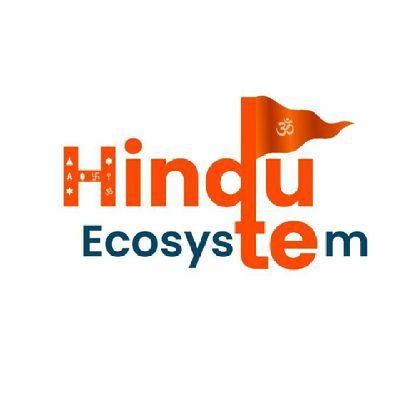 As it is playing with our religion in our society today, it is not only from today but for many years it is a planned conspiracy which aims to destroy our eternal culture and Hinduism only
In the same way, the Hindu sisters-daughters of our society are sexually abused after being wrongly converted and then killed.
And our temples are destroyed. Cows are killed while cow is our mother. There are many other issues from which we have to fight and win and to show the strength of our Hindutva.
Why, why and how long will we bear this and how long do we keep ignoring it and why do we have to ignore it.
If you want to get rid of all these issues and do something for your Sanatan Dharma, then raise your voice.
Join the "Hindu Ecosystem" team and also add to your other friends, we cannot fight these issues alone, for that we will have to unite, we have to fight together .
Join the "Hindu Ecosystem" team .
Late Shri Swami Vivekanand ji has said-
गर्व से कहो हम हिन्दू हैं।
Late Shri Atal Bihari Bajpai ji has said –
आग लगाकर जलना होगा , कदम मिलाकर चलना होगा ।
So from now on let's all go together
And all of you become members of this team and contribute to Hindutva and national interest.
And that's why this team has been formed so that we can protect our religion. So now don't waste your time,
join "Hindu ecosystem" Team and contribute for your "Sanatan Dharm".
#JoinHinduEcosystem to save Hindu festivals
Why is knowledge imparted on Hindu festivals? To save your festivals, come and go #JoinHinduEcosystem
Why talk about pollution from firecrackers on Deepawali, let's erase their confusion and raise their voice from #JoinHinduEcosystem
Why is it Holi or Diwali, they have a problem with their dialect. Their problem has to be solved, so increase it #JoinHinduEcosystem
Why do we say pollution on Deepawali and water on Holi come together and tell how Hindu festivals are best #JoinHinduEcosystem
Why is knowledge imparted every time on Hindu festivals, why advertisements are shown in which only a Muslim boy can paint a Hindu girl, Hindu boy is not a Muslim girl… That is how to change the attitudes #JoinHinduEcosystem
Why is all their knowledge on Hindu festivals closed on the rest of the festivals .. Only closed tongues have to be opened and go ahead and speak #JoinHinduEcosystem
Insulting Hindu Gods and Goddesses, now their shop should be closed .. Let's go ahead #JoinHinduEcosystem
Now enough to tell everyone that there is enough knowledge on Hindu festivals …. Now prevent those who discredit Hindu festivals #JoinHinduEcosystem
Why don't you preach those who take the life of idiots in the name of festivals .. How long will they keep silence on these bogus intentions is an attack on these bogus intentions, so let's go ahead #JoinHinduEcosystem
To protect the country from Islamic jihadi terrorists, to save the country, if India is to be unbroken and united, Hindu unity is necessary for this. Let's move forward and become one #JoinHinduEcosystem
There is no opposition to Hindu unity.
This is completely uncontested. For hindu
The whole world is a family. The Hindu considers Vasudhaiva Kutumbakam. #JoinHinduEcosystem
In the absence of Hindu unity, Hindu saints and gods are being insulted, now let's wake up and move forward #JoinHinduEcosystem
Awful movies being made on Hindu saints, how long will it continue to insult Hindu saints? Now you have to speak together, every mouth will have to be opened #JoinHinduEcosystem
Now the time has come to be together, every Hindu has to be awakened, now he has to step forward #JoinHinduEcosystem
Every Hindu will have to wake up to attack Hindu conversion. #JoinHinduEcosystem
Saffron is saying Hindu terrorism is to attack such a rumor spreading lies, now Hindus have to unite #JoinHinduEcosystem
This is how TV shows are made, which are destroying Hindu culture. So it is important to #JoinHinduEcosystem
How to kill saints in forgotten Palghar, Sanatan culture will have to come forward now to honor saints #JoinHinduEcosystem
How long will Hindu saints continue to run their shop by propagating saints, one day this shop will be closed, now every Hindu's voice will be raised against it #JoinHinduEcosystem
In the honor of saints and saints, voice will now rise, we will all together #JoinHinduEcosystem
Come forward and fight #JoinHinduEcosystem to fight anti-Hindu neorates
We make such series in which monks show evil, rapist to saints .. Ask the condition of each madrasas, which shops do they run? #JoinHinduEcosystem
#JoinHinduEcosystem for the prestige of Hindu culture
#JoinHinduEcosystem for real Hindu history
'Scared Muslims' make such fake narrators and defame Hindus and defame the truth. This fake narrator will have to be attacked #JoinHinduEcosystem
Why are all the content available on the web series anti-Hindu and false?
This anti-Hindu will have to be understood. And your voice needs to be elevated #JoinHinduEcosystem
Hindus will now have to come together to curb conversions #JoinHinduEcosystem
Why Hindu rulers are not told? Why we are always told stories of the greatness of the Mughal rulers .. Strike on such Narrative #JoinHinduEcosystem
Why anti-Hindu content is served in films, serials and web series .. Reversal on such content #JoinHinduEcosystem.
I request to every single Hindu, to work in favor of Hindutva, Raise your voice.
DISCLAIMER: The author is solely responsible for the views expressed in this article. The author carries the responsibility for citing and/or licensing of images utilized within the text.