Secular Versus Communal : Qualifying The Test Of Secularism In India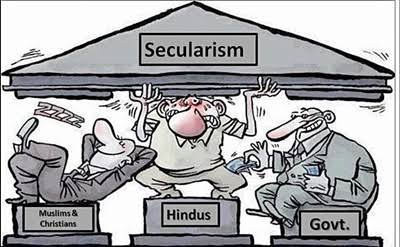 Secularism initially meant separation of the State from Church. The word secular is defined in the dictionaries as "the belief that the state, morals, education, etc. should be independent of religion." But in India it means only one thing — eschewing everything Hindu and espousing everything Islamic.
Every one who wants to 'qualify' as secular should subscribe to the following articles of faith :
the Muslims in India after independence have become a poor and persecuted minority;
they are being deprived of their fair share in the fruits of development;
their religion and culture are under threat and are not getting legitimate expression in public life and media;
they are not being given employment in public and private sectors in proportion to their population; and
the preponderance of Hindus in the security forces puts in grave peril the lives, honour and properties of Muslims.
Every Hindu politician who aspires to pass the test has to
proclaim that Islam stands for equality and human brotherhood;
celebrate the prophet's birthday with fanfare and throw an Iftar dinner
at the end of Ramzan;
attend Urs of sufis and Urdu mushairas;
support the claim of Urdu to be the second state language in all states
where Muslims are in a minority;
admire whatever passes for Islamic art and architecture;
relish Muslim cooking ( yes! Biryani and Sewai has to be your favorite) and appreciate Muslim dress and demeanour ( adab, nazakat and all ) ;
abuse Israel and applaud Palestine.
He should also keep quiet or look the other way when Muslims
breed like rats;
refuse to give modern education to their children;
push their women into purdah, triple talaq, Halal etc ( according to them it's their personal matter as a religious community ) ;
practise polygamy;
start street-riots at the slightest pretext;
invite and protect infiltrators from across the borders. And he should
not whisper a word when Arab governments pour petro-dollars and professional preachers of Islam into this country in order to convert the weaker sections of Hindu society.
He should advocate that terrorism has nothing to do with religion but when talking about RSS he must call them Hindutva terrorist out to establish Hindu Rashtra. (here they openly target Hindus as terrorists, funnily enough!)
Love Jihad, Population Jihad, Land Jihad, dream of Ghazwa-e-Hind and so on is nothing but RSS BJP propaganda to demonize the 'ever peaceful and oppressed minority community'.
Criticising Hindu festivals and traditions is a must for a aspiring secular Hindu to qualify the test of secularism. During Holi, playing colors is bad, it hurts animals (but dare not say a word when Muslims slaughter innumerable animals on Eid Al Adha, Bakrid in the name of religion and tradition). During Diwali bursting crackers causes air pollution (but not on Christian New Year). And…. Karwachauth has to be called torture on women ( but Halala, chaar biwi chaalis bacche works absolutely fine).
Even these positive services rendered to Islam are not sufficient for a Hindu politician or pen-pusher out to earn the secular certificate. One is not secular unless one harbours and expresses a pronounced anti-Hindu animus. One should lodge an immediate protest against the least little expression of Hindu religion or culture in public media and at government functions. One should frown upon every government dignitary performing a Pooja in a Hindu temple or going to Hindu place pilgrimage. One should accuse all educational, cultural and research institutions of hiding Hindu communalists. One should put the blame squarely on the RSS for every communal riot. And so on, the list of one's grievances against Hindu society should be as long as one's love for Islam and Muslims.
Communal : the term and its meaning in Indian political jargon
The definition of communal is a logical corollary of the above definition of secular. The dictionaries define the word communal as "pertaining to community, owned in common,, shared." But Hindus in India have only to say that they belong to a community and that they share a culture in common. They immediately provoke secularists of all hues to come down upon them.
In fact, the word Hindu itself has become a dirty word, almost an obscenity in India' political parlance. Woe betide the Hindu who dares say that India is his ancestral homeland and that his religion and culture also have a case. He will be immediately denounced as a Hindu chauvinist.
When so many forces are functioning against one particular religious community (Hindus) then it is pretty much clear what threat Hindu people, culture and Bharatvarsh are in.
Cultural Subversion of Hindus by leftist historians, political parties and politicians, Bollywood and other 'eminent personalities' needs to be aggressive fought back.
Defeating Cultural Subversion
It is very important to know your past to understand your present and make your future better. Knowing History, the real history is pivotal in forming socio-political opinions. Reading is fundamental in understanding your religion, culture, social norms etc. It is only when you read the unbiased, unaltered history that you know whom to idolize, braveheart Maharana Pratap or clown Akbar,ideal king Chhatrapati Shivaji Maharaj or tyrant Aurangzeb.
A Hindu who blunders into reading Indian history with his own eyes who finds that his society has suffered immeasurably at the hands of Islamic imperialism, and who cries out that this aggression should now stop, makes the Leftists mad with fury. They brand him as an enemy of public peace and national integration. They find in him a fiend who is plotting a genocide of the "poor Muslim minority."

It is very easy for Hinduphobic forces to attack Hinduism, spread fake stories about Hindu deities and get away with it. Such forces take advantage of Hindus people's natural tendency of tolerance. Do not let your tolerance become your weakness. Those who call Hindus asked intolerant are the actual bullies and intolerant people. Appeasing the bully and tolerating intolerance are mistaken policies. Bullies always become more aggressive when tolerated.
DISCLAIMER: The author is solely responsible for the views expressed in this article. The author carries the responsibility for citing and/or licensing of images utilized within the text.