SPARE US THE DUPLICITY! – Rebutting a Sydney Morning Herald article by Joanna Slater.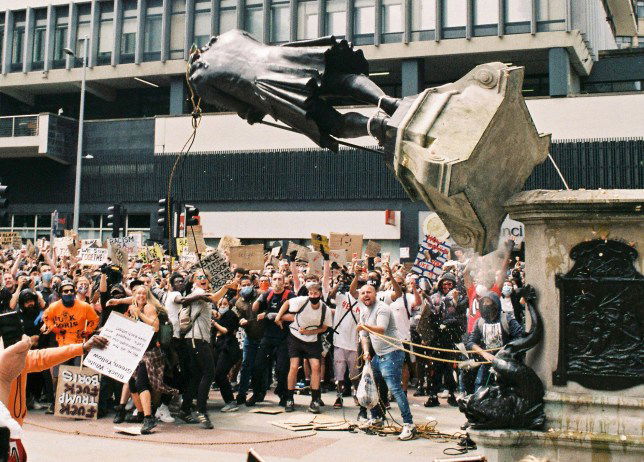 "It was an event for the history books." That is right, and that is where the authors' accuracy ends. This article is a response to the misinformation peddled by authors Joanna Slater and Niah Misah in the Sydney Morning Herald article printed on 6 August 2020 – Groundbreaking on Hindu temple proof Modi is transforming India.
Deceitful from the get-go, they fail to inform the readers that the mosque was built after razing the temple to the ground. This is not merely a belief that the Hindus concocted, but an archeological fact. Had the authors studied the judgement, they would have known that the Hon. Supreme Court has said Babri mosque was NOT built on vacant land.
KK Muhammed, former regional director, North, Archaeological Survey of India (ASI) who was part of the first excavation carried at the site in 1976-77, has fastidiously maintained since, that there is enough proof of a temple below the mosque dating it back to 12-13th century. When challenged, the Allahabad High Court ordered another excavation in 2003. This time more than 50 pillar bases in 17 rows surfaced, demonstrating a grand temple under the mosque and several other artefacts such as figurines of gods and goddesses.
To put it in the Australian context, dispossession and denial of land was the first act in the relationship between Aboriginal and Torres Strait Islander peoples and Europeans. Eddie Mabo challenged the Australian laws on land ownership and the case ran for 10 years. On 3 June 1992, the High Court of Australia ruled that terra nullius should not have been applied, recognizing that indigenous peoples have rights to the land which existed before the British arrived and can still exist today. Hindus have fought the legal battle for more than 110 years!
The authors brazenly throw in words like Hindu extremist when the real question is, why did common people from across the country need to come together to demolish the symbol of oppression and pedophilia when for nearly over a thousand years their temples had been routinely destroyed and turned into mosques? All the while, Hindus not only had to worship Shri Ram in a shanty outside for centuries but also prove their faith, land title and unbroken worship in a court of law!
They have fought this exhausting battle for five centuries. Of course, it was an emotionally overwhelming time not just for India, but for Hindus across the world; despite which Shri. Narendra Modi struck a balanced note when in fact it needed to be triumphant.
The authors themselves state that fewer than 200 people were invited and all of them, including Modi, wore face masks. Clearly, in three short paragraphs, they have run out of substance, abruptly deflecting to coronavirus outbreaks and statistics that are out of context. The authors lack the audacity to mention that it was the Tablighi Jamaat religious congregation that took place in Delhi's Nizamuddin Markaz Mosque in early March 2020 which became a coronavirussuper-spreader event in India. Over 9,000 missionaries attended the congregation, with the majority being from various states of India and 960 attendees from 40 foreign countries. On 18 April, 4,291 confirmed cases of COVID-19 linked to this event by the Union Health Ministry represented a third of all the confirmed cases and around 40,000 people, including Tablighi Jamaat attendees and their contacts, were quarantined across the country.
Frog leaping, authors cite the Citizenship Amendment Act (CAA) and the ensuing Delhi riots next. They hide the persecution of these minorities and that CAA is responding to the plight of non-Muslims seeking Indian citizenship because the three Muslims nations identified in the legislation are oppressing them. The outrage on the global stage has been hijacked by Islamophobia with an uncomfortable silence about Hindus. Indu Vishwanathanji documents this erasure here.
In India where religious tourism is massive, it is being estimated that the construction of the grand Ram Temple will take approximately 3.5 years from now at an estimated cost of Rs 300 crore. The UP government has also allocated Rs 85 crore for development of infrastructure and budget of Rs 500 crore has been allocated for the construction of an airport. This means more infrastructure, ancillary services, and hospitality jobs for all – so yes, building this temple is not just religious devotion but a strategic economic investment.
In 2020, the world has witnessed the statue of Winston Churchill daubed with graffiti, Edward Colston toppled in Bristol and Cecil Rhodes statue in Oxford has been recommended to be taken down and 183 monuments ruined. The world stands behind the BLM demands to right the colonial wrongs while the media errs on the side of caution.
On the eve of the most significant event in India's civilizational memory when Hindus can finally begin healing, the All India Muslim Personal Law Board, threatens to reclaim the completed temple citing Hagia Sophia as an example. The world turns a blind eye to this Hinduphobia while the media gaslights them for reclaiming their civilizational heritage worship after 492 years of struggle!?
Welcome to the world of absurd duplicity where journalists lack research, comprehension and integrity!
References
Ram Mandir Existed Before Babri Mosque In Ayodhya: Archaeologist KK Muhammed | India News – Times Of India. [online] The Times of India. Available at: <https://timesofindia.indiatimes.com/india/ram-temple-existed-before-babri-mosque-in-ayodhya-archaeologist-kk-muhammed/articleshow/71391712.cms> [Accessed 9 August 2020].
Nma.gov.au. 2020. Mabo Decision | National Museum Of Australia. [online] Available at: <https://www.nma.gov.au/defining-moments/resources/mabo-decision> [Accessed 9 August 2020].
Cavanagh, N. and Cavanagh, N., 2020. Second Winston Churchill Statue Vandalised With Graffiti After BLM Protests. [online] The Sun. Available at: <https://www.thesun.co.uk/news/11832425/second-winston-churchill-statue-vandalised-graffiti-blm-protests/> [Accessed 9 August 2020].
Gottschalk, J. and Gottschalk, J., 2020. 179 Monuments Ruined Since Protests Began, And Counting. [online] The Federalist. Available at: <https://thefederalist.com/2020/07/22/list-of-183-monuments-ruined-since-protests-began-and-counting/> [Accessed 9 August 2020].
Internet Archive. n.d. The Babur-Nama In English (Memoirs Of Babur) : Babur, Emperor Of Hindustan, 1483-1530 : Free Download, Borrow, And Streaming : Internet Archive. [online] Available at: <https://archive.org/details/baburnamainengli01babuuoft/page/120/mode/2up?q=babri> [Accessed 9 August 2020].
En.wikipedia.org. 2020. 2020 Tablighi Jamaat Coronavirus Hotspot In Delhi. [online] Available at: <https://en.wikipedia.org/wiki/2020_Tablighi_Jamaat_coronavirus_hotspot_in_Delhi> [Accessed 9 August 2020].
In.finance.yahoo.com. 2020. How Ram Mandir Is Likely To Transform The Economy Of Ayodhya.. [online] Available at: <https://in.finance.yahoo.com/news/role-of-ram-mandir-in-reviving-economy-of-ayodhya-economic-implications-134622518.html> [Accessed 9 August 2020].
Siddique, H. and Skopeliti, C., 2020. BLM Protesters Topple Statue Of Bristol Slave Trader Edward Colston. [online] the Guardian. Available at: <https://www.theguardian.com/uk-news/2020/jun/07/blm-protesters-topple-statue-of-bristol-slave-trader-edward-colston> [Accessed 9 August 2020].
Free Press Journal. 2020. 'Situations Don't Last Forever': All India Muslim Personal Law Board's Cryptic Tweet Ahead Of Bhoomi Pujan. [online] Available at: <https://www.freepressjournal.in/india/situations-dont-last-forever-all-india-muslim-personal-law-boards-cryptic-tweet-ahead-of-bhoomi-pujan> [Accessed 9 August 2020].
DISCLAIMER: The author is solely responsible for the views expressed in this article. The author carries the responsibility for citing and/or licensing of images utilized within the text.