Sushant Singh rajput death Case analysis:- Is no justice for the outsider in Bollywood?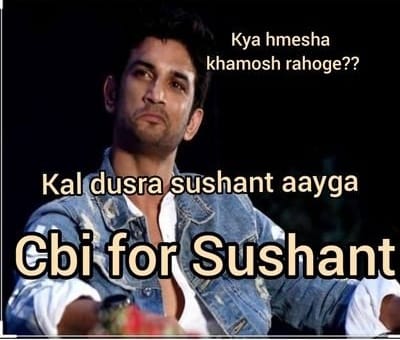 Sushant Singh Rajput, a famous hardworking multitalented emerging star of the film industry, who had very bright future visions, a man with a golden heart and down to earth personality was continuously touching the sky by his own but he was also hunted by the devil of society.
In a country like India where mafias and gangsters are found almost every sector overtake and always try to deprive the talents. Almost every right one has to either compromise or sacrifice themselves due to these mafias either it is politics, corporates or entertainment sector.
By the same way, Bollywood has always been under the influence of Underworld, mafias and gangster and all these are controlling Bollywood in such a way that nepotism, communalism increase and create problems for talented outsiders and strugglers. 
If you are an outsider and wants to settle in this Bollywood industry you have to always follow these.
1. Compromise with all these Bollywood gangs, mafias and work silently under their control even you are getting popular with your own talents and acting skills.
2.If you cant compromise than be ready to humiliate, sacrification or leave the industry.

The same thing happened with Sushant, he was hunted by these Bollywood mafias and defeated by the nepotism in the film industry.
Bollywood humiliated Sushant from the beginning.
Sushant was working in a famous TV serial Pavitra Rishta from the beginning after that he took entry in Bollywood from a super hit movie Kai Po Che! thereafter he never looks back and gave one after another good movie, Sushant got a new height of fame by his playing lead role in the biopic of famous Indian cricketer Mahendra Singh Dhoni. Last year his movie CHHICHORE become a super hit film and make a big fans club for Sushant.
He was never been honoured by Bollywood for his work even all his work are far better than many who got awards and honours since last years.
He was openly disrespected by Bollywood nepotism products in many TV shows Especially in "Coffee with Karan"
After his super hit movie Chichore he has signed 7 movies but within a year all movies were taken back one by one and he was boycotted by many film production companies without any mistakes just because he wants to work with his own choice as he rejected some movies for a movie named Paani.
Murdered of suicide?
Read more Of this article on https://www.knowindia.xyz
DISCLAIMER: The author is solely responsible for the views expressed in this article. The author carries the responsibility for citing and/or licensing of images utilized within the text.