The cutest and most innocent love story i ever seen.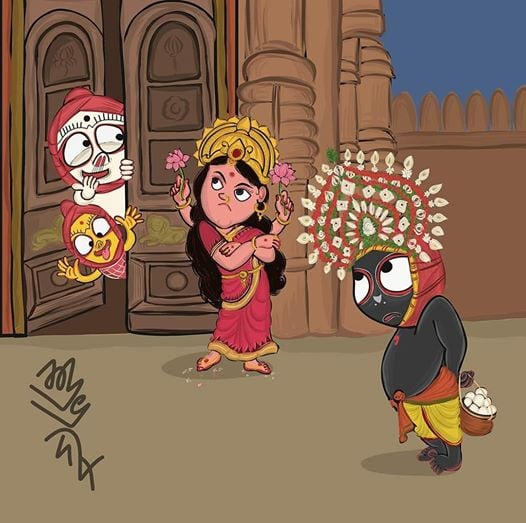 Most sacred and ideal family.
A cute and innocence love story, when tradition taught the society, women supremacy and Right to resent fr everyone.
Did you Know?? Jagannath refused.!!
Today Sri Lakshmidevi does NOT allow Lord Jaganath to enter into Shri Mandir – the Jagannath Puri temple?
Because Jagannath Ji left Her & went to Gundicha & did not return for so long!
Being angry, She personaly went to Gundicha to chastise Lord Jagannath & ordered Him to come back immediately.
Jagannath promised to be back soon.. But still did not return.
Today Finally  Lord Jagnnath has returned to Lakshmi ji after 8 days!
She allows Baladev & Subhadra( Baladev is the elder brother Balaram, Jagannath is the younger brother Krishna, and Subhadra is the youngest sister. Balabhadra considered the elder brother of Jagannath, the subhadra who love his brother lord jagannat even tease him time to time as her younger sister) to enter the Shri Mandir.
But does NOT allow Jagannath to enter

Beacause She is in Maan – Upset .
To pacify Her & please Her,
Jagannath offers Her Rasgullas 
.
Haha
.
Manbhanjan
.
Today Rasgullas are distributed all over Puri. To celebrate this leela.
Jai ho Jai Jagannath Jai Lakshmi ji 
DISCLAIMER: The author is solely responsible for the views expressed in this article. The author carries the responsibility for citing and/or licensing of images utilized within the text.