The Plight Of Hindus and Other Minorities In Pakistan – A True Tale of Torture and Execution!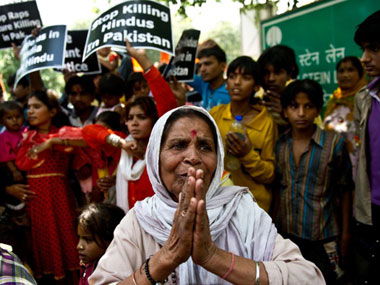 A Heartfelt " Namaste " to all my brothers and sisters from around the globe.
Hope with God's blessing everyone is doing well and fine. Today I am writing down about the torture, terror, discrimination and fear, poor Hindu and Christian community is facing in Pakistan.
It is very unfortunate and heart breaking to see how the Hindus and Christians are subjected to planned torture, forceful conversion, false prosecution and discrimination on a daily basis in Pakistan.
All I have learned from my childhood is that GOD looks into human heart, a pure and clean heart slowly draws you to Almighty – nothing else, rituals and religions are of no use if the believer is not performing or following it from heart and soul.
SO what is the point or psychology of converting people into any religion from their original faith or belief , I am talking in the context of mass kidnapping and conversion of minority Hindus and Christians in Pakistan.
The Hindus formed 25% population of Pakistan at the time of independence in the year 1947. It has now reduced to less than 3%. And Christian Population now in Pakistan is merely little more than 1% of the total population. On day to day basis Hindus and Christians are facing false execution and forceful conversion in Pakistan.
News of Hindu and Christian girls are being kidnapped during broad daylight is a daily phenomenon in Pakistan, they are converted forcibly to Islam and sold as sex slaves to rich Muslim men. Killing and false execution of Hindus and Christians has become a regular feature in Pakistan.
Overall, minority Hindus and Christians in Pakistan are being eliminated in a very planned manner . Even then, the whole world even the United Nation have purposely overlooked injustice done to those minority Hindus and Christians.
Interestingly in 1947 Pakistan has implemented Shariat law and incidents of conversion of Hindus and Christians have increased since then. It has been advised in Shariat Act that 'Women of 'kafir' ( Non Believers in Islam) should be exploited as slaves'; 'their property should looted whenever it is felt like and if they oppose, they should be killed'. Fanatic people from Pakistan use Shariat Act when they interact with Hindus and Christians. Local police and courts also helpless in front of the fanatics.
Will those Hindus and Christians ever get justice in such situation? No, In my view no, not possible, cause Pakistani Government and Judiciary both are influenced by Shariat Law, and they seldom stand for the minorities in their own country. It is a old Pakistan or a so called Naya Pakistan, situation remain same.

Hope Mr. Imran Khan , the legendary cricketer turned Politician and Prime Minister of Pakistan will read this blog one day and show his dedication the way he showed in the field of cricket to this situation and stand for the minorities in Pakistan. But we can't blame him , every Prime Minister and minister are dictated by the so called illiterate Mullahs and Kazis in Pakistan.
Shame on you Mr. Khan at least be a human and stand for humanity , that will pay you well in time.
Below I am penning down few reports of torture Of minorities in Pakistan.
Two daughters of Harji from Deharki village in Pakistan were kidnapped by fanatic Muslims. Later, they were converted at Ghotagi durgah. The Mullah of the durgah claimed that 'they were so influenced by the teachings of Islam that they voluntarily converted.' These girls are minor so they cannot be married under law; therefore, family members of the girls lodged complaint at police station that they were forcefully kidnapped and converted. Under 'Sindh Child's Marriage Restraint Act', girl or boy below 18 is treated as 'child' and he or she cannot be married; but police, who are hands in gloves with the mullah of that durgah, showed a film to family members of the girls saying that they have voluntarily adopted Islam. Is it not possible that the girls could have done so under pressure ?
Fanatic Muslims kidnapped a 15 year-old Hindu daughter of Kanio Meghwar from market in Badin district of Pakistan. They said girl was mentally sick; therefore, she had gone with her mother to her sister's place for treatment who was staying in Karachi. They are a very poor family and her mother works as maid in some houses to earn money. The kidnapped girl has not yet been found.
A 19-year-old Hindu girl, Rinkie Kumari, was recently abducted in Pakistan and forcibly converted to Islam. The Hindu families' exodus began recently, triggered by abduction of a 14-year-old girl. The victims who crossed over to India narrated their harrowing stories to Headlines Today showing yet again that in intolerant Pakistan they were just second class citizens.
Mukesh Kumar Ahuja and his wife Suman arrived in Attari with their four children looking for political asylum and hoping that they could become Indian nationals. They hoped that they would not have to return to Pakistan ever and have moved accordingly. For this also they had to pay a bribe of Rs 15,000 to Pak rail authorities.Ahuja, a provisions shop owner, closed his shop in Balochistan about a year ago. He said safety of his family was his top priority. His cousin Ravi's killing in Quetta region in October 2011 was the last straw. Gunmen had demanded Rs 1 crore, which the Ahujas failed to meet and Ravi was killed."They killed my cousin for money?We feel scared for our children," Ahuja said.There were others too who had similar horror stories.Another refugee Ram Lal repeated Ahuja's fears, saying "Hindus are not safe" in Pakistan.Yet another Pakistani Hindu, Pawan Kumar, said, "Women are not safe there. Pakistani authorities have taken an undertaking from us that we should return, but we don't want to.
"Recent attacks on Christians include:
An attack on a Church in Quetta in December 2017 that killed nine people and injured 57
A suicide attack targeting Christians celebrating Easter at a Lahore playground in March 2016 left 70 dead and more than 340 wounded
Two bomb blasts at churches in Lahore in March 2015 killed 14 and hurt more than 70 people
A twin suicide bomb attack at a Peshawar church in 2013 left around 80 dead
In 2009, nearly 40 houses and a church were burnt by a mob in Gojra town in Punjab, with eight people burnt alive
In 2005, hundreds fled their homes in Faisalabad as churches and Christian schools were set on fire by a mob, after a resident was blamed for burning pages of the Koran, which was never proved. Since the 1990s, scores of Christians have also been convicted of "desecrating the Koran" or "blaspheming against the Prophet Muhammad", although experts say most accusations are fueled by personal disputes.While most were handed death sentences by lower courts, those sentences were often set aside by higher courts due to lack of evidence or because the complainants were found to be targeting the community for economic benefits.
In 2012, a Christian girl, Rimsha Masih, became the first non-Muslim to be acquitted in a blasphemy case when it was discovered she had been framed by a local Muslim cleric.

Perhaps the best known example is that of Asia Bibi, a Christian woman from a Punjab village who in 2010 got into an altercation with some Muslim women and was later accused by them of having blasphemed.The attacks, on their residential areas and places of worship, have mostly been motivated by the country's controversial blasphemy laws.But there have also been political motives.Under Shariat Act, it is 'kurf' (crime) to help kafirs against Muslims; therefore, neither police nor courts help the Hindus and Christians.Despite such grave oppression, Minorities in Pakistan have no saviours. Aggrieved Minorties don't get any help from police because helping kafirs (non-Muslims) against Muslims is considered as 'kurf' (a crime) in Pakistan. Therefore, neither police nor courts help aggrieved Minorities. Hindus and Christians from Pakistan are going through grave torture. They have now lost patience to bear such inhuman oppression and looking up to India with hopes for ending their torture.The daily social ostracisation among the middle-class and the increasing number of crimes against the Hindu and Christian minority is showing its results. It is estimated that about 5000 Hindus are leaving Pakistan every year and coming to India as refugees because they are unable to tolerate the persecution.

Like the denial of the existence of anti-India terrorists on their soil, Pakistan also denies the daily persecution and the human rights violations that it inflicts on its minorities. Their government officials are taught to lie to the world. They lie with impunity. But repeating a lie ad-nauseam doesn't turn it into truth.The truth is this — the Pakistani government ministers are liars when they say that their minorities are happy and safe.

Nothing has changed in Imran Khan's Naya Pakistan. Hindus and Christians are not safe in a bigoted country like Pakistan which simply will eliminate them in a pre planned manner to satisfy the so called illiterate Mullahs and Kazis.

Lord Be with all of us , Show us the way to stand for our brothers and sisters in Pakistan.

* Disclaimer –
This is a personal blog. Any views or opinions represented in this blog are personal and belong solely to the blog owner and do not represent those of people, institutions or organizations that the owner may or may not be associated with in professional or personal capacity, unless explicitly stated.Any views or opinions are not intended to malign any religion, ethnic group, club, organization, company, or individual.All content provided on this blog is for informational purposes only. The owner of this blog makes no representations as to the accuracy or completeness of any information on this site or found by following any link on this site.The owner will not be liable for any errors or omissions in this information nor for the availability of this information. The owner will not be liable for any losses, injuries, or damages from the display or use of this information.
Downloadable Files and Images-Any downloadable file, including but not limited to pdfs, docs, jpegs, pngs, is provided at the user's own risk. The owner will not be liable for any losses, injuries, or damages resulting from a corrupted or damaged file.
Comments-Comments are welcome. However, the blog owner reserves the right to edit or delete any comments submitted to this blog without notice due to :- Comments deemed to be spam or questionable spam.- Comments including profanity.- Comments containing language or concepts that could be deemed offensive.- Comments containing hate speech, credible threats, or direct attacks on an individual or group.
The blog owner is not responsible for the content in comments.This blog disclaimer is subject to change at anytime.
DISCLAIMER: The author is solely responsible for the views expressed in this article. The author carries the responsibility for citing and/or licensing of images utilized within the text.