The Raj of Maharaj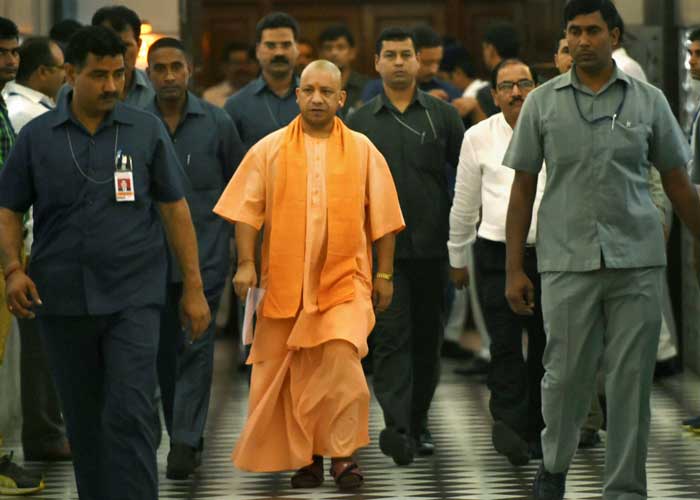 On the 11th of March 2017, BJP pole-vaulted to a momentous victory with 325 off 403 seats. 
Today, UP cruises from being 16th on the Ease of Doing Business (EoDB) Index to a number 2 spot, with projects worth ₹3 lakh crores already executed. 
With the rebuilding of Ayodhya and Kashi, a civilization that was covered with false history, under the dust of organized propaganda, is coming to life again.
The month of Phālguna (March) in 2017 brought one of the most colorful dawns ever in the state of Uttar Pradesh (UP). On the 11th of March, when BJP pole-vaulted to a momentous victory with 325 off 403 seats, gulaal and gujiyas had an added ingredient of saffron and Holi had gotten grander. As Yogi Adityanath was sworn in the Chief Minister on March 19, it marked the beginning of UP's political transformation. After decades of caste-dominated and corrupt misrule that made lawlessness, appeasement, and suspended progress an inevitable norm, with no challenging opposition, the state witnessed BJP return to power with a thumping mandate.  These results were a declaration the people were no longer a hostage to the ugly coterie of political dons that hosted mafias in their living rooms and were unwilling to accept their fate that was lost in long dark hours of no electricity, dirty water, nonexistent roads, unemployment, and dead industries. The place where muscle men circumvented every law and yet got away without any questioning, let alone punishment, was all set to change.
While the 2017 UP election was fought on a development pitch that has been the hallmark of the political strategy of four times Chief Minister and two times Prime Minister Narendra Modi, when Yogi Adityanath, the Mahant of Gorakhnath Matth and five times MP from Gorakhpur, first elected at the age of a mere twenty-six, was chosen as the Chief Minister, it left BJP voters ecstatic and the opposition bewildered. The saffron-robed firebrand monk, known for speaking his mind with a smile and without a hitch, just sat well with the majority population, across age groups, who had witnessed the state through decades of communal chaos, that made victims of rioters and criminals of the devotees. A famous slogan that made rounds on social media in favour of Yogi was, "UP hamara rogi hai, upaay keval Yogi hai" which translates to "UP is sick and Yogi is its only cure." He was controversial for the media that speaks truth to power, for speaking truth to power. From foreign rags to the local mags, nothing worked to stop the admiration of the people for the monk leader. The tables had clearly turned.
A robust economy banks on good infrastructure, uninterrupted power supply, and safe society. Yogi Adityanath, carrying forward PM Modi's holistic vision and strategy, ensured the state tackled its gravest and fundamental problems not one by one, but by taking on many bulls together. It had to be a multi-pronged, mass-scale movement that would change the course of our future for the better. Today, as UP cruises from being 16th on the Ease of Doing Business (EoDB) index to a number 2 spot, just five years ago the joke was the territory of UP begins from where the dark roads start. With the defaulters sitting on bills worth crores of rupees, the state board unable to sustain itself without a plan, and the towns reeling under power cuts for 14-18 hours a day, UP was a dark place that no one wanted to go back to. Not even the Batman's Joker. Post-2017, the electricity transmission capacity in the state expanded by a whopping 54 percent to over 25000 MW. Over 27 new sub-stations were added to ensure a non-stop power supply over the coming years. The state collaboration with the center resulted in the electrification of over 1.2 lakh villages and free connections to over 1.4 crore consumers till date. Even villages are now getting an 18-hour uninterrupted power supply. Ridiculously, Akhilesh Yadav is promising free electricity to the people who have seen their cities free of electricity in his regime. From a Safai Mahotsav organizing government to the one that organized a massive Kumbh Mela in 2019, without a moment of darkness, UP has come a long, long way in becoming a self-reliant power producer. The brightly lit-up, well-administered, Prayag-hosted Kumbh witnessed a footfall of over 40 crore people from all across India and abroad. That had also set the tone of how Maharaj's state is going to welcome the cornered devotees and not just foreign tourists to the Taj.
A pair of scissors from Meerut, cloth and yarn from Kanpur, locks from Aligarh, brass from Moradabad, hand-woven carpets from Bhadoi, the colourful glass bangles from Firozabad, pottery from Khurja; the export-grade rubber from S&C (Synthetics & Chemicals Ltd), and the turpentine oil from ITR (Indian Turpentine & Resin) in Bareilly; the conspectus of an erstwhile industrial state, systematically killed and pushed into poverty by the labor unions and mafia politics is a tragic story, that did not find deserving storytellers. Later, the low-scale, poorly executed development projects that the state saw were another travesty in disguise. UP, under BJP, is now on a growth trajectory with Yogi Adityanath's ambitious plan to make the state a trillion-dollar economy by 2030 and has rolled out the red carpet for investors in the state. Between 2017-20, it registered a 21 percent growth in FDI inflows. From mobile and electronic device manufacturing hubs to promoting cottage industries in the global market, CM Yogi has changed the face and pace of progress. He put forward the "One District One Product" (ODOP) scheme into place to revive the local craft and economy, using digital technology that connects the manufacturers to buyers. The flagship ODOP scheme of Uttar Pradesh, which created approximately 3.2 crore jobs in the MSMEs since its launch, is now being replicated in Jammu & Kashmir, Odisha, and Uttarakhand among others.
PM Modi's vision for a new India pushed the people to seek a better life from those in power, with no other anti-dote. But like every journey, the growth story of UP also faced challenges of the scale and magnitude that were not anticipated when Yogi took over. Its upward saga got a huge blow when the largest state, which is home to 20 crore people, was hit by the deadly Chinese virus that left the whole world paralyzed. But CM Yogi's adept management of the crisis minimized the damage that could have otherwise been catastrophic. From ensuring strict lockdowns and non-stop supply of food and medicines in the first wave to scouting every district himself, in the much worse second Delta wave, and overlooking that hospitals were better prepared to handle the situation, he left no stone unturned to steer the state out of an extremely grim situation.
Amidst one of the worst pandemics, a section of media, upkeeping its credible truth of being a sell-out, left no opportunity to amplify the Covid crisis. From spreading panic to selling drone shots of crematoriums at ₹35000 per picture and enabling propaganda via foreign publications that gleefully published them with bold fonts, while being completely nonchalant to large-scale burials in their backyard and queued up freezers full of dead bodies, it did everything to undo the hard work of administrators. The absence of Akhilesh Yadav all through the Covid crisis, now morphed into a top contender for CM's post, was conspicuous and hasn't been forgotten by his own former supporters. He did make an appearance though, taking pots shots at anti-covid vaccines, calling it a BJP vaccine. If he ever knew how to use a laptop, there was enough literature to answer his reluctance. On the other hand, unfazed by the vicious propaganda, UP got oxygen plants up and running in the shortest possible time and steered the state out of a crisis, with one of the least fatality rates. By June 2021, UP had not only flattened the curve but also begun vaccinations for the 19-44 age group and by September 2021, it administered a whopping 10 crore vaccination doses. As you read, it has 90% of its population vaccinated with at least one dose, 75% with both, and 15% with the booster shots. We did fairly well despite the poor healthcare infrastructure that this government inherited in its political legacy. The state now plans to equip every district with a self-sustainable hospital and medical college and be future-ready, with an AIIMS in progress at Gorakhpur.
Covid was not the only challenge in the tumultuous times. India is a country where protestors, now famous as andolan-jeevis, are only a call away to bring anarchy and be the disruptive force in all things good. They have mastered the art of destruction. So how can the anti-CAA protests not find a mention? While the capital city of Delhi was put to a torturous ordeal of Shaheen Bagh blockade and an endless media outcry, UP successfully nailed the anarchy in its bud. Acting with alacrity, the Yogi administration ensured no citizens going about their business are put to the hassle of propaganda-driven lawless hooligans that swear by humanity on odd days and oppose the tortured minority refugees being given shelter in their own native country on even days. Those who dared damage state property out of their unhinged, unchallenged bravado were made to pay from their own pockets, which reaffirmed the faith in the state machinery that had earlier worked alongside the lawbreakers. It was the first time in the history of the state that posters with faces of rioters were plastered all over the city. Law and order find respect when it puts the foot down and not by bending on its spine. Women in the state today are the biggest testimony to the safe atmosphere that has earlier had the stories of their abuse and violence as one of its dark identities. The differential in this equation is a single man at the helm, Yogi Adityanath.
BJP's vantage point vis-a-vis its opposition is that those who have no knowledge or insight on Hindus, Hinduism, or Hindutva, keep trying to define it, with an evil intent to decouple all its elements from each other. From coining "saffron terror" to cover up for Pakistan in 26/11 to turning a Shiv-Bhakt and scouting temples, visibly out of place in a dhoti, to equating RSS, the largest welfare organization with ISIS and Boko Haram, Hindus-Hinduism-Hindutva has seen it all. While BJP, ever since its foray into electoral politics, had made it amply clear it stood for a Ram Temple at Ram Janmabhoomi, the opposition made it even clearer it was against it and from rebuilding the disputed structure to converting it into a multi-faith congregation center to a hospital, they put everything on the table like our faith is a multiple-choice question. While the whole of opposition is still busy trying to define Hindus, Hinduism, and Hindutva, that ship has not just sailed but is busy ferrying on the Holy Ganga, carrying devotees to see the newly constructed, grandeur defining, face-changing Kashi Vishwanath Dham Corridor. Those who are witnessing this work in progress are realizing that the government of Narendra Modi at the center and Yogi Adityanath in UP are not rebuilding our country, but our civilization. A civilization that was covered with false history, under the dust of organized propaganda, is coming to life again.
Yogi Adityanath is working as the long-awaited change agent that the state needs. From bringing investors to the state to opening dead, dysfunctional manufacturing plants, to a web of roads and highways, and from creating a nerve center of spirituality and pilgrimage for Hindus, to breathing life into traditional crafts, he has turned the fortunes of the state in his first stint as the Chief Minister. Compare this to the stark rule of Behan Mayawati, Mulayam Singh, and Akhilesh Yadav where little development came at huge corruption, converting the socialists and messiahs into billionaires, who hate capitalists when out of power, all at the cost of the state that was pushed into a dark, backward, and lawless territory despite being resource and labour rich.
Akhilesh Yadav gave us a Jungle Safari without animals while Behan Mayawati gave us concrete elephants outside the jungle. Let's not even begin on the state of law and order. But let's do it because how can we miss the bulldozer? Under Yogi Adityanath, the worst known mafias and criminals landed either in jail or in burial grounds. Illegal properties worth ₹2000 crores were razed to the ground. The once famous hotspot of illegal crude weapons, liquor, and stolen car spares is no more. Of course, this has led to some poverty and unemployment, and nobody is condoning it except the stakeholders. This was the state that saw virtually no notable development for decades, barring sister satellite towns in the NCR, built in the Mayawati regime, who never set a foot in the territory for the fear of losing power. She, however, made sure that a White House-esque retirement abode was in place to her comfort, when the time from active politics is up. Given her complete absence in the runup to 2022 UP Vidhan Sabha, it seems like this could be the right time to shift.
A well-envisioned, thoroughly thought, and precisely executed development project has the potential to change the lives of the people; financially and socially. Projected as Asia's largest and world's fifth-largest, the Jewar airport, is one of the most ambitious projects worth ₹8900 crores, that recently took off under the leadership of Yogi Adityanath and is expectedly bringing about two lakh jobs to the people. It is after decades that Uttar Pradesh is being looked up to by not only other states but also WHO in how efficiently it handled COVID-19, despite its size and population. UP can now boast of a Saryu Canal National Project, Kushinagar Airport, AIIMS, Gorakhpur; Kanpur Metro, Uttar Pradesh Defence Industrial Corridor, Purvanchal Expressway, Bundelkhand Expressway, and Ganga Expressway in a single sentence. Projects worth ₹3 lakh crores have already been executed. Once fully functional, UP with its web of roads, railways, and airports, would not just be connected across its length and breadth, but also with its neighbouring states, opening massive opportunities in employment, streamlining supply and logistics, giving a whole new impetus to its agriculture, mining, manufacturing, cottage, and tourism industries. The recently inaugurated Kashi Vishwanath Dham left people awed at the massive overhaul of a badly dilapidated, ancient city that no one cared about. UP now, can indeed flaunt better things than its police looking for Azam Khan's buffaloes. Anybody who thinks they can lure it with free electricity and scooters has got the metrics of an ambitious state from their IT cell completely wrong.
Uttar Pradesh is determined to carry on this journey with a vision not just for itself but for India. Who, therefore, could be a better choice than a monk who finds absolutely no interest in building Safai-esque palaces or erecting his own statues around the town, but is rather happy working tirelessly, to ensure his people are safe and prosperous, with a bulldozer by his side. His raj has been progressive, just, and unchaotic. March on, Maharaj.
DISCLAIMER: The author is solely responsible for the views expressed in this article. The author carries the responsibility for citing and/or licensing of images utilized within the text.