Tragic Story Of Kerala's Ramasimhan Butchered By Jihadis For Adopting Hinduism After Renouncing Islam, 13 Days Before Independence in Mallappuram.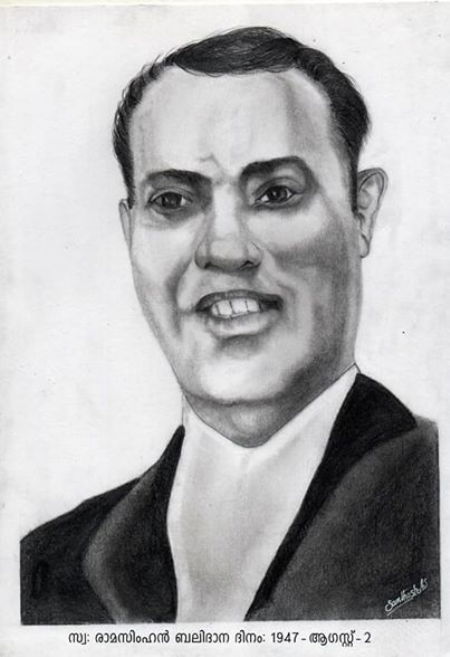 Even as we discuss today's Malappuram as a fountainhead of Jihadi terrorism in Kerala and Southern India, nearly 74 years back when the country was on the cusp of gaining independence from British colonialist rule a brutal blood bath was carried out by jihadis in Mallapuram in Kerala because a family dared to convert to Hinduism by renouncing Islam.
RAMASIMHAN'S MARTYRDOM & RISE OF NARASIMHA MOORTI TEMPLE AS SYMBOL OF HINDU PRIDE & RESISTANCE IN MALAPPURAM
Ramasimhan, his brother Dayasimhan, Dayasimhan's wife Kamala, their cook Raju Iyer and other members of the family were brutally butchered by Islamist Jihadists in Malaparamba, Malappuram district on 2nd August 1947, merely two weeks before the independence.
The walls of Ramasimhan family bungalow was drenched in their own blood as a punishment for converting to Hinduism by the local Jihadist Moplahs. The family were staunch Muslims and irreverent to Hindu Temples and deities, but later transformed to being great devotees of Bhagwan Vishnu. Here is the story of the family's transformation in the background of the infamous Moplah Riots in 1921, North Kerala.
Moidu Saheb Desecrated & Vandalised Narasimha Moorti Temple To Build Bungalow
Ramasimhan's father Moidu Saheb, was trained in rubber cultivation and used to work in British owned rubber plantations in neighbouring district, Thrissur. Moidu Saheb occupied 600 acres of Narasimha Moorti Temple land in Malaparamba, Malappuram. He started cultivating rubber in the Temple land, managed to get the land on lease and even constructed a bungalow in front of the Temple.
Moidu and his sons Unnyen and Alippu, took out granite slabs and other beautiful ornate structures from the Temple and used them for his bungalow. The local Hindus, though horrified at the loot of the Temple could not muster any protest as they had suffered more than 10,000 deaths, thousands of rapes and plunder at the hands of the Moplahs in the anti-Hindu riots under the garb of Khilafat Movement. The devastated Hindus were too poor and depleted of all resources to put up a resistance.
Moidu and his sons grew very rich and led a very luxurious life with all vices. His Unnyen soon fell very sick and all medical treatment proved very futile. Like the barbaric Tipu Sultan, Unnyen too consulted an astrologer for his recovery when everything else failed. The astrologer asked him to rebuild the Narasimha Moorti Temple, which was in ruins and desecrated by his own father.
Unnyen Re-built Narasimha Temple, became Bhakta of Mahavishnu & Converted To Hinduism
Unnyen rebuilt the Temple and started worshipping Narasimha Bhagwan. He miraculously recovered from his illness. Unnyen, his brother Alippu and the whole family became Bhaktas of Mahavishnu. The whole family, Unnyen, his brother Alippu, Alippu's wife and Unnyen's sons Moidu and Moidootty underwent a Gharwapasi ceremony conducted by the Arya Samaj and embraced Hinduism. They also renamed themselves as Ramasimhan, Dayasimhan, Kamala, Fateh Singh and Swaravar Singh respectively. They also became strict vegetarians, led a very pious religious life as Hindus.
Local Jihadists Brutally Massacred Ramasimhan Family For Embracing Hinduism
The local Muslims were incensed as they took pride in Tipu's barbaric invasion legacy of the Malabar area, boasting of forcibly converting 50000 Hindus in a single day, mass looting, massacring Hindus, demolishing hundreds of ancient Temples, raping thousands of women and killing hundreds of innocent babies.
The same jihadi local Malabar Muslims who had looted, mass murdered, raped Hindus during the Moplah riots became blood thirsty for Ramasimhan's family. For them mere apostacy justified capital punishment, converting to Hinduism was beyond their toleration.
The Jihadi killers barged into Ramasimham's bungalow and massacred the whole family very brutally to set an example for all other Muslims who dare to renounce Islam and embrace Hinduism. The young children Fateh Singh and Swaravar Singh escaped death as they were studying in Birla School, Delhi.
NARASIMHA MOORTI TEMPLE DEMOLISHED BY JIHADISTS
The jihadis completely demolished the Narasimha Temple too. The massacre of Ramasimham's family was said to be sponsored by his Muslim father-in-law who couldn't bear their conversion to Hinduism.
Their dismembered bodies remained untouched for two days till the Police came. The local Hindus did not dare to claim the bodies to cremate them according to Hindu rituals. They were buried in some corner near old Travellers Bungalow in Malaparamba. The culprits were arrested and sentenced by the Madras Court, but the local politicians pulled their strings to appease Muslims and managed to free them.
RSS PRACHARAKS REBUILD NARASIMHA MOORTI TEMPLE AS SYMBOL OF HINDU PRIDE
The demolished Narasimhan Temple was a symbol of Hindu hurt and scar till it was re-built in late 1990s due to valiant efforts by late RSS Pracharaks CP Janardhanan and late RSS Pracharak and former BMS President, R Venugopalan. The temple was inaugrated by Shankar Shastri, who was successor of the famous veteran RSS Pracharak Datopanth Thengidi as Pracharak in Malabar area. Ramasimham's family was murdered in Malabar when Shankar Shastri was the Sangh Pracharak in Malabar.
The renovated Narasimhan Temple today stands as a symbol of resistance and Hindu pride triumphing jihadi massacre. Ramasimhan's martyrdom was commemorated by the Sangh Parivar across Kerala on 2nd August under the constraints of Covid restrictions.
Notably, the Malabar based Islamist outfit, Popular Front of India (PFI) and the Jamaat-e-Islami with tacit support of the leftist government, has been trying to psychologically scare Hindus by holding rallies swaying naked swords in hand and sloganeering, "We haven't thrown away the Malabar daggers we used in 1921" while commemorating the 100th year of the Malabar genocide.
Story input and image sourced from article by T Satisan in Organiser
DISCLAIMER: The author is solely responsible for the views expressed in this article. The author carries the responsibility for citing and/or licensing of images utilized within the text.