U.S. set to execute Brandon Bernard in next few minutes – who is he and what was his Crime?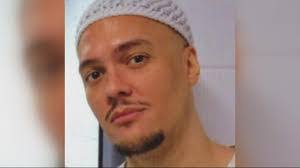 He burnt alive two youth ministers in 1999
Bernard's planned execution Thursday evening would be the ninth by the federal government this year and is one of five planned in the remaining weeks of the Trump administration.
His execution had been set for 5 p.m. CT at the federal prison in Terre Haute, Indiana.
Bernard would be the ninth person put to death by the federal government this year after the Department of Justice resumed executions in July after a 17-year hiatus on the federal level.
Who is Brandon Bernard?
Texas man Brandon Bernard, 40, is an inmate scheduled for death penalty at Terre Haute, Indiana.
He was involved in the killing of two youth ministers in 1999.
His Crime
Here's what the Department of Justice says Bernard did: 
"Brandon Bernard and his accomplices brutally murdered two youth ministers, Todd and Stacie Bagley, on a military reservation in 1999. After Todd Bagley agreed to give a ride to several of Bernard's accomplices, they pointed a gun at him, forced him and Stacie into the trunk of their car, and drove the couple around for hours while attempting to steal their money and pawn Stacie's wedding ring. While locked in the trunk, the couple spoke with their abductors about God and pleaded for their lives.
The abductors eventually parked on the Fort Hood military reservation, where Bernard and another accomplice doused the car with lighter fluid as the couple, still locked in the trunk, sang and prayed. After Stacie said, "Jesus loves you," and "Jesus, take care of us," one of the accomplices shot both Todd and Stacie in the head—killing Todd and knocking Stacie unconscious. Bernard then lit the car on fire, killing Stacie through smoke inhalation. In June 2000, a jury in the U.S. District Court for the Western District of Texas found Bernard guilty of, among other offenses, two counts of murder within the special maritime and territorial jurisdiction of the United States, and unanimously recommended a death sentence.
DISCLAIMER: The author is solely responsible for the views expressed in this article. The author carries the responsibility for citing and/or licensing of images utilized within the text.