#UNICEF silent as the #Taliban keep girls out of school and force them into Seventh Century backwardness.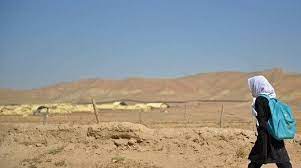 KABUL, Afghanistan — A news channel personality on Afghanistan's TOLO TV began to cry as he read the official announcement.  Also, photos of the condition of females in Afghanistan under the #Taliban rule were seen all over social media.  Images showed girls crying as they were being turned back from school since girls beyond 6th grade are no longer being allowed to attend school. The only vile entities not baffled were the fake #Feminist.
The most funny part is that The Taliban have so far refused to explain their sudden decision to revert back on the promises and pledges which claimed to allow girls to go to school. Soon after they took over the country schools were shut down.  These schools were supposed to reopen but that seems to be no longer the case.
It seems like the right hand doesn't know what the left hand is doing in the Taliban administration.  The continuation of the ban seems to have left the Education Ministry unprepared to answer questions.
This news should not surprise anyone around the world.  The admins at UNICEF too are all too quiet about this arrangement with the 'new' Taliban and it seems that generations of girl children's voices will continue to be stifled by this barbaric 'regime' which is parading as a pseudo 'governmental' entity.
Where is the UN?  Where are the so-called human rights vultures?  Where is the fake champion of girls and education rights aunty Malala?  Hiding under a hijab?  It seems no one gives a $hit about muslim women and girl children in Afghanistan.
DISCLAIMER: The author is solely responsible for the views expressed in this article. The author carries the responsibility for citing and/or licensing of images utilized within the text.