Complaint Against Sibamoni Bora, Congress Candidate in Assam For Allegedly Including Bangladeshis In Voters List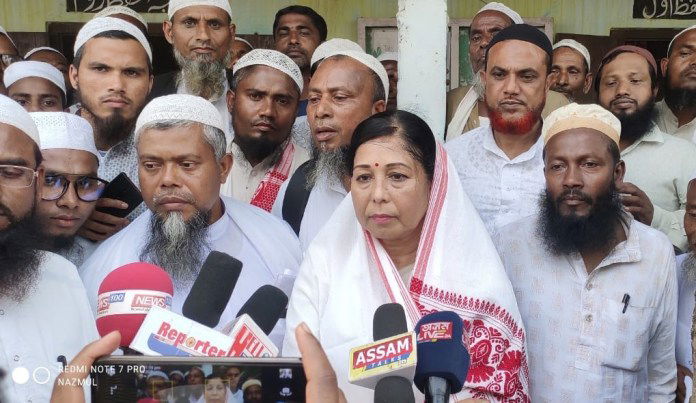 Assam being inundated and overwhelmed with illegal Bangladeshi infiltrators changing the demography, indigenous tradition and culture of Assam is an acknowledged fact even by the Supreme Court of India. Illegal Bangladeshi Muslims have illegally obtained government issued identity documents like the Aadhaar cards, Voter ID cards, Ration cards etc claiming they are Indian citizens with the aid of an organised Islamist mafia including Islamist political heavy weights like the AIDUF's Chief, Baruddin Ajmal and Congress through their clout in the bureaucracy and administrative system.
This fact is out of the bag from the explosive disclosure made by Shibamoni Bora, a Congress candidate who can be seen brazenly boasting in an election campaign which was reported by Pratidin Time, that as a Block Development Officer she let scores of illegal Bangladeshis be included in the voters list without any verification.
Shibamoni Bora is the Congress candidate from Batadrava constituency in Nagaon district.
Sibamoni Bora then appeals at election rallies in Batadrava, apparently in Muslim majority areas for votes on the basis of her service to the community as a government officer even before she joined politics, by being lenient with inclusions of people in voters list without due verifications.
As translated by the Opindia of her speech seen in Pratidin Time, Sibamoni Bora can be heard saying, 'me and my father and have been working for you for a long time. A lot of you people have got voting rights because of me, I can claim that. Because when I was a BDO here, when hearings took place (for updating voter lists), I had accepted all the applications without a single house visit. Those who are voting now here, I had enabled them to do so. If I had not done that at that time, you would not have got the voting rights.'
The Legal Rights Observatory (LRO) filed a complaint to the CEO Assam Election Commission seeking immediate cancellation of nomination of Sibamoni Bora's candidature for assembly elections from Batadroba assembly constituency as representative of the Congress party in light of her latest disclosure. LRO further sought prosecution of Sibamoni Bora for her illegal act of inducting illegal Bangladeshis in voters list when she was a BDO in gross dereliction of duty endangering the nation's security and completely undermining India's free and fair democratic elections.
Given below is the twitter post of LRO announcing its complaint against Sibamoni Bora to the Election Commission.
The LRO then informed through its latest tweet that its complaint against Sibamoni Bora has been forwarded by the Election Commission Of India to the Chief Electoral Officer, Assam. The LRO also stated that a time limit of two days is set for redressal and was very confident about the cancellation of Bora's nomination if the investigation of the video put out by the Pratidin Time is authenticated.
It is hoped that all central agencies including the Election Commission Of India in light of the above incident takes the issue of perusing the inclusion of illegal non-Indian citizens in the voters list making a mockery of electoral democracy and also posing grave security threats to the nation.
News Input: LRO tweets, Opindia.
Image sourced from: Opindia
DISCLAIMER: The author is solely responsible for the views expressed in this article. The author carries the responsibility for citing and/or licensing of images utilized within the text.