Uttarakhand Govt Exposes Perennial Fake News Peddler Rajdeep Sardesai's Untruths About Covid Victim Cremations in Almora.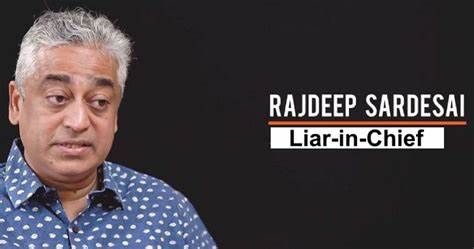 Habitual fake news peddler, propagandist and India Today anchor, Rajdeep Sardesai has once again been caught spreading fake news about cremations of Covid victims in Almora, Uttarakhand.
Rajdeep Sardesai spread a false claim on May 19th to claim that crematoriums in Almora, Uttarakhand are refusing to cremate Covid victims so the relatives are forced to cremate their loved ones in open forests.
The Uttarakhand Health Ministry exposed Sardesai's lies by putting out a document stating that Bhainswara Farm has been allotted specifically as a dedicated crematorium for Covid-19 deaths since December 2020.
Rajdeep Sardesai tried to obfuscate facts by using pictures of cremation in the same farm to depict that Uttarakhand government has left Covid casualties in lurch by providing no place for cremating them.
The Uttarakhand Ministry called out the mischief peddled by Rajdeep Sardesai by a series of tweets stating, "Bhainswara Farm is the site designated by the administration for cremation where the dead bodies are being cremated as per Covid-19 protocols. This story has not been verified and is sensational in nature, which is unbecoming of a senior journalist like Mr @sardesairajdeep".
It further tweeted, "SDM Almora, AMA-ZP & EO-NP Almora are in charge of the site. They have been putting their best efforts. There are no designated crematoria in the hills but Ghats have been designated for cremation.. The man in PPE kit is a Govt employee carrying out his duties".
Just few months back Rajdeep was even benched by the India Today group for few weeks due to his provocative fake news during the riotous charged atmosphere on Republic Day this year claiming that Delhi Police shot dead a farmer protestor participating in a tractor rally. Whereas the fact was, the said "protestor" Navreet died in an accident of his own making when his tractor turned turtle as he was driving in very high speed and banged on the barricades to break it.
He was also rapped by the President of India's Office for tweets by him and his other fake news partners in the mainstream media, for defaming the President Of India by falsely claiming that the portrait inaugurated of Netaji Subash Chandra Bose at the Rashtrapati Bhawan on his 125th birth anniversary by President Ramnath Kovind was not Netaji's but an old painting of actor Prosenjit Chatterjee.
Rajdeep Sardesai, seems to have a very thick skin despite being called out several times for his fake news, he keeps peddling lies and spreads canards relentlessly with aim to defame Hinduism, PM Modi and BJP. He is a key member of the Congress Tool Kit to defame India and PM Modi to crawl back to power at the centre by spreading hate and lies.
DISCLAIMER: The author is solely responsible for the views expressed in this article. The author carries the responsibility for citing and/or licensing of images utilized within the text.