Waseem Altaf Writes on 1948 Pashtun Massacre: 600+ were slaughtered by Pak Army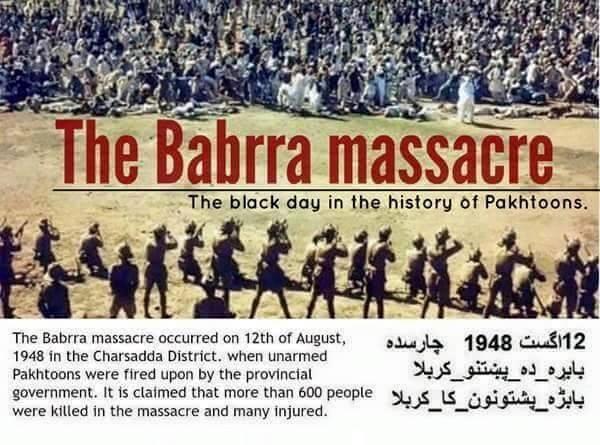 In our history books, we do find mention of Jallianwala massacre which took place in 1919, wherein 380 Indians- Hindus, Sikhs and Muslims were killed by the British infantry.
However, do our history books also highlight, and how many in this country also know about the following:
On August 12, 1948, the Pakistani security forces attacked and killed over 600 Pashtuns during a peaceful demonstration against the unjust imprisonment of several Pashtun leaders(including Bacha Khan) demanding justice for Pashtuns. This took place in a town called Babarra in Charasadda, Pakhtunkhwa.
On February 21, 1952, four students were killed in Dhaka by the police during a peaceful protest. The students were agitating over attempts to impose Urdu as the sole national language of Pakistan and were demanding equal treatment of Bangla.
On January 4, 1965, at least 14 people were killed in political violence in the wake of country's presidential elections. It all began when Gohar Ayub Khan took out a procession to celebrate his father, General Ayub Khan's victory over Fatima Jinnah in a farcical 1965 election with only 80,000 handpicked voters.
In March, 1971 a military action began in East Pakistan and continued till December, 1971.According to conservative estimates around 300,000 Bengalis were massacred.
On March 23, 1973, the Federal Security Force, a paramilitary force attacked a public opposition rally of Awami National Party leader led by Wali Khan at Liaquat Bagh killing at least twelve ANP workers.
On January 2, 1978, the daughter of the owner of Colony Textile Mills, Multan, Mughees A. Sheikh was getting married. The mill owner was a very close friend of Gen. Zia, who had flown in from Rawalpindi to attend the ceremony. The news spread among the workers that the dowry being given to the daughter by the owner was worth at least ten times the bonus that was due for the 13000 workers of Colony Textile Mills. A peaceful demonstration of laborers was fired upon by the paramilitary, in which, according to one estimate, 133 workers were killed.
DISCLAIMER: The author is solely responsible for the views expressed in this article. The author carries the responsibility for citing and/or licensing of images utilized within the text.