When NSA was invoked in Rajasthan history for the first time, for a sex crime in Ajmer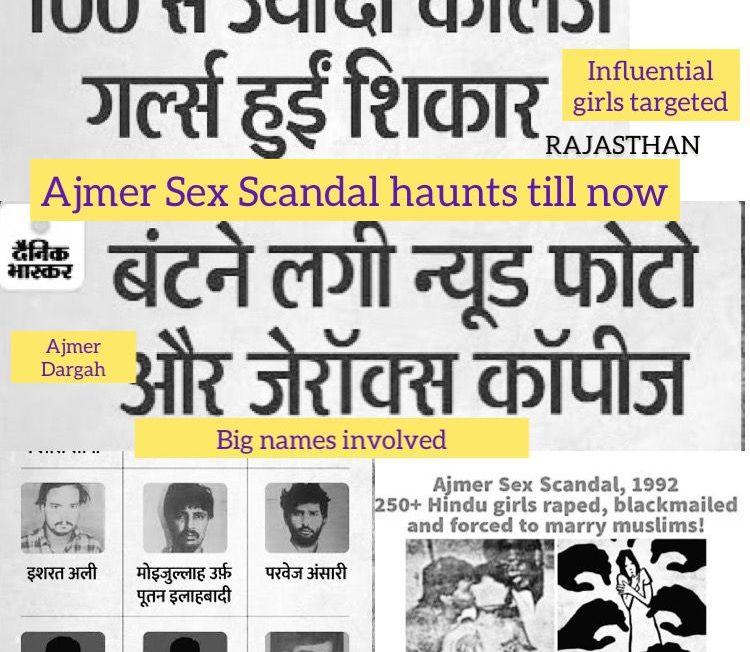 With tears in her eyes, she went to him and asked "You have raped me so many times, I did whatever you said. Now please give me back my photographs."

But despite of her merciful request, he didn't give her photographs.

She kept crying.

It was the main Vaishali nagar road of Ajmer at the time of early morning of 1992. A girl came on two wheeler and on read she poured petrol on herself and burned herself. Shocked people tried to save her but couldn't save. She died.

Girls were committing suicide. Some were hanging herself, some jumped in lake, some burnt herself and people of Ajmer were unaware why this was happening.

---

Pictures of girls used to be developed in a local photo studio – Bharosa Color Lab (Actual name) from the pictures started to circulate.

This dirty game of exploitation had begun in 1990 and by 1992, lot of people had got involved in it. Pictures had been in hand of lot of influential people but no girl filed FIR. All politician, police, media were aware of it but no one tried to stop it. Some ignored it while some took benefit of it. It is said that girls were used to be sent to Jaipur and Delhi, to please some VIP/VVIP people. No one wanted to end it. Some police man were found saying girls were characterless, they go there by their own wish. But truth was lot of powerful people had become part of that dirty game.

But at one moment sinful deeds did reach the extremity and that happened on 22nd April 1992. A local new paper of Ajmer Denik Navjyoti decided to break this story as it was the only way by which this exploitation could had  been stopped. Navjyoti published it on 22nd April. But nothing happened. Police and the government of the day ignored it as there was no proof and no complaint.  So The journalist of Navjyoti Santosh Gupta who broke this story decided to go one step ahead and then that happened which created havoc in Ajmer city. 

On 15th May and 16th May, 1992 Navjoti published photos of the girls in newspaper back to back for two days. This created a sensation in Ajmer. Huge protest started but public authorities were still not convinced of the need to take action.

In a press conference, the Home Minister of Rajasthan admitted to the newspaper that he had seen 75-100 similar nude photographs one and a half months ago. DIG of Ajmer range, who was also present at the same conference, shamefully said that Police had arrested four of the involved men under 'disruption of peace' in April but had to release them on bail after two days. The police tried to explain the situation by lamenting the limitations of police power. They said police can only act after a complaint or an F.I.R, not on the basis of press reports. So, no person was arrested. Lot of people were also found saying that they knew it from long time but did not act due to fear of communal riots.

People of Ajmer took to the streets. There were bandhs and demonstrations by various organizations. There was Ajmer bandh for 3 days. Allegedly to prevent a communal riot breaking out city, Authorities invoked the National Security Act (NSA) and arrested eight of the men. 

It was the first time in the history of Rajasthan when NSA was used for a sex crime. Lot of accused fled from Ajmer, some went to abroad. Police issued red corner notice and started to hunt them. But the exposed did not stop here. The real expose was started after this.

At that time there were lots of small scale newspapers in Ajmer and one of them was Lehron ki Barkha that was run by a local journalist Madan Singh (real name).

What happened between May to September 1992, these 5 months were most awful months of Ajmer's history!
Majority of the youths of the country are aware of the Nirbhaya rape tragedy. Many of them participated in the protests to demand justice for Nirbhaya rape victim. A cumulative effort resulted in the speedy trial and conviction of the accused. Decades ago when there was no social media and digitalisation was a distant dream, a series of rape cases in Ajmer in the early 90s shook the conscience of every sane Indian. Surprisingly, with more than 500 victims, mostly minors, the case was diluted and suppressed at every stage due to a combination of political interference, social stigma and powerful background of the accused.
On a pensive morning in 1992 a mass rape and sexual exploitation case was unearthed at Ajmer district of Rajasthan known for its Sufi shrine of Moinuddin Chishti. A local Hindi daily Navjyoti revealed that about 500 school and college girls, mostly Hindus were chain-blackmailed (using the threat of publishing photos in magazines and tabloids) and raped by persons mostly hailing from the family of "Khadims" at the renowned Dargah in Ajmer. Due to fear of social stigma some girls even committed suicide later. The incident shocked the entire country. People took to the streets to protest resulting in communal tension as most of the victims were Hindus while the perpetrators were Muslims.
The main accused, Farooq Chishtee was president of the then Ajmer Indian Youth Congress. Co-accused Nafis Chishtee was the vice-president of Ajmer Indian National Congress and Anwar Chishtee was the joint secretary of Ajmer Indian National Congress. Incidentally, all the 18 accused charged with abduction and gang rape belonged to the clan of caretakers of "Sufi" shrine of Ajmer Sharif Dargah of Moinuddin Chishti. While the then Congress government at centre (with state being under President's rule) tried every method under their capacity to dilute the case due to fear of their image being tarnished, the successive BJP Government ordered an inquiry, ensured regular trial resulting in conviction of 18 accused. However, ex State BJP Secretary Onkar Singh Lakhotia admitted: "The action has come too late."
The mishandling of Ajmer rape case was a collective failure of both the society and the establishment. The police were always interested in burying the case due to the fear of riots and not wanting to disturb the "communal harmony" of the city. The often exploited concept of Secularism was used to bury the rape and enslavement of innocent girls under the carpet. While the word "Sufi" and "Ajmer Sharif Dargah" evokes a sense of spiritualism and harmony, the Ajmer rape case tells a different story. It demands that a proper investigation in the case must be carried out and all the perpetrators having connection to the Khadims of Ajmer Sharif Dargah (especially the Chishtees) must be convicted based on the evidences. Unless this is carried out, the society will have a burden on their conscience. With the slogan of "Beti Bachao Beti Padhao", the onus is also on the administration to prove to the society that "Rule of Law" is supreme irrespective of the financial, political and religious background of the accused.
According to the police and women-focused NGOs, it was difficult to build a case against the perpetrators, as most victims were reluctant to come forward. However, the photographs and videos used to blackmail the victims helped identify the accused and build the case against them.
Thirty victims were identified in the investigations; out of these, only about a dozen filed cases, and ten later backed out. Only two victims pursued the case.
The first judgment came in 1998, after six years of proceedings. The Ajmer District court convicted eight suspects and sentenced them to life imprisonment. Of the remaining eight suspects, Farooq Chishty, a former INDIAN YOUTH CONGRESS leader, allegedly became mentally unstable, developing schizophernia. As of 1998, his trial was still pending.
Another suspect, Purushottam allegedly committed suicide soon after he was released on bail on March 8, 1994. However, reports claim he is still alive. Six other suspects, including Sohail Ghani, disappeared and remain at large. Saleem Nafees Chisty was captured in January 2012, but posted bail; no further information is available.
The Rajasthan High Court reducing the life sentences of four out of eight to 10 years imprisonment, while maintaining the life sentence for the other four. The Government of Rajasthan the decision in the Supreme court of India where the four had challenged their convictions. In 2004, the Supreme Court dismissed both appeals filed by the state, as well as the convicts. A bench comprising Justice n.santosh Hegde and Justice B P Singh said "having regard to the facts and circumstances of the case, we are of the view that the ends of justice would be met if the sentence is reduced to ten years rigorous imprisonment.".
But at the end a big gratitude to Dainik Navjyoti, their editor – Mr Deenbandhu Choudhary and their brave journalist Santosh Gupta who broke this story.
Had they not disclosed it, dont know how many more girls would had been exploited in this vicious cycle.
DISCLAIMER: The author is solely responsible for the views expressed in this article. The author carries the responsibility for citing and/or licensing of images utilized within the text.