When Secular State Cannot Build Temples, How Can It Manage Temples? Time To Junk HR&CE Act & Free Hindu Temples.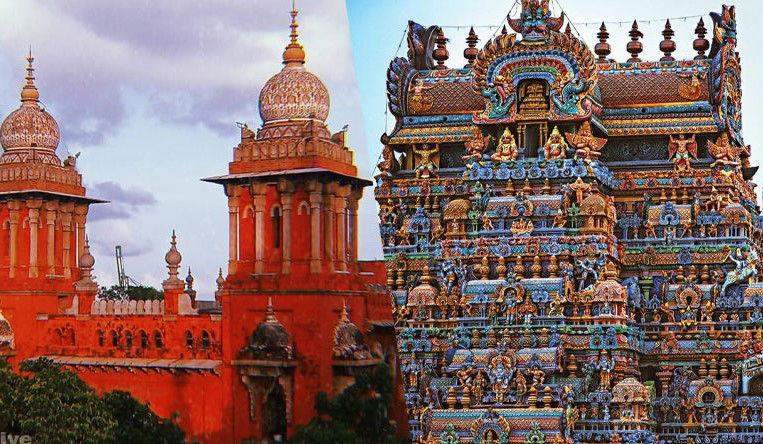 State governments across India singularly take over and control Hindu Temples and religious institutions, leaving out Churches and Mosques under the specious garb of mismanagement and have left ancient Hindu Temples in ruins by allowing daylight loot of Temple donations, theft of Murtis and Temple jewellery under their care. Not just that, Temple property is illegally alienated and income is used for non-religious purposes.
Hindu Temples and religious establishments have become milch cows for governments across all parties. Ancient Temples are neither being conserved nor is its resources used for promoting Hindu traditions, classical music, dance, Vedic studies, Vedapatshaalas, supporting Gaushalas, scholarship in Sanskrit and research in Ayurveda.
Temple income is neither used for building charitable schools or Hospitals, Ayurveda Clinics which can provide employment to crores of Hindus and help underprivileged Hindus to tide over their economic difficulties, thereby curbing conversions by allurement employed by very unscrupulous Abrahamics.
It is also very surprising that when there is a push for government to get out of various service sector fields and is privatising banks, airlines, railways, ports, medical and educational infrastructure; even the strategic defence sector is being privatised, then why are governments interested in managing and controlling Hindu Temples? It is no business of any secular democratic state to run Temples in direct contravention of the Constitutional principles.
State governments across India control Hindu Temples through the various Hindu Religious Endowments Acts legislated by the states succeeding the British laws made for acquiring Hindu Temples from 1817 onwards. It is time Hindus challenge these ultra vires state laws which enable governments to take over Hindu Temples while staying away from meddling in the affairs of Mosques and Churches.
A Madras High Court Bench headed by Chief Justice Sanjib Banerjee and Justice PD Audikesavulu on 17.8.2021, admitted a petition challenging the validity of the Tamil Nadu Hindu Religious & Charitable Endowments Act, 1959 under which government takes over and controls Hindu Temples and Hindu Religious Institutions.
The petition challenges no particular provision of the Act, but the entire Act itself for being ultra virus of the Constitution of India. The counsel for the petitioner, R Gururaj on being questioned by CJ Banerjee said that he was challenging the whole Act as there is no Act for any other religious denomination, it is only for Hindus.
The counsel said, "The Act according to me is against the Constitution, not only against the Fundamental Rights."
He further added, " The Government cannot run the temples, that is why I am challenging the Act".
The petitioner in his plea has also cited several judgements of the Supreme Court since 1974 in support of the case. The Court has issued notice to the Advocate General for the State to file its response within four weeks.
The judiciary has to come forward and give justice to aggrieved Hindu community to free control and management of Temples from government and give equal opportunity to Hindus to practice their faith and manage their religious institutions as a fundamental right as is available to Christians and Muslims. Also it is not the business of a secular state to manage and administer religious institutions. When a Secular State cannot build Temples, why should it manage Temples?
News input and image source: LiveLaw
DISCLAIMER: The author is solely responsible for the views expressed in this article. The author carries the responsibility for citing and/or licensing of images utilized within the text.