WHY PLA AIR FORCE IS A SITTING DUCK AGAINST IAF IN TIBET-LADAKH THEATRE: It's The Geography, Idiot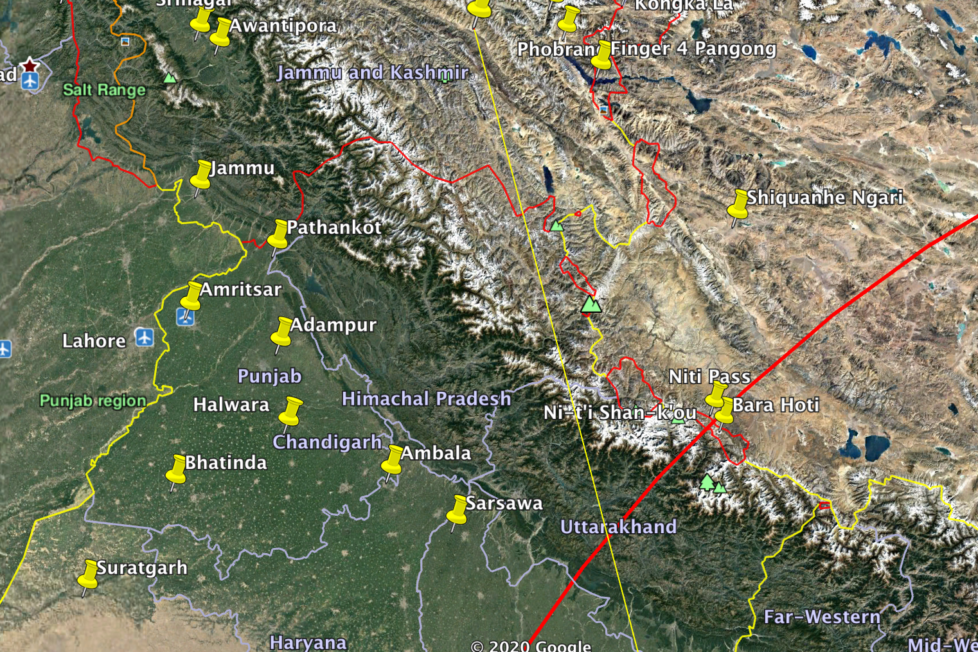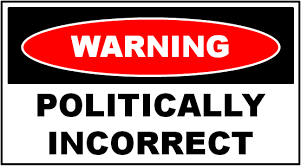 The conventional wisdom has it that China's Air force, the PLAAF is more than twice as large as India's, and even possesses a stealth fighter in the form of the J 20. It is reputed to possess high degree of electronic surveillance capability, as also armed drones, and swarm drones capability. The number of fighter aircrafts that the PLAAF possesses is twice the number of combat aircrafts that the IAF possesses. IAF is also short of its optimum squadron strength of 42 squadrons by at least 11 squadrons.
The PLAAF can at best employ about 130-160 aircrafts due to the severe limitations of air bases in this theatre. Out of the 7 airfields it has, none except Lhasa is able to house a full squadron. Tibet has 4 air bases, out of which only Ngari is close to Ladakh. The other 3 – Shigatse, Lhasa and Nyingchi are 1500 to 2500 kms away. All the 4 Tibet bases are at a high altitude of more than 4000 meters, effectively reducing their weapon load and range by half, and making them visible to an enemy with a high performance AEWCS platform. Xinjiang air bases are at a medium altitude of 1300-1600 meters, but are farther than the Ngari air base, between 300 to 700 kms from the Pangong area.
The J-20 has no support infrastructure in Tibet or Xinjiang, and will have to operate out of Chengdu, which is 4000 kms away from Ladakh, and will need multiple refuelling. That will make it vulnerable to India's 'Eye in the Sky', the NETRA AEWCS. So the J-20, with its suspect stealth capabilities is a sitting duck for a Su-30MKI, that has been upgraded specifically for this theatre. J-20 with its exposed side and rear radar cross section (RCS) is not quite an F-22, or F-35. Like the capabilities of its Army, the PLA, which got exposed badly in Galwan Valley Battle (lost comprehensively by PLA to IA), the aircrafts are also likely to be hyped up for the psy-ops purposes. General consensus in the aviation community is that it is not a 5-G aircraft at all. It is not even as advanced as the Rafale, which describes its capapbilities rather conservatively.
The Su-27, and the J-7 and J-10 that China can throw against the IAF are Soviet era junks that would not be able to match even the upgraded Mig-21 Bison, one of which brought down an F-16.
Let us look at the numbers that India can throw up. The following air bases have the entire Ladakh and adjoining Tibet theatre in range – Leh (high altitude), Srinagar, Awantipora (Medium altitude), Jammu, Pathankot, Adampur (Jullundur), Amritsar, Halwara (Ludhiana), Bhatinda, Suratgarh, Ambala, Chandigarh, Sarsawa (Saharanpur), Hindon (Delhi), and Bareilly. That's 15 full fledged air bases with the whole of Ladakh in range, and 3 – Agra, Gwalior and Bakshi Ka Talab (Lucknow) just outside. The PLAAF infrastructure does not stand a chance against the Indian infra and the capability of its aircrafts. Once the Rafales arrive and are housed in Ambala, China will be further pushed back in its capability. Besides, 30 Su-30MKIs have been equipped with Brahmos missiles that sends shivers up the spine of any enemy.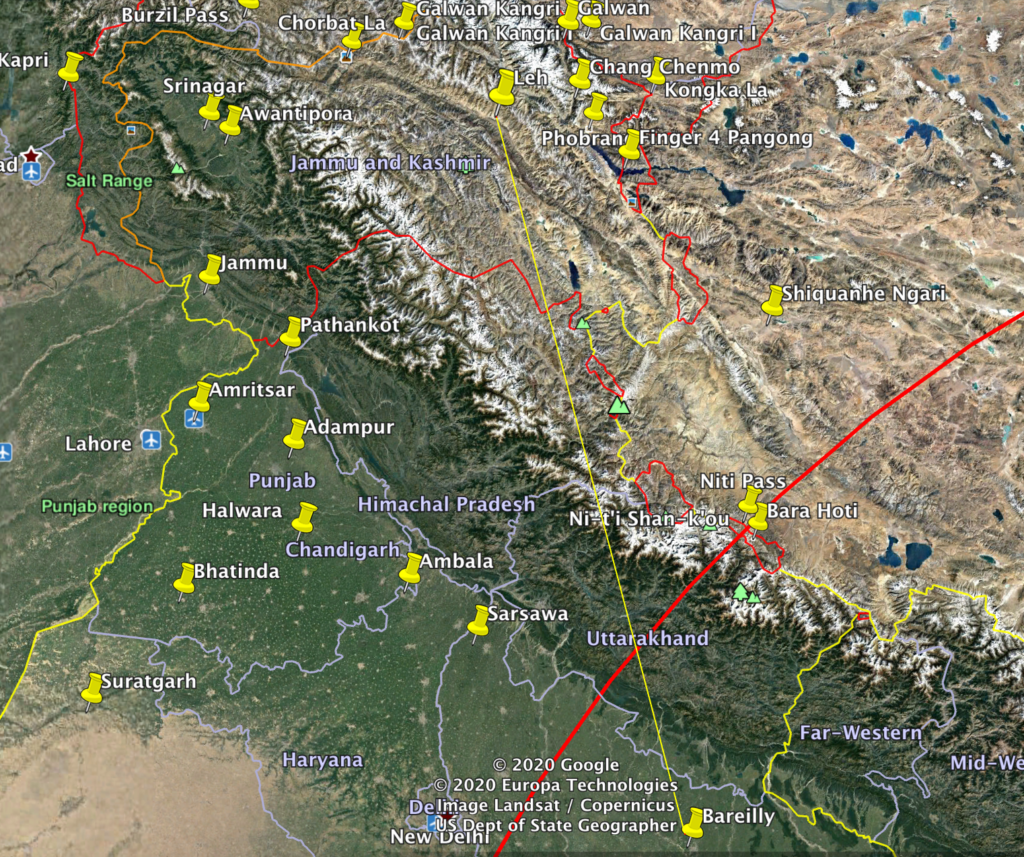 The number of AWACS PLAAF can call upon are just 5, though the 2 Embraer based AEWCS platforms that India possesses are the best in the category. PLAAF has 16 AWACS, but 11 of them are housed on turboprop Shanxi aircrafts, which are quite useless in the Himalayan mountains due to the altitude limitations of a turboprop. The other 5 are IL-76 based systems, comparable to the 3 AWACs that India operates on IL-76 platforms. So, India has a far more modern platform in its Embraer based AEWCS. They were instrumental in guiding the Mirage 2000 planes to the successful Balakot strikes.
The drone stock of the PLA is of very little application in the Himalayan topography. The Israeli Heron surveillance UAV is the best in its class, and can outmatch anything that the Chinese can muster.
I would, therefore, venture to suggest, that India, with its present leadership will continue to look China in the eye, and will keep daring it with the kind of action it took by banning the 59 Chinese Apps. This action has completely unnerved the cyber and psychology war wings of the PLA and CCP, because this kind of dare has happened only after 41 years – first time since Vietnam dared China in 1979. This is exactly the kind of messaging China did not need and China did not want. It has the potential of bringing all the elements hostile to China together and unravel the mystique that it had built around itself over the last three decades and a half.
China is taking its own countermeasures by bringing its client Pakistan into the mix. Pakistan's implacable ideological hostility to India can make it commit any indiscretion, even if it is economically suicidal and makes it fall foul of the US controlled multilateral institutions. The 2-front scenario will be a difficult one, as Pakistan has the low altitude air bases that can throw up numbers, but other than F-16, its entire aircraft fleet is junk, and it cannot use F-16 against India in an India-China conflict. India will have to think of formally aligning with the USA in a strategic Treaty quickly. In the theatre war scenario, Rafale is a game changer vis-a-vis Pakistan. With the Rafale parked in Ambala, and having an accurate 150 km range Meteor air-to-air missile, another best in its class weapon, would deter Pakistani aircrafts from venturing anywhere near the Indian borders, and yes, it includes the F-16 as well.
So a cursory glance through these numbers and quality aspects would suggest that in spite of its industrial capacity, China can not quite overcome the limitations imposed upon it by the Tibet-Ladakh geography. In sheer numbers PLAAF has a 150-270 disadvantage, with the 130 being effectively equal to about 90-100. That is why I have ventured to state that PLAAF is a sitting duck for the IAF. It was a sitting duck even in 1962, but for some arcane reason it was not even used.
Watch these 2 videos, first one in English, second one in Hindi and get the full import:
DISCLAIMER: The author is solely responsible for the views expressed in this article. The author carries the responsibility for citing and/or licensing of images utilized within the text.