Why Qatar became more vocal than Saudi Arabia and UAE on Nupur Sharma's statement?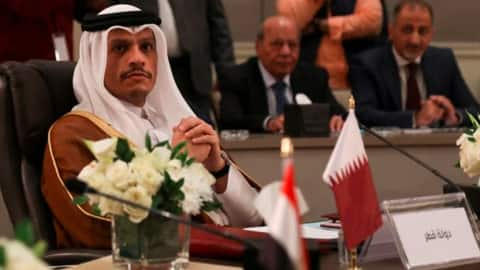 After Nupur Sharma's remarks on Prophet Mohammad, the statements of 6 major Gulf oil producers and their neighbors have been in discussion in the last few days. Many countries including Bahrain, Iran, Iraq, UAE, Saudi Arabia, Malaysia have expressed objection to the Indian government on this issue. But the most important thing is that the first reaction on this issue was from Qatar, expressing its strong objection and demanding an apology from the Government of India itself. In such a situation, the question also arises that why did Qatar give a more sharp and immediate reaction than big countries like Saudi Arabia. In fact, its inside story lies in India's rapidly growing relationship with Saudi Arabia and the UAE.
Qatar wants to become leader of OIC – 
On the one hand, the relations of countries like Saudi Arabia and UAE are getting stronger with India, while Qatar wants to become the leader of the Organization of Islam Cooperation. Qatar's economic condition is also better due to large-scale oil production. In such a situation, now his ambition is to emerge as the leader of the Islamic world. This is the reason why he showed the most speed in responding to this issue. India's relations with Saudi Arabia and UAE have improved a lot since PM Narendra Modi came to power. Today the UAE is the only Islamic country that has signed a free trade agreement with India.
India's relations with many Arab countries have strengthened
Saudi Arabia and the UAE have steadily increased investments in India, breaking decades-old stereotypes. Cooperation in defense partnership and production has also increased. Apart from this, cooperation between the three countries is also increasing in the western Indian Ocean region. Apart from this, Oman has also remained strong with India. Since February, the Minister of Foreign Affairs and Trade of Oman has visited India, apart from him, the Defense Secretary and the Navy Chief have also visited. India's major ally in the western Indian Ocean is Oman. Apart from this, Saudi Arabia, UAE and Oman have been speaking in support of India against terrorism. India also has good relations with Bahrain and Jordan.
Egypt and Morocco also did not say anything against India – 
Interestingly, Egypt and Morocco, which are also part of the Organization of Islamic Cooperation, have not said anything on this issue. In such a situation, Qatar has shown this aggression in an attempt to differentiate itself from these countries and present itself as a well-wisher of the Islamic world. Compared to countries like Saudi Arabia and UAE, India does not have very close ties with Qatar and Kuwait. Qatar wants to present itself as a big player and for this purpose it has also organized FIFA World Cup in its place later this year. Apart from being close to the US, Qatar is also Saudi Arabia's rival in the Islamic world.
The Emir of Kuwait last visited India in 2006
Qatar's investment in India is much less than in these countries. Apart from this, the FDI from Kuwait is also not much. Talking about the relationship between the two countries, the last time the Emir of Kuwait visited India was in 2006. This can be understood that the distance between the two countries in bilateral matters. However, many people of Indian origin work in Qatar and Kuwait. Qatar Airways has a huge earning from the Indian market. But these relations are not much compared to countries like Saudi Arabia and UAE. Perhaps this is the reason why Qatar took the risk of criticizing India and tried to present itself as a leader in the Islamic world.
DISCLAIMER: The author is solely responsible for the views expressed in this article. The author carries the responsibility for citing and/or licensing of images utilized within the text.