Young kannadigas are showing Chattrapati Sivaji Maharaj kind of resistance to Islamism.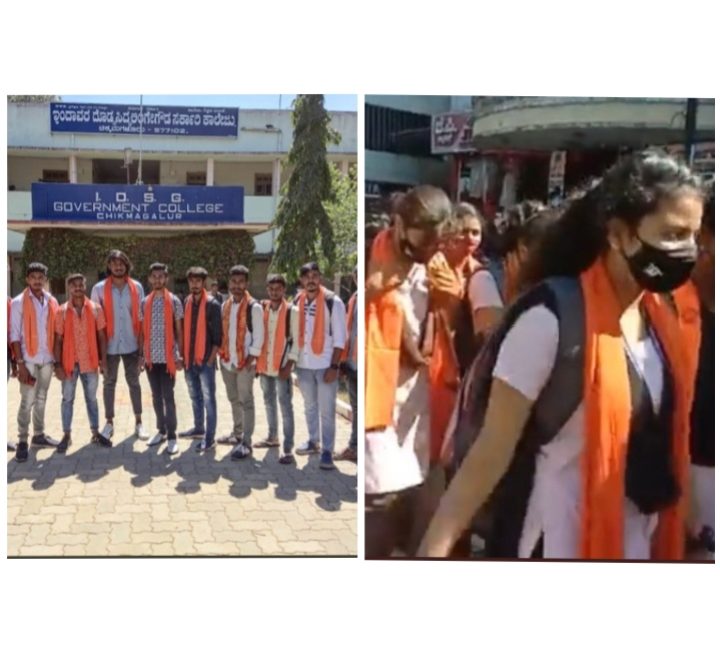 The kind of resistance young kannadigas are showing to Islamism reminds Bharat after time when Vibhutis like Chhatrapati Shivaji Maharaj and Maharana Pratap resisted to Islamic tyrants like Aurangzeb and Akbar.
You have won our heart Karnataka.❤️ pic.twitter.com/OOyXrRC3Xk

— Gaurav (@Moody_Gaurav_) February 9, 2022
"Resistance" has always been the kingpin behind the survival of Bharat, the oldest civilization. Absolutely no one could have imagined a civilization resisting and surviving after two repeated Abrahamic attacks. Every ancient civilization was being destroyed by Christian or Islamic invasion and Bharat is the only pagan civilization left. If we jump back to Bharat in 2010 absolutely no one could have imagined that Hindus will stand out against the illegitimate demands of Muslims girls. After 2014, Bharat and the entire world is seeing a shift of the Ovorton window towards the Pro Civilizational narrative.
Hindu girl students today came to college in Kundapura, Karnataka wearing Saffron shawls to show protest against wearing Hijab in schools and colleges pic.twitter.com/NIAV3UFv6R

— MeghUpdates🚨™ (@MeghBulletin) February 5, 2022
Karnataka: 10 arrested yesterday for pelting stones on cops and students who were wearing #saffronshawls at govt college in Banhatti Bagalkote under sections of rioting, attempt to murder and disrupting peace. pic.twitter.com/2NAmPLJVGm

— MeghUpdates🚨™ (@MeghBulletin) February 10, 2022
Stones pair pelted against Hindu girls for wearing saffron shawls in response to the senseless demand of Muslim girls to wear hijab in school premises. But despite several attacks Hindu girls didn't take a step back. They put forward their viewpoint in a very articulate way which had a great sense of constitutional grounding. The resistance, which hindu girls and boys displayed against Islamism gave a new hope to this oldest civilization. Bharat must learn from these youths how to fight and thrash hate and bigotry.
DISCLAIMER: The author is solely responsible for the views expressed in this article. The author carries the responsibility for citing and/or licensing of images utilized within the text.