After Breaking Temples, DMK Schemes To Loot Hindu Temple Jewellery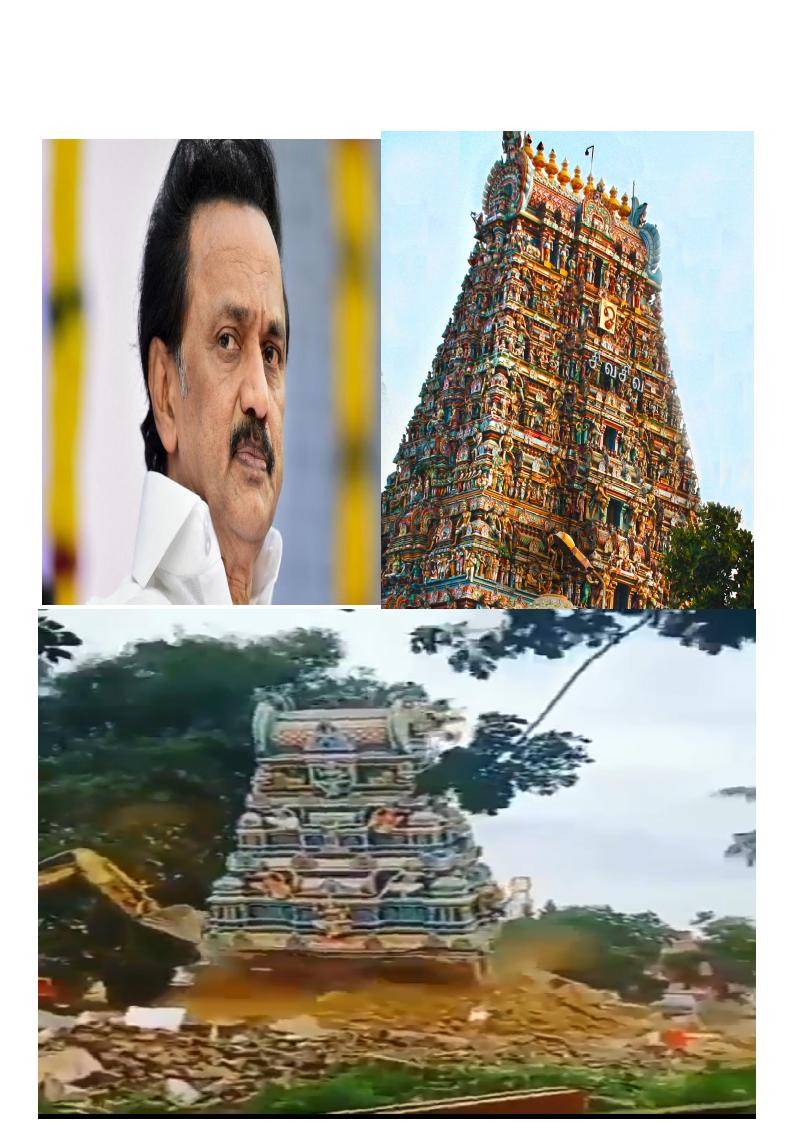 The anti-Hindu DMK government led by MK Stalin after demolishing seven temples as old as 125 years old in Coimbatore under the garb of clearing encroachments for development projects, has now come up with a proposal which is a virtual scheme to loot Temple jewellery.
DMK Proposal To Loot Hindu Temple Jewellery – Melt 2,000 KG Gold Temple Jewellery & Deposit In Bank
The 2G scam tainted DMK party led government now proposes to melt gold jewellery of more than 38,400 Hindu Temples under the control of the Hindu Religious and Charitable Endowments (HR&CE) Department after removing precious stones from it and deposit 2000 kg gold in Banks to ostensibly generate income for maintenance of Temples.
The Stalin government has unilaterally and arbitrarily decided that the gold jewellery offerings made by the devotees to the deities in ancient Temples should be melted and monetised instead of adorning them on the Murtis as desired by the devotees. Now knowing well that many HR&CE officials and their political bosses in government have swindled Temple properties and assets over decades it would be very easy for them to pilfer jewellery while it is being converted into gold bars. It is like the proverbial cat being made to guard the milk.
The HR&CE Minister Sekarbabu claims that precious gems would be removed from the gold jewellery and stored separately. Now how would it be ensured that it would be stored safely without pilferage? What if the precious gems are replaced by fakes before it is stored or after it is stored given the complete lack of transparency and history of dishonest dealings by the HR&CE.
Sekarbabu claims that the gold deposit would get an interest of 2.5% which he says is needed to maintain the over 38,400 Temples, many of which are more than 2000 years old, under the government run HR&CE.
50,000 ACRES OF PRIME TEMPLE LAND USURPED
Notably, as per a reply given under the Right to Information Act the total property held by Hindu Temples and other religious establishments under the government managed HR&CE 40 years ago was 5.25 lakh acres which came down to 4.78 lakh acres by 2017. This shows a loss of 50,000 acres of prime property owned by ancient Temples under the care of TN government allowing rampant illegal encroachments and misappropriation by gross mismanagement.
The Madras High Court has in several cases admonished the Tamil Nadu government and the HR&CE department to retrieve the 50,000 acres of prime Temple property, but no serious comprehensive actions has been undertaken in this regard.
The Temple Worshippers Society (TWS), an organisation launched by devotees in 2011 including professionals like former bankers and SAP experts gave a report stating that Temples and Muths in the State were in possession of 5.25 lakh acres of agricultural land and other lands out of which not less than 1lakh acres come under prime urban and semi urban areas. It has 2.6 crore square feet of buildings and 29 crore square feet of urban sites.
SHOCKING MEAGRE INCOME OF HINDU TEMPLES MISMANAGED BY HR&CE
The Tamil Nadu government shockingly collects a mere 36 crores in rent against the watered down demand of Rs.304 crores, which is 10% recovery rate. While the Temple assets under the HR&CE control including lands and real estate should by a conservative estimate produce at least Rs.50,000 crores a year just from rents.
ONLY 14% OF TEMPLE INCOME USED FOR RELIGIOUS PURPOSE
If the Temples are properly managed and not misused and looted by the politicians and bureaucrats overseeing them, the income from them can be used to maintain and repair the ancient Temples, pay the Archakas a commensurate salary compared to the paltry Rs.50 to 300 given to them.
About 86% of the current Temple income is being spent on non-religious 'secular' purposes like payment of huge fat salaries of the bureaucrats and their staff in the HR&CE, while paying next to nothing to the religious temple Archakas, Gurukals and musicians employed at the Temples. Only 14% of the Temple income is spent on religious purposes.
TERRIBLE STATE OF AFFAIRS OF TEMPLES UNDER HR&CE
12,000 ancient Temples are dying without even a single pooja being performed per day under HR&CE. 34000 Temples under HR&CE have less than Rs.10,000 income per year. Out of the total 38,409 Hindu Temples under the control of HR&CE in Tamil Nadu, 37000 temples have only one person for pooja, maintenance and security.
TEMPLE INCOME CAN SUPPORT VEDPATSHALAS, SANSKRIT UNIVERSITIES, GAUSHALAS, SCHOOLS, HOSPITALS & GENERATE JOBS
Instead of managing the Temple lands and it's properties, preserving its ancient architectural splendour and priceless jewellery properly without looting to easily generate an income of minimum Rs. 50,000 crores per year, the HR&CE department has allowed daylight looting and plunder of the ancient Temples under its care.
If properly harnessed, income from Hindu Temples can be used not only for preserving them but also offering scholarships to lakhs of needy Hindu students, offering free medical fecilities for lakhs of poor Hindus, establishing thousands of Vedapatshalas, Hindu Classical music and dance schools, hundreds of Sanskrit Universities, medical and engineering colleges, thus providing employment to crores of Hindus.
CONCLUSION
The latest move of Temple Gold Deposit Scheme by the anti-Hindu DMK government headed by MK Stalin, is therefore an obnoxious mechanism to loot precious jewellery of Hindu Temples under the HR&CE. Pertinently, MK Stalin's father, M.Karunanidhi in a bid to break the holy Ram Setu had infamously asked for the Engineering degree of Bhagwan Ram. No wonder MK Stalin's Ministers abuse Hindu religious leaders and activists for spearheading a movement to Free Tamil Nadu Hindu Temples from Government Control.
News input: The Hindu, The Daily Pioneer
Featured Image: Collage of images sourced from internet.
DISCLAIMER: The author is solely responsible for the views expressed in this article. The author carries the responsibility for citing and/or licensing of images utilized within the text.