Devi Ahilya Bai Holkar: The Immortal Queen of Malwa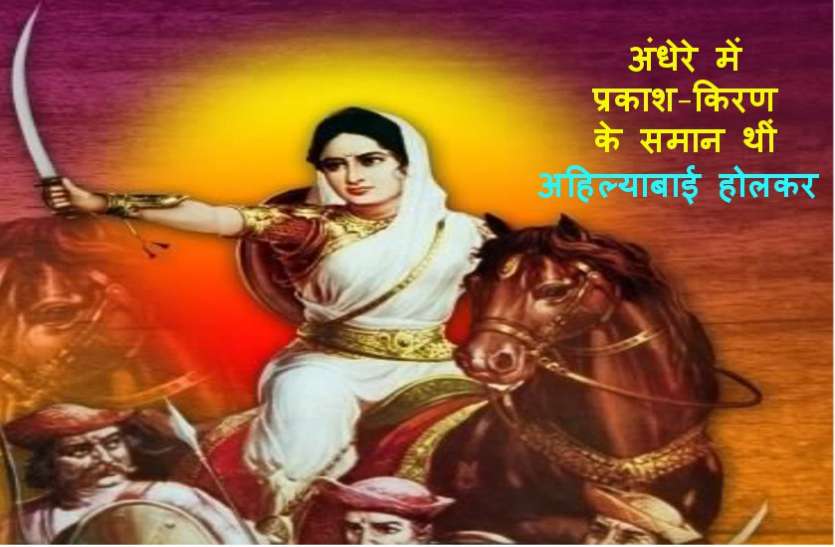 The Daughter of Holy Narmada, Passionate Hindu Believer, Pride of Malwa and an Outstanding Administrator, Diplomat and Warrior Queen is how Queen Ahilya Bai Holkar nobly could be summarized.
Born in an ordinary family on 31st May 1725 in the village of Chondi in Jamkhed, Ahmednagar Maharashtra was blessed to have Mankoji Rao Shinde as her Father. Shri Mankoji nurtured, sprouted and educated her to attain a charismatic Personality and Vision. Her belief into Sanatan Hindu values were cultivated at this tender age.
One of revered Marathas, Shri Malhar Rao Holkar accidently met Ahilya Bai while she was offering Prayer and doing Seva at her village temple. Impressed at her dedication, revered Maratha approached Mankoji Rao Shinde, her father with a proposal of accepting Ahilya Bai as his daughter in law. Thus the admission of Ahilya Bai into royal nobility had blessing of Temple Gods for some sanctimonious reasons.
In 1733, Ahilya Bai married to Khanderao Holkar.
Amidst the ensuing Political turmoil in northern India, frequent battle for territorial integrity among Maratha, Jat and Mughal was ordinary routine. Being a Noble and King of Subjects, Marching and leading into battle was an ordinary exercise. Personal grief, tragedy and suffering of individual nobility thus stayed by the side of their fortune, aura and magnificence.
Perhaps Providence was calling for a test of Ahilya Bai Holkar. 1754, In an battle for territorial integrity, Shri Khanderao Holkar attained the martyrdom in an accidental shelling leaving Ahilya Bai Holkar distraught and widowed at the young age of 29 only. Revered Maratha Shri Malhar Rao Holkar the father in law stood by the side of Ahilya Bai Holkar at her hour of personal peril. He mentored, strengthened her and looked after the interest of State of Malwa in those troubling time.
In 1766, into the 12th year of parental relief for Ahilya Bai Holkar, her destiny took another vicious blow. It was revered Maratha Shri Malhar Rao Holkar who left for heavenly abode. Distressed Ahilya Bai Holkar decided to administer the State of Malwa through her only Son Male Rao Holkar under her regency.
5th April 1767, the world had fallen apart for Queen Ahilya Bai Holkar. The young monarch Male Rao Holkar too died in just few months' time. The personal grief and insurmountable pain petrified the Queen into silence. The Kingdom the Subject and the royalty was at crossroad. The vulture British were eyeing for Maratha disintegration. Subsequent plunder and exploitation was what Queen could foresee at this hour.
Distraught and Broken, Yet she in an amazing swift exchange of letter and consent from Peshwa, took control of Malwa royalty on 11 December 1767. The Holkar estate in her tenure of next 30 years entered into a Golden league where she administered a great welfare state. Security, prosperity and Vedic Sanctity were oaths under rule. And she realized her dream. Despite having suffered a personal turmoil of losing her Husband, Father In law and only Son in quick succession, she lived her rest of life of Sanatan Dharma and State Duty.
She Was Warrior queen in her hour of need. She led her Army into battle while up- fronting the column of army sitting on an elephant. Malwa was kept thoroughly secured from the invaders and enemies in her life time. She maintained both traditional and modern weaponry for her Estate. Subhedar Tukojirao Holkar the adopted son of revered Malhar Rao's Holkar stood firm behind the royalty and discharged duty as head of the military. A Visionary and astute diplomat, the queen cautioned Peshwa in 1772 about the motive and chicanery of British.
She had great interest in encouraging and sheltering scholars and artisan class. Her capital at Maheshwar turn out to be center of erudite person, musician and literary personality. Many a stalwarts like Marathi poet Moropant, Shahir Anantaphandi and Sanskrit scholar, Khushali Ram professed their creativity under her patronage. Great Textile Industry emerged in her city. She instituted a magnificent city called Indore.
She did unparalleled Seva for promotion and preservation of Sanatan Hindu religion. She was one of the generous ruler for her Dharma, India had seen. She built numerous Temple, River Ghats, Wells, Tank, Public Shelter home and pilgrim center. Her contribution in developing religious sites included Kashi Viswanath temple in north to temple at Gaya, Somnath, Ayodhya, Mathura, Hardwar, Kanchi, Avanti, Dwarka, Badrinarayan, Rameshwar and Jaganathpuri.
Unparalleled at the human imagination, how a lady who had suffered so much in her personal life, could survive lead and contribute for the welfare for her Estate subject and Dharma.
The prophecy in Temple about sanctimonious reason of her integration into Noble Holkar family found truth at the end of her Majestic life. Queen Ahilya Bai Holkar at the age of 70 finally left for heavenly abode on 13th August 1795. She anointed her able commander-in-chief, Tukojirao Rao Holkar as her heir to look after the Malwa State.
A visionary, able administrator who upheld her personal, estate and religious duty without any compromise. Generation of today may read this piece of sacrifice with awe and dropping jaw. Our fake Historian who converted our History books into a Gutter are sole reason of this unawareness. It is time to redefine our Heritage and Heros.
DISCLAIMER: The author is solely responsible for the views expressed in this article. The author carries the responsibility for citing and/or licensing of images utilized within the text.