All About Monetization vs Selling National Assets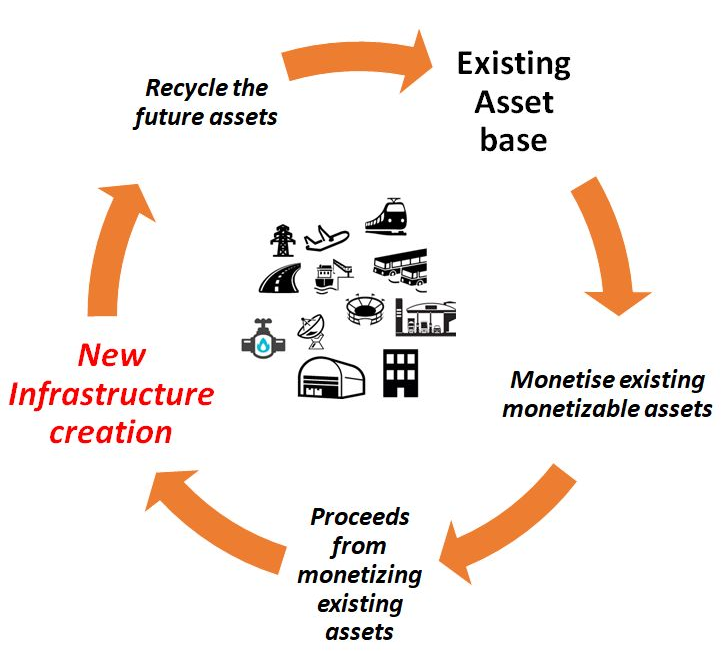 The left cabal falsely accuse Modi Govt of selling national assets – while the fact is the stale assets were leased to efficient players for creating value out of it with a win-win proposition. On the other hand, the UPA govt during it's tenure literally sold the government financial institutes as we see it today as ICICI, HDFC.
National Monetisation of Central government's assets is not selling of the Assets.
Assets to be leased for a fixed period, with ownership still with the Govt.
Media Also Refrain From Giving Clarity On Monetization?
It is well known that Congress and it's anti-Modi political allies have an agenda of misleading people, but what about mainstream media? Media does not know difference between monetization and selling?
Monetisation of Core Infra Assets doesn't mean a Sell-off.
Ownership of Assets remains with Govt and there is mandatory hand back of asset after the lease period (from 4 to 10 years) is over. Its just like giving it for rent.
?Monetization is the process by which a landlord rents a house for five years and takes a five-year rent in advance. Five years later the house comes back into the hands of the owner. This allows the profit to be used to set up another property.
?The same is what the central government does today. The money raised through this monetization is being used to build roads, railways and other infrastructure. Such schemes are funded from the International Pension Fund at very low interest rates and can be used to build infrastructure.
?Private Public Partnership and commercialization of assets are the way forward.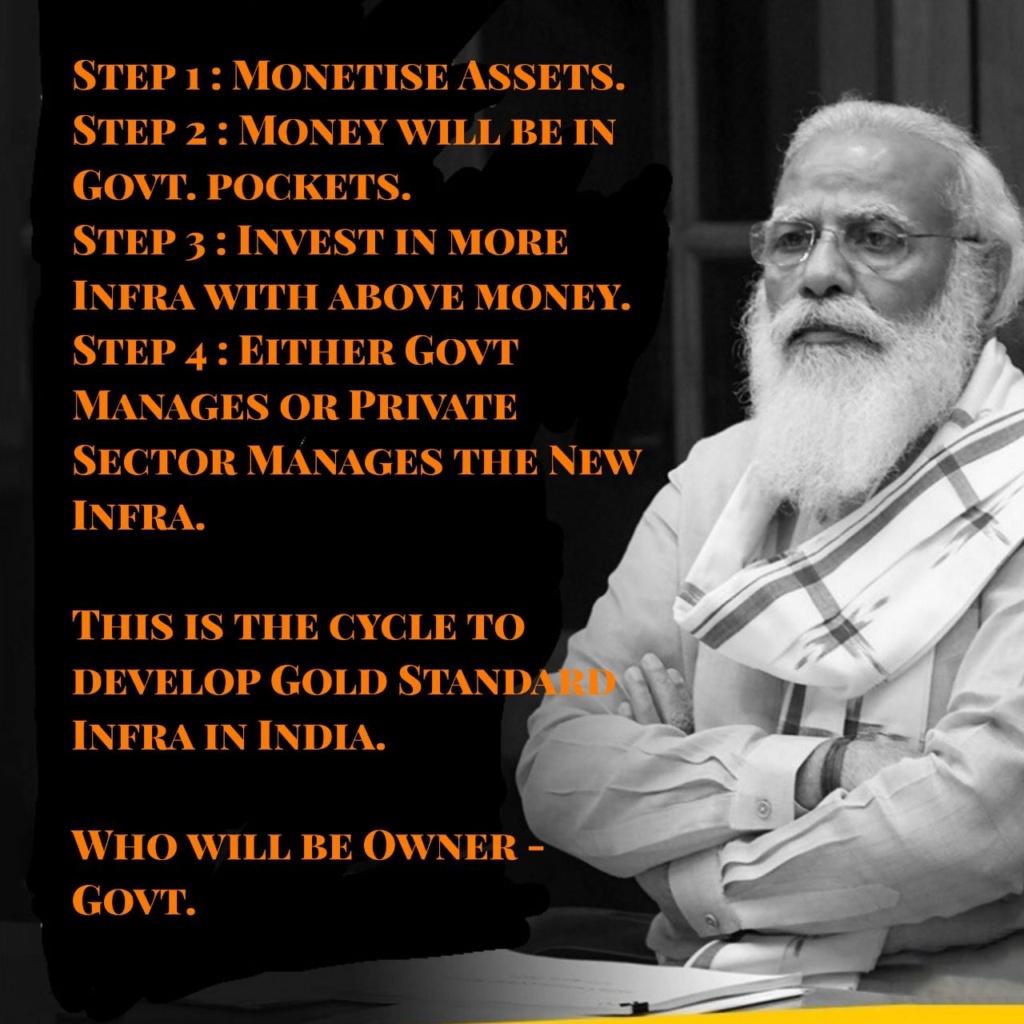 We want our kids to work in private companies for better pay and better life, but GOI should not privatize any of its assets to raise money and invest in further Infrastructure!
Monetization Benefits
✅ Enhanced capex spending and building world class infrastructure
✅ Multiplier effect on growth and employment
✅ Revival of credit flow
✅ Upgradation of Assets
✅Underused assets will be now utilized fully creating new job opportunities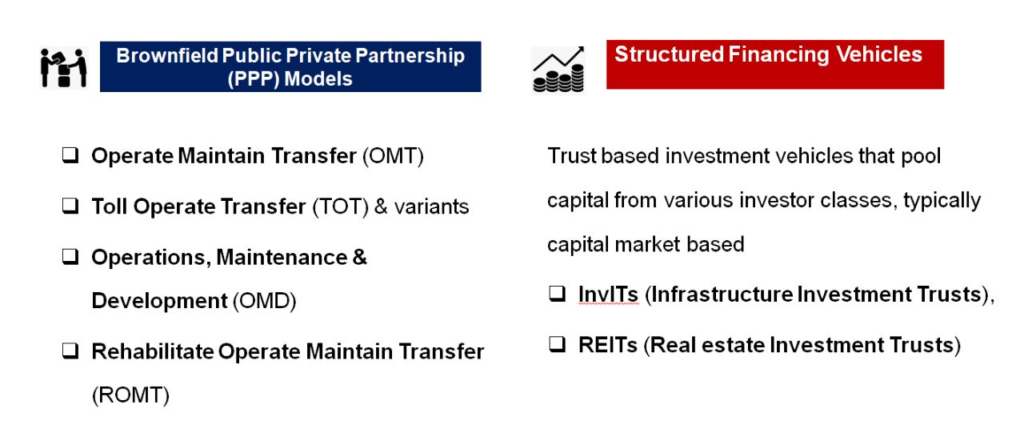 Models for Monetization of Core Assets under NMP.
Twitter Thread on GOI steps on monetization: https://twitter.com/Sanju_Verma_/status/1430019658602586112?s=09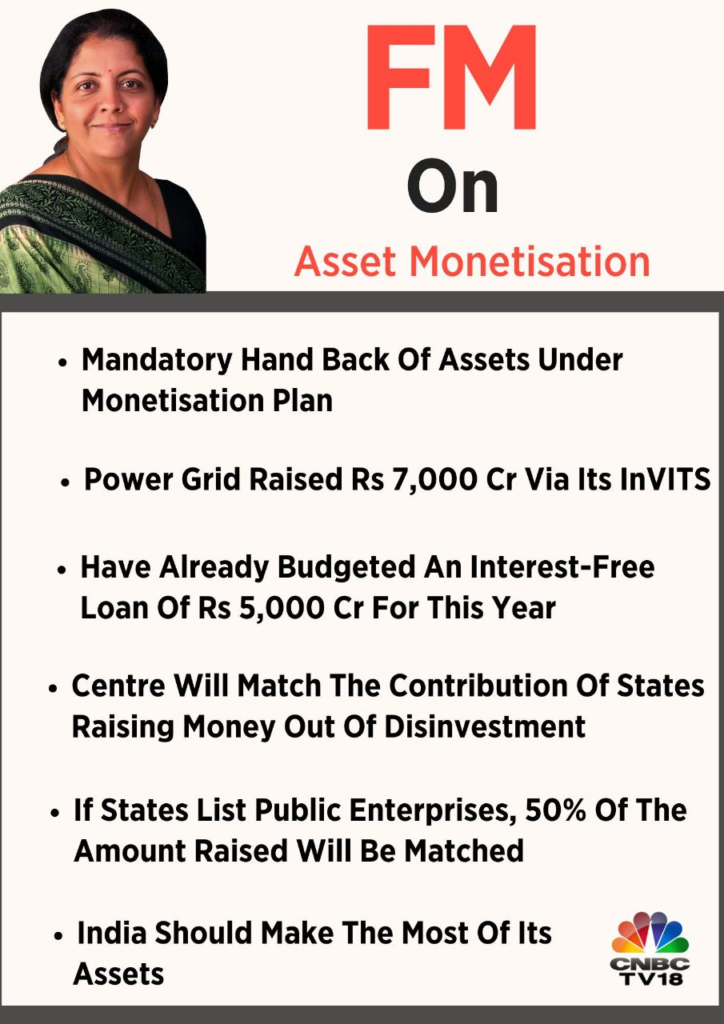 Monetization: Adopt-a-Highway Model
Consider this Adopt-a-Highway model which is very common in the USA. This is another instance of monetization and can literally be extended by GOI to national highways as well.
Let private companies adopt a bit or entire highway, through which money raised will be used to keep Highways clean and repairs.
You will maintain a bit or complete Highway and your brand exposure will also increase..
When USA does this, people will laud it. When Bharat wants to do it, people oppose it. And we want Bharat to become like USA one day. Heights of hypocrisy.
Every election netas will come and promise that they will make the state as Singapore, London etc…. Even after 75 years of Independence if the country looks filthy it's a shame on us!
Anti-Modi Fake Media Narratives
Regional news media run by anti-Modi State govts shamelessly mislead public to create anger against the Centre such as Telangana and Andhra states do.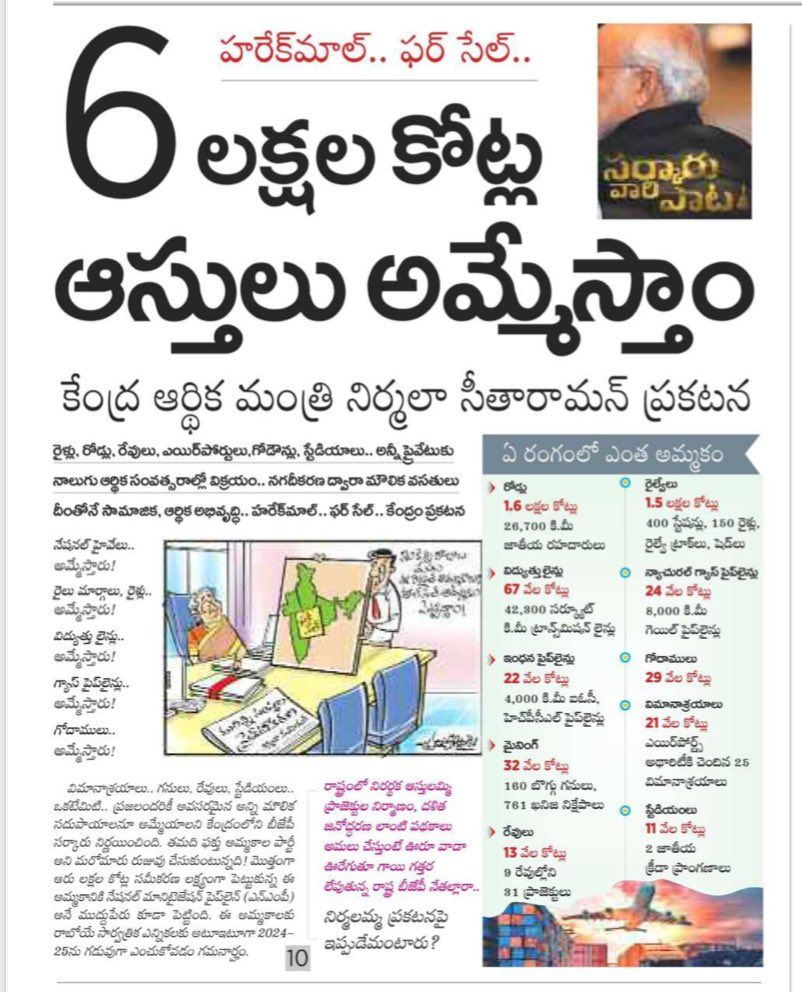 TRS Govt Auctioned Lands To Its Croonies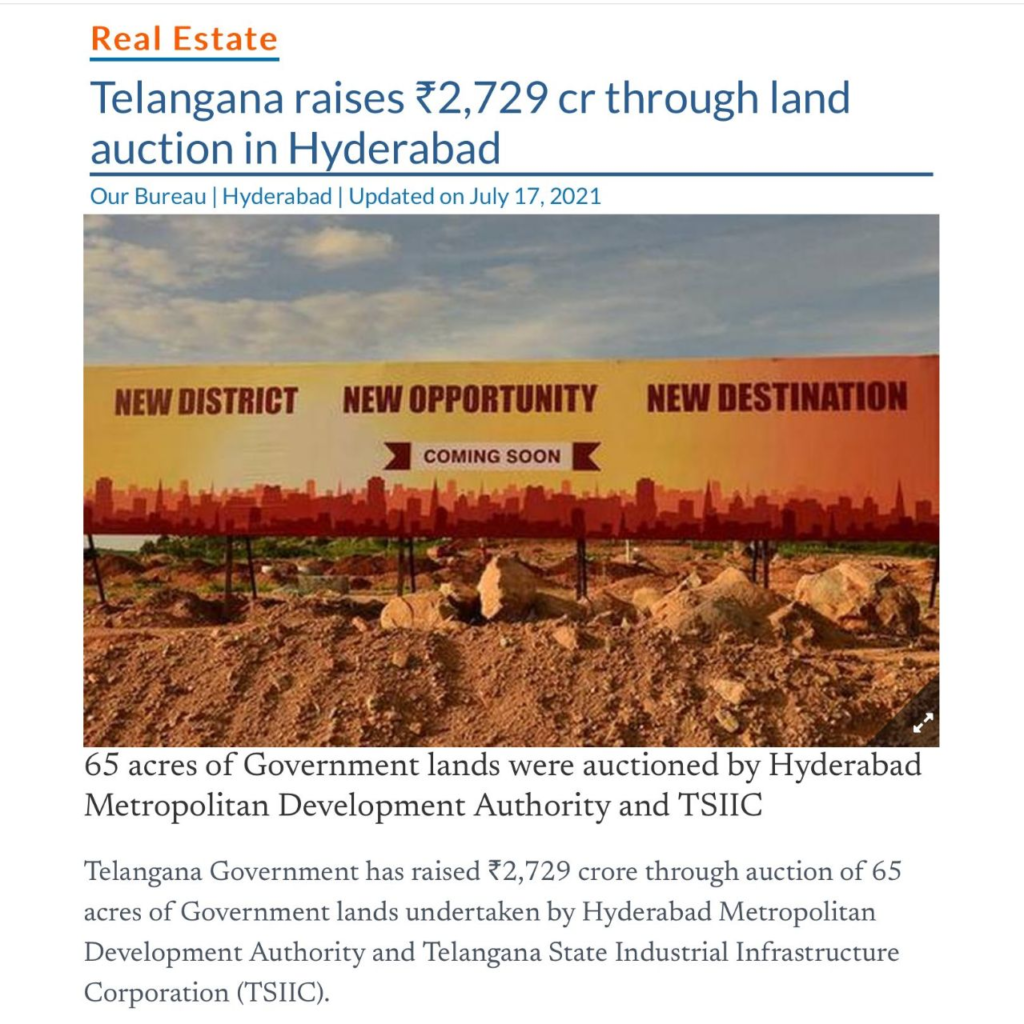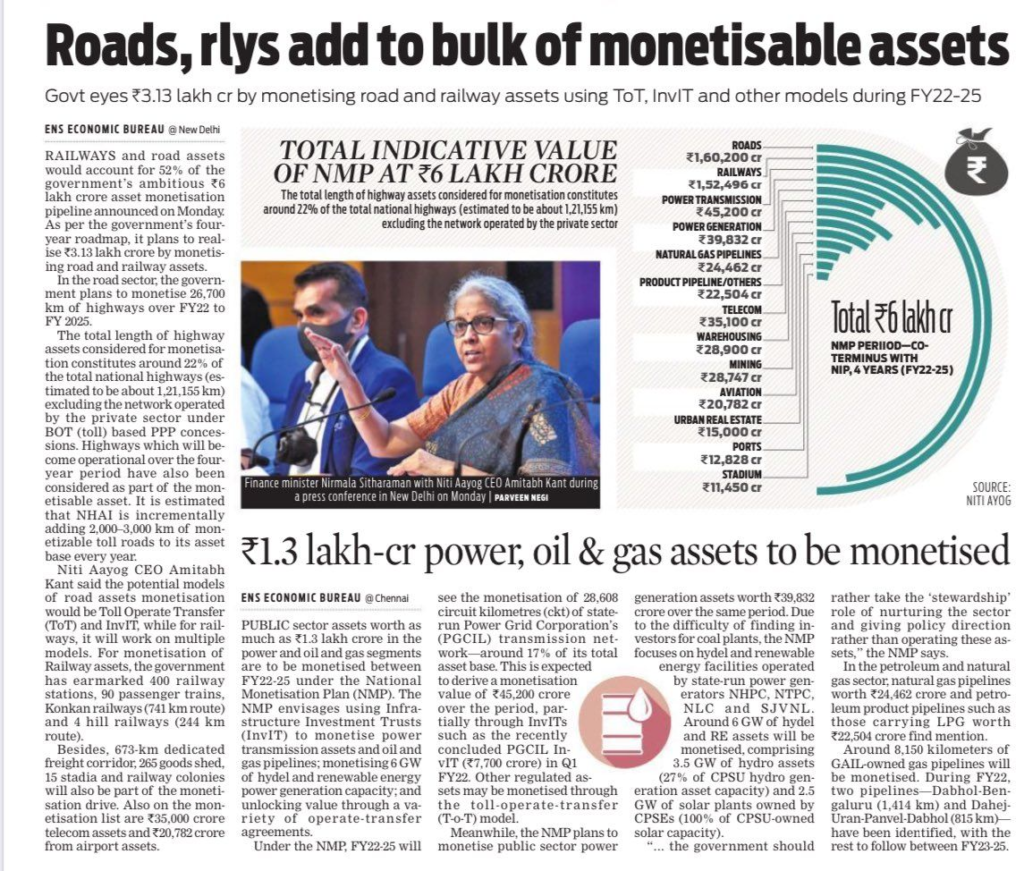 Don't believe in Fake News of TDP and TRS , where they are portraying the scheme as sale. Dimwits don't understand things properly.
Govt Assets Sold by Congress
Today, the 3 largest private sector banks, ie ICICI-Bank, HDFC-Bank, and AXIS-Bank, – all three used to be government banks, but in the PV Narasimha Rao government, Dr.Manmohan was the Finance Minister Singh sold them!
The full name of ICICI was Industrial Credit and Investment Corporation of India. It was such an institution of the Government of India, which used to give loans to big industries.
In a jiffy, Finance Minister Dr. Manmohan Singh disinvested it, made it private, and renamed it ICICI Bank!
The full name of HDFC Bank as it is today was Housing Development Corporation of India. It used to be such an institution of the Government of India, which used to provide home loans to middle class citizens at cheap interest!
Dr. Manmohan Singh, who was the finance minister in the Narasimha Rao government, said, "The government's job is only to govern, not sell home loans!"
Dr. Manmohan Singh calls this a necessary step, and says, "The job of the government is only to run the government, not run a bank, or give loans!"
And in a jiffy, Finance Minister Dr. Manmohan Singh sold HDFC Bank! And it became a private sector bank!
One such interesting story is from Axis Bank!
There used to be an organization of the Government of India, its name was Unit Trust of India. This organization was formed to promote small savings. That is, you could deposit a small amount in it!
Dr. Manmohan Singh, Finance Minister in the Narasimha Rao government said, "The job of the government is not to run the scheme of chit fund!"
And in a jiffy it was sold out! Earlier it was named as UTI Bank, and later it was named as Axis Bank!
Similarly today there is IDBI Bank, which is a private bank! At one time it used to be an organization of the Government of India, whose name was Industrial Development Corporation of India! Its function was to give loans to industries. But Dr. Manmohan Singh sold it too! And today it has become a private bank!
Never let your memory be weak!
Who brought the disinvestment policy to India? Just do a search!
When Dr. Manmohan Singh was the Finance Minister during Narasimha Rao's time, Dr. Manmohan Singh said in Parliament, "Maximum government, less governance!"
He had said, "The job of the government is not to do business, the job of the government is to give governance! Such an environment is to be given, so that the citizens of the country can do all these things!"
Dr. Manmohan Singh was the first to bring "Toll Tax Policy"! i.e. "Build roads by private companies, and allow those companies to collect toll tax!"
Dr. Manmohan Singh initiated the "Privatization of Airports" first, and Delhi's "Indira Gandhi Airport" was given to GMR Group to run it commercially!
Today Champak dances and dances, singing the impeccable melody, "Modi has sold it to his friends!"
If Dr. Manmohan Singh does it – disinvestment! And if Modi does – sold the country!!
In 2009-10, Dr. Manmohan Singh sold 5 government companies!
HPC Ltd.;
OIL – Oil India Limited;
NTPC – National Thermal Power Corporation;
REC – Rural Electrification Corporation;
NMDC – National Mineral Development Corporation!
In 2010-11, Dr. Manmohan Singh sold 6 more government companies!
SJVN – Satluj Jal Vidyut Nigam Limited;
EIL – Engineers India Limited;
CIL – Coal India Limited;
PGCIL – Power Grid Corporation of India;
MOIL – Manganese Ore India Ltd.;
SCI – Shipping Corporation of India!
In 2011-12, Dr. Manmohan Singh sold two more government companies!
PFC – Power Finance Corporation;
ONGC – Oil & Natural Gas Corporation!
In 2012-13 Dr. Manmohan Singh sold and 5 Government companies!
SAIL – Steel Authority of India Ltd.;
NALCO – National Aluminum Company Limited;
RCF – National Chemicals and Fertilizers;
HCL – Hindustan Copper Limited; 5. NBCC!
In 2013-14, Dr. Manmohan Singh sold 7 more government companies!
NHPC – National Hydro-Electric Power Corporation;
BHEL – Bharat Heavy Electricals Limited;
CPSE – CPSE-Exchange Traded Fund;
NFL – National Fertilizers Ltd.;
MMTC – Metals and Minerals Trading Corporation;
STC – State Trading Corporation;
NLC – Neyveli Lignite Corporation Limited!
There is proof of all this…
Visit the official website of the Department of "Investment and Public Asset Management" by the Ministry of Finance, Central Government – www.dipam.gov.in
First click on Dis-investment! Then click on Past Dis-Investment!
All the information (data) given in the post is available there!
Dr. Manmohan Singh has already sold most of the assets of the country whereas Modi is monetizing the remaining national assets!
There are two types of Govt mindsets
One Mindset – Aspirational, Forward Looking, Less Govt Control… Good for Bharat ✔️..
Another Mindset – Regressive, Backward Looking, Lethargic, More Govt. control, erratic, freebies – which will leave the State and nation in doldrums.. Bad for Bharat ❌
Choose your Govt wisely.
Jai Hind
DISCLAIMER: The author is solely responsible for the views expressed in this article. The author carries the responsibility for citing and/or licensing of images utilized within the text.