How Armenia is undergoing ethnic cleansing of non-Muslims?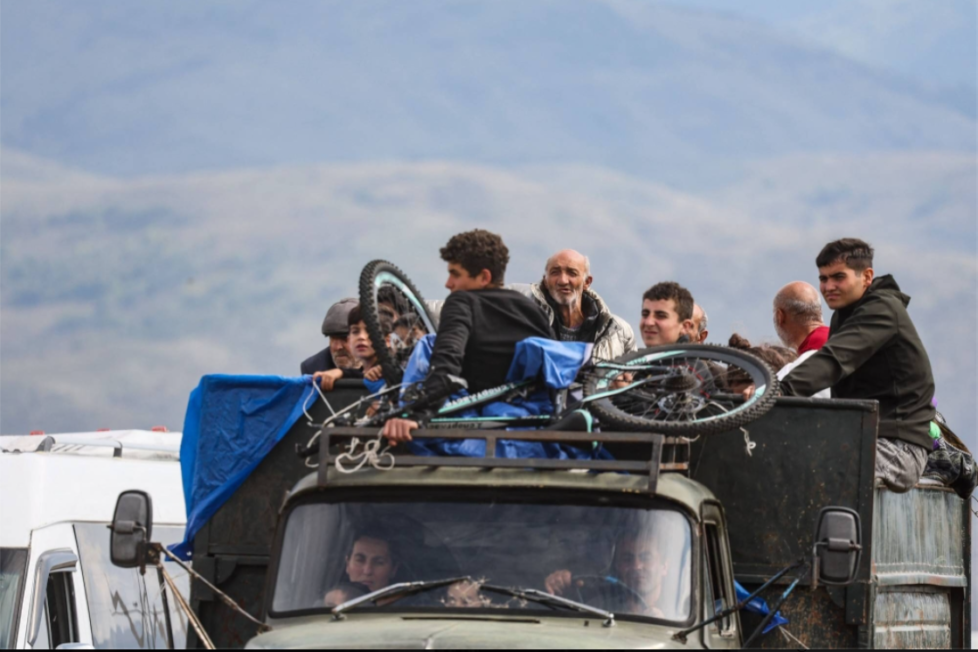 On 19 September 2023, Azerbaijan attacked the the ethnic Armenian territory of Nagorno-Karabakh, forcing the surrender of the de facto administration there within a day. One week on, people are running away in increasing numbers, fearing ethnic cleansing at the hands of the Azerbaijani military. Of the 120,000 people living in the territory, the official Armenian estimate is that more than 28,000 people had already crossed over on Tuesday.  This is roughly 25% of the total population.  while pictures taken from the Nagorno-Karabakh capital of Stepanakert showed long lines of vehicles queuing to leave, escorted by Russian peacekeepers.
Meanwhile, at a Red Cross emergency aid station on the border, humanitarian organizations and the government are struggling to cope with the numbers flowing in. Lightning crackles and suddenly the power blacks out, leaving a tent full of families sitting in the dark, as the computers used to register them are cut off.
Since Saturday, Nagorno-Karabakh's Armenians have packed what few possessions they can into trunks and laundry bags, loading them on top of cars and buses. "We brought only the clothes on our backs," said Liana, a 36-year-old nurse from Stepanakert. "My brother is heavily injured, he was evacuated to Yerevan. But thankfully my husband, children and I could get out. We've seen things I can't even begin to describe — how can we live together with Azerbaijanis after this?
Azerbaijan insists it wants to re integrate the region's estimated Armenians and says the "illegal military formations" on its internationally-recognized territory have begun surrendering weapons while talks are ongoing about accepting being ruled as part of the country. In other words, the 98% Muslim nation of Azerbaijan wants to include the Nagorno-Karabakh region within its territory again, minus its non-Muslim population.
Azerbaijan's top foreign adviser to the president Hikmat Hajiyev said the Baku government "regrets" the lack of confidence in its ability to secure their rights and security but added: "This is free movement of the population — they have a choice." According to those fleeing their homes, this movement is as free as goats and buffalos escaping being taken to the slaughterhouse.
To add sustenance to this theory of ethnic cleansing, one just has to take note of the visit of Turkish President Recep Tayyip Erdoğan to Azerbaijan's President Ilham Aliyev in the Azerbaijani exclave of Nakhchivan, where he lavished praise on his close allies for their conduct during the 24 hours of fierce fighting.  This onslaught saw Baku's troops push past the line of contact and take a string of strategic towns and villages.  "It is a matter of pride that the operation was successfully completed in a short period of time, with utmost sensitivity to the rights of civilians," Erdoğan said.
In the meantime, Armenia is struggling to cope with the sudden and sizeable forced migration of ethnic Armenians from across its border.  Those who sustained serious injuries during the attacks by Azerbaijan forces are suffering as the medical system is also overloaded. According to Karabakh Armenian authorities, "Due to the overloaded state and traffic congestion in the Stepanakert-Goris highway, currently it is impossible to organize the transfer of the seriously and critically wounded, and imports of necessary medical supplies and humanitarian goods.  At the same time, seeking petrol, citizens are causing major congestions near gas stations, paralyzing the traffic and normal functioning in the city." They are now urging people to stay home, while assuring the public that any and all who want to leave will be able to in due course.
The refugees share the situation on ground by citing lack of proper arms and ammunition to fight back against the attacking Azerbaijan Army.  They state that initially they had thought their flight from their homes will be temporary and they will be able to return once sense prevailed.  However, now many are not that hopeful, as they are not allowed to contact their families on telephone, who were left behind.
Reference: https://www.politico.eu/article/we-know-we-arent-going-back-nagorno-karabakh-armenians-face-up-to-a-life-in-exile-refugees/
DISCLAIMER: The author is solely responsible for the views expressed in this article. The author carries the responsibility for citing and/or licensing of images utilized within the text.