Atal Bihari Vajpayee never called Indira Gandhi 'Durga'. Abhisar Sharma tries to peddle lies.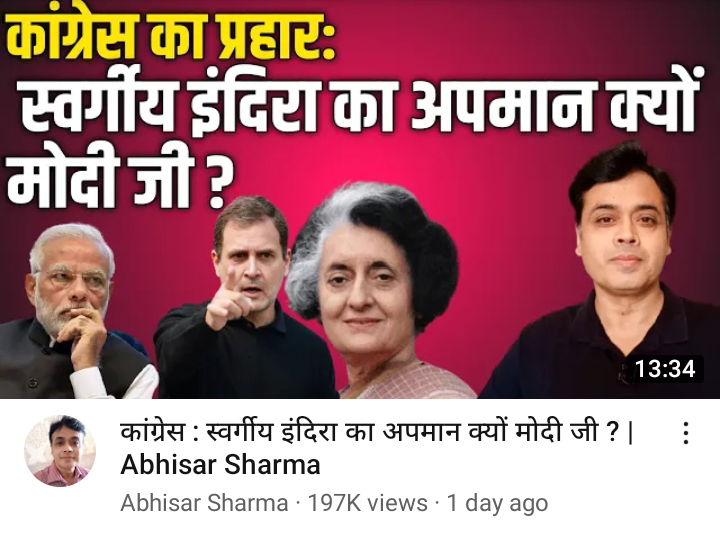 Journalist Abhisar Sharma recently had a meltdown after Prime Minister Narendra Modi went to inaugurate the hallowed Kashi Vishwanath Corridor. In the recent video of Abhisar Sharma in his YouTube channel, he went up to peddle lies in persuit of propagating the propaganda of Indian National Congress.
Abhisar Sharma went into the same bracket of words and sentences with Indian National Congress. Abhisar Sharma recently uploaded a video in his YouTube channel where he lashed out at the BJP government and PM Narendra Modi for undermining the contribution of Indira Gandhi in 1971 war. He said that the contribution of Indira Gandhi for breaking Pakistan into two pieces was undermined by the Prime Minister. In order to support his claim, he peddled lies saying, former prime minister of Bharat Atal Bihari Vajpayee Ji after victory against Pakistan called Indira Gandhi "Ma Durga". This claim of Abhisar Sharma does not hold water. Atal Bihari Vajpayee never in his life uttered this statement. Atal Bihari Vajpayee debunked this lie himself in the episode of 'Aap ki Adalat'. In his interview with Rajat Sharma on Aap Ki Adalat, Vajpayee said he had never referred to Indira Gandhi as 'Durga' and how a hitjob was done against him by the media bent on aggrandising the former prime minister's role in dismembering Pakistan.
DISCLAIMER: The author is solely responsible for the views expressed in this article. The author carries the responsibility for citing and/or licensing of images utilized within the text.