Bihar: Karthik Kumar took oath as a Law minister, the day he had to surrender in the court
In Bihar, ever since Nitish Kumar has taken the oath to form a new government by joining hands with RJD and Congress, Bihar seems to be thrown in the fire of Jungle Raj. One of the reasons is the appointment of Karthik Kumar as the new law minister of the Bihar government. The newly appointed Law Minister Karthik Kumar was to surrender in court in a kidnapping case, he reached the Raj Bhavan on the same day, taking the blessings of Nitish Kumar and Tejashwi Yadav, and took oath as a minister. It is being told that Karthik Kumar has been absconding for 8 years.
The Nitish government will undoubtedly suffer as a result of the political upheaval that erupted in Bihar overnight. Within 24 hours of taking the ministerial oath, a warrant was issued for Law Minister Karthik Kumar.
Law Minister Karthik Kumar made the ludicrous claim that he had disclosed all relevant information in the affidavit but nothing like this exists.
Meanwhile, when reporters questioned Nitish Kumar, the chief minister, about the warrant issued against Karthik Kumar, he responded that he is unaware of it.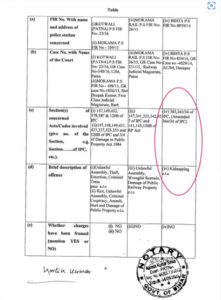 Let us inform you that Anant Singh, the figurehead of Bihar's authoritarian image, and Karthik Kumar are very close. In this case, information is also coming in that the Chief Minister and Deputy Chief Minister have explicit instructions and that anyone found guilty will not be spared. Additionally, an order from Additional District and Sessions Judge III Danapur has been made, delaying Kartik Kumar's arrest until September 1. This directive has been sent to the Mokama-related station. This directive is dated August 12, 2022.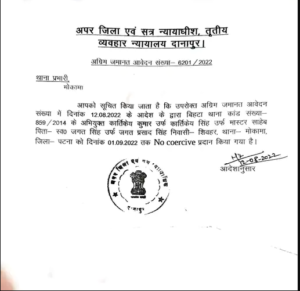 According to Bhaskar's report, the incident occurred in 2014 when Rajiv Ranjan was kidnapped at Patna's Bihta police station. A kidnapping case was filed against Karthik Kumar in the Bihta police station alongside 17 other people, including former MLAs Anant Singh and Bantu Singh. The High Court in this case dismissed Karthik Kumar's request for anticipatory bail in February 2022. He was instructed to appear in court and turn himself in before applying for bail after the judicial procedure.
At the same time, the BJP had a chance to criticize the Nitish government after this incident. Sushil Modi, a former deputy Chief Minister and prominent member of the BJP claimed that Nitish Kumar's administration is ruled by musclemen in his criticism of the Mahagathbandhan.
DISCLAIMER: The author is solely responsible for the views expressed in this article. The author carries the responsibility for citing and/or licensing of images utilized within the text.